AMD, Arm, non-Intel servers soar as overall market stalls
Dell and HPE in stasis as mid-range and high-end markets slide
The world's server market stalled in the year's third quarter, says analyst firm IDC.
Revenue rose 2.2 percent year-on-year to $22.565bn. Shipments shrank to 3,065,791, down 5,453 compared to the same time in 2019.
The firm says non-X86 kit was the hot spot, with revenue growth of 10.4 percent to a total of around $1.6bn. Sadly IDC didn't break out which architectures led the charge, but did say that revenue from Arm-powered products grew 430.5 percent year-on-year "albeit on a very small base."
AMD had a good quarter, too, as revenues from servers it powers jumped 112.4 percent.
Dell remains the market leader with $3.758bn of revenue and over 500,000 machines sent out the door, a 0.6 percent dip in revenue and drop of 103 shipments. The combined HPE/ New H3C Group is the world's second-most-prolific supplier at $3.597bn revenue and 425,117 shipments, down 3.8 percent and 7.5 percent, respectively. Cisco used to sell enough servers to be worth a mention in IDC reports. It's not there now, instead lumped into the amorphous "Rest of Market" and its $4.4bn revenue and 511,000 shipments.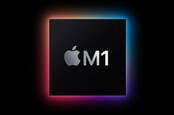 How Apple's M1 uses high-bandwidth memory to run like the clappers
READ MORE
As is usually the case, server-makers that ship direct to hyperscale users collectively outperformed suppliers of more conventional kit. Such suppliers collectively scooped $6.3bn of revenue and sent 911,000 machines out the door.
China's market grew by 14.8 percent, which may be why Inspur and Huawei both recorded big jumps in shipments and revenue. EMEA went backwards by 4.5 percent and Japan slumped by 21.4 percent. The rest of the world struggled along with a point or three of growth.
High-end and mid-market sales slumped everywhere, leaving volume servers to scoop $19bn of the market and score 5.8 percent growth.
IDC didn't say why sales dipped. VMware may have offered a possible answer when, on its recent earnings call, execs said sales had been slowed by customers just not coming to the office. Servers are hands-on products, especially when new, so it makes little sense to buy them if you can't get into the data centre to get them working. That hypothesis could also explain why smaller servers did well, as it may be safer to work in a small server room compared to a larger bit barn. ®