India has announced a new submarine cable connecting its mainland to the Lakshadweep Islands.
The Register forgives readers who aren't familiar with Lakshadweep, because the islands in the group are at least 220km west of India, have a combined surface area of 32km2, a population of 64,000 and have not left much of a mark on history.
India's announcement of the build says those souls need better internet access to avail themselves of e-government services and to fully-realise the nation's vision of "Digital India". It will therefore spend around US$140m to connect the Islands to the coast.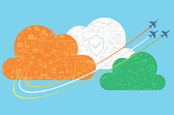 India and USA to share high-quality satellite imagery and more under new pact
READ MORE
$140m is quite a lot in the context of the Indian government's 2020 budget, which planned $430bn in total expenditures.
Why the big spend on a small number of citizens? The announcement was decent enough to state that the Islands have "immense strategic significance for India."
That may be an understatement because India has four naval bases on the Islands, which are close to the sea route from east Asia to the Persian Gulf. China is utterly dependent on oil that traverses that route and relies on traffic headed for the Red Sea and Suez Canal. The Exclusive Economic Zone around the Islands also means India's navy can get a little closer to arch-rival Pakistan.
So while India wiring the Lakshadweep Islands will mean the citizens there no longer have to live at the end of a 1Gbps satellite connection, it also means that India can shift all sorts of information to and from the scraps of land
Remember, too, that India has already wired the Andaman Islands in the Bay of Bengal, another outpost where it maintains a big naval presence and occasionally tests medium-range missiles . India, the USA, Japan, and Australia have also conducted joint exercises in the area this year. And by total non-coincidence, those four nations now do diplomatic business as "The Quad", a grouping of democracies that seeks to act as a counterweight to China's regional efforts. ®