This article is more than 1 year old
'Malwareless' ransomware campaign operators pwned 83k victims' MySQL servers, 250k databases up for sale
$500 a pop, $25k 'earned' and not much of a trace left, says Guardicore
A "malwareless" ransomware campaign delivered from UK IP addresses targeting weak security controls around internet-facing SQL servers successfully pwned 83,000 victims, according to Israeli infosec biz Guardicore.
"The attack chain is extremely simple and exploits weak credentials on internet-facing MySQL servers" said Guardicore's Ophir Harpaz in a technical advisory today, estimating that there around five million MySQL servers accessible from the public internet.
Once the database servers are compromised, the miscreants operating the campaign begin a so-called "double extortion" attack, threatening to publish data exfiltrated from the SQL silos unless victims pay a ransom, which also apparently will lead to the restoration of that data.
Holding people's files and records to ransom has become synonymous with application-level malware infections. What we have here is a reminder that crooks can scramble information from afar without having to run bad apps on employees' workstations or host servers.
Beginning in January, Guardicore observed the crime spree evolve over the course of the year through two different strains. "In the first, which lasted from January till the end of November, the attackers left a ransom note with their [Bitcoin] wallet address, the amount of Bitcoin to pay and an email address for technical support," wrote Harpaz, who said victims were typically given 10 days to stump up.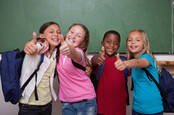 Forget Snow Day: Baltimore's 115,000+ public school kids get Ransomware Day, must check Win PCs for infection
READ MORE
Typical ransoms were around 0.03 Bitcoins, or about $500 at the time of writing.
Around 1.2 Bitcoins (~$25,000) was deposited to wallet addresses mentioned in ransom notes seen by Guardicore's researchers, with a total of 250,000 breached databases being offered for sale. Over time the campaign stepped up, sharply increasing in October with the apparent release of a second version.
"The [extortionists'] website is a good example of a double extortion mechanism – it contains all leaked databases for which ransom was not paid. The website lists 250k different databases from 83k MySQL servers, with 7TB of stolen data. Up till now, [Guardicore's sensor network] captured 29 incidents of this variant, originating from 7 different IP addresses," added Harpaz.
Version 2's ransom note, planted inside compromised databases in an unscrambled column, read:

INSERT INTO `WARNING` (`id`, `warning`, `website`, `token`) VALUES (1, 'To recover your lost databases and avoid leaking it: visit http[.]//hn4wg4o6s5nc7763.onion and enter your unique token ffc7e276a3c7ef27 and pay the required amount of Bitcoin to get it back. Databases that we have: . Your databases are downloaded and backed up on our servers. If we dont receive your payment in the next 9 Days, we will sell your database to the highest bidder or use them otherwise. To access this site you have use the tor browser https://www.torproject.org/projects/torbrowser.html', 'http://hn4wg4o6s5nc7763.onion', 'ffc7e276a3c7ef27');

Hailing the attack's simplicity and the fact that it is seemingly automated and transient, Harpaz concluded: "There are no binary payloads involved in the attack chain, making the attack 'malwareless'. Only a simple script which breaks in the database, steals information, and leaves a message."
Internet-facing MySQL databases used by Wordpress are pretty common. Contained in those databases are username and login information for the site they power, which could prove troublesome if users – not just site admins but also article authors and comment posters – recycle their credential pairs elsewhere.
"Double extortion" was last in the news when footie super-club Manchester United was struck by ransomware last month. The technique isn't new but the handy name for it is relatively so. ®