Twitter, Mozilla, Vimeo slam Europe's one-size-fits-all internet content policing plan
Blanket deletions will smother internet, EU tech chief told
Twitter, Mozilla, Automattic, and Vimeo have signed an open letter aimed at EU tech chief Margrethe Vestager taking issue with new digital rules due to be announced later this month and asking for a more flexible approach when it comes to internet content.
The EU's Digital Services Act and the Democracy Action Plan aim to ensure competition in the online market, particularly when it comes to dominant online platforms. However, Twitter and friends are concerned about the direction the EU is going when it comes to harmful content, and warn it may only increase the power of tech giants.
Drafts have indicated that the EU will focus on the removal of harmful content entirely. The open letter argues instead that a more flexible approach should be adopted in which the reach and impact of content is considered rather than "a solely stay up-come down binary."
"Removing content cannot be the sole paradigm of Internet policy, particularly when concerned with the phenomenon of 'legal-but-harmful' content," the letter argues. "Such an approach would benefit only the very largest companies in our industry."
The companies then go on to make the same point in several different ways. The current plan would "limit our online environment to a few dominant gatekeepers, while failing to meaningfully address the challenges preventing the Internet from realising its potential."
The introduction of a "'one-size-fits-all' approach" would "fail to consider the vast array of differentiated services that make up our online environment risk having a disproportionate – and potentially crippling – impact on smaller players."
Everything in moderation
Instead, they argue that the EU should "encourage a content moderation discussion that emphasizes the difference between illegal and harmful content and highlights the potential of interventions that address how content is surfaced and discovered."
While it agrees with the up-down binary for illegal content such as terrorist and child sexual abuse images, the content platforms believe it is "both more sustainable and more holistically effective to focus on limiting the number of people who encounter harmful content."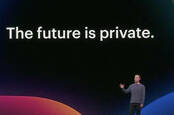 CEOs beg for America-wide privacy law... to protect their businesses from state privacy laws
READ MORE
How do you do that? Algorithms of course! "This can be achieved by placing a technological emphasis on visibility over prevalence, supporting measures towards algorithmic transparency and control, setting limits to the discoverability of harmful content, further exploring community moderation, and providing meaningful user choice."
No doubt the EU would argue that after a decade of being told algorithms are the answer to the multitude of problems caused by online platforms providing a free and immediate publishing outlet to anyone on the internet, anonymously, only to see those problems constantly multiply, that a more sturdy response is required. But then maybe it's just the wrong algorithms.
Twitter and friends aren't the only ones worried about what the rules may do: in September several internet infrastructure companies pleaded with the EU not to lump them in with companies like Facebook, noting that "although the Internet is often perceived as a single technology, it comprises many different components at many different layers that each have a role to play in its functioning."
Regardless, the publishing of the rules on December 15 is only the start of the process. They will then be reviewed, debated and redrawn by the European Commission and then put before the European Parliament for similar review: a process that could take years. ®