This article is more than 1 year old
Asus ROG Phone 3: An ugly but refreshing choice – for gaming fans only
Cool off: It ain't Candy Crush on an iPhone, pal
Review The mobile industry has given us 108MP cameras, headache-inducing stereoscopic 3D displays, and the Escobar Phone. Each year, it seems as though some vendor is trying to up the ante with unprecedented levels of weird, leaving you to wonder where we'll eventually end up. Microsoft Bob Mobile? A Samsung Galaxy S21 Theranos Edition?
One strong contender in 2020's quirky-lympics is Asus's 5G-capable ROG Phone 3 — a high-spec blower that touts a strap-on cooling fan, ultrasonic pressure sensors, two USB-C ports, and a super-fast display.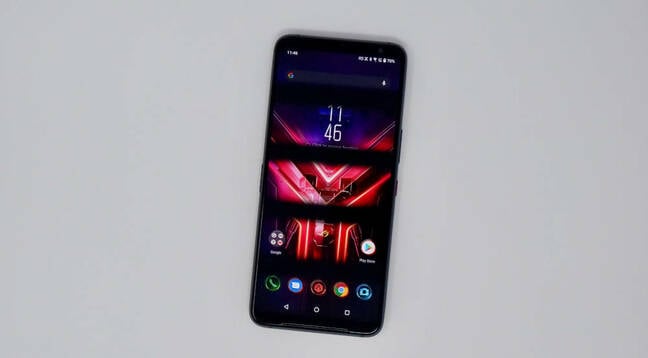 One of the fastest refresh rates we've ever seen on a phone
Yes, ASUS is targeting this device at a very specific sub-group: those who'd rather spend their morning commute fragging n00bs on PUBG Mobile than listening to the latest Obama tome on Audible. ROG stands for "Republic of Gamers," which is not a real place, but should be. National anthem? Rickrolling. National dish? Doritos. Motto? "Give me a lemonade bottle to pee in, or give me death."
And yet, it's not a bad phone. Unusual, yes, but not too left-of-centre for ordinary working bods looking for a phone that captures the versatile duality of a mullet haircut, capable of handling business and pleasure with ease.
It also touts features we'd like to see replicated across the wider sector — including a side-mounted USB-C port, which is great for charging your phone while watching films, a battery-preserving slow-charging mode, and the ability to manually balance the phone's performance via software.
Look and feel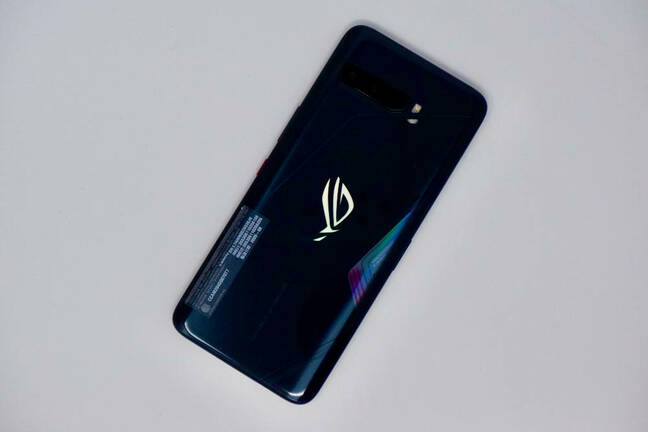 Party at the back? Not quite
It's not the most attractive device we've ever looked at, mind you. The rear of the phone has the overstylised aesthetic found in all frag-friendly kit. Flip it over, and you'll spot some chunky borders towards the top and bottom of the device, which each house a loudspeaker. The ROG Phone 3's "chin" is so big, you could be forgiven for thinking it looks like a Disney prince in a funfair hall of mirrors.
Yes, we're saying it's ugly. But it's not all a complete loss. ASUS saw fit to clad this device with a 6.59-inch AMOLED display, with a resolution of 1080 x 2340 pixels, a 19.5:9 aspect ratio, and a not-terrible, not-great 391 PPI density. As you'd expect from an AMOLED panel, it has great colour fidelity. Black tones are highly accurate. Meanwhile, its integral sound system is shockingly powerful, and promises to annoy anyone you might encounter while using public transport.
The ROG Phone 3 also has one of the fastest refresh rates we've ever seen on a phone, at 144Hz, combined with 270Hz touch sampling. While technically impressive, it's a bit of a white elephant. For most people, 90hz is enough to make display animations run buttery smooth. Even for gamers, it's a bit of a stretch, as few titles support it.
The phone's software automatically adjusts the display refresh rate, allowing it to switch depending on the context in order to save battery life. You can lock it onto a specific refresh rate, if you want. Out of morbid curiosity, I stuck it on 144Hz, and watched the device's formidable 6,000mAh battery drain fast. Of course, this isn't something any reasonable person would do, and in ordinary (sane) circumstances, you can easily get 24-hours between charges.
Mercifully, given its huge battery, the ROG Phone 3 comes with support for 30W charging, which can give you a 50 per cent charge in an hour, but sadly no wireless charging. It also comes with something all devices should have: slow charging.
In theory, the slower the speed, the less quickly a battery is prone to degrade. I say "in theory," because this is something that you'd have to test over a prolonged period of time. I've only had this device for a few weeks. Still, if it works, it's a welcome addition, considering this device is almost certainly a nightmare to self-service, given its glass back, as well as the dense concentration of components highlighted by third-party teardown.
Insides
Still, it's brisk. The phone touts a Snapdragon 865+ platform. It can be customised with either 12GB or 16GB RAM. The variant provided to The Register had 12GB. Storage comes in 128GB, 256GB, and 512GB flavours, using UFS 3.1. There was zero perceptible slowdown, even when playing fairly intense games, which bodes well for day-to-day use. Users can also customise the device's performance through an app called Armoury Crate, cranking up the CPU and GPU when needed, while throttling it at times of low-demand.
Still, it's a shame the ROG Phone 3 is languishing on (a heavily skinned version of) Android 10, when other vendors have already adopted Android 11 — notably OnePlus and Samsung. This device is also slightly behind when it comes to the Android monthly security patches.
At the time I wrote this review on 11 December, 2020, this handset (which has all available software updates installed) was using the September security patch. Other vendors, including Google and Samsung, have already rolled out December's edition.
Fanatical about fans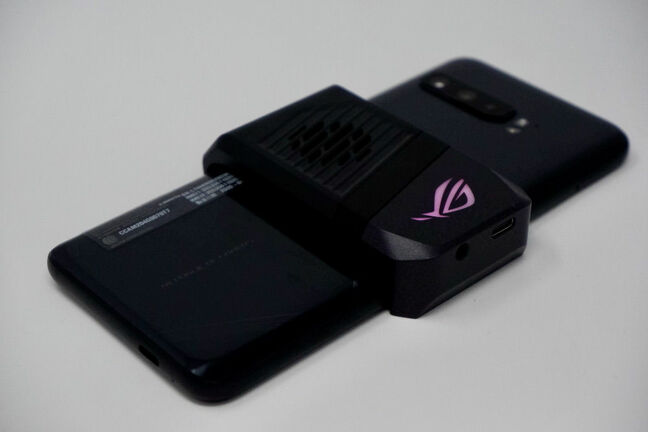 Unlike other gaming devices, the ROG Phone 3 mitigates against thermal slowdown thanks to a fan that clips into the centre of the device, plugging into the phone's second USB-C port. Presumably for waterproofing purposes, this is hidden behind a rubber gasket, which proved a nightmare to remove, requiring the use of a penknife.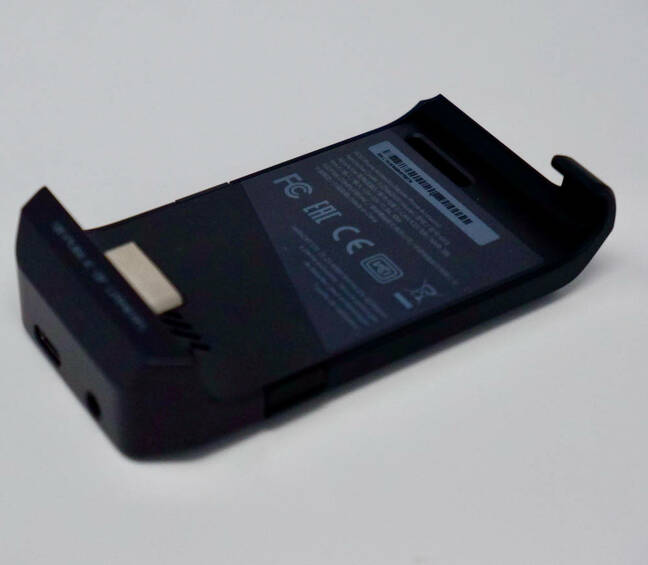 Obviously, you won't want to use the cooling fan all the time. For starters, it's noisy. If you're watching a movie, or making a call, it'll interfere. Furthermore, active cooling measures use a lot of power, too. But in specific situations where you're particularly concerned about performance and aren't prepared to risk throttling, this proved to be a nice touch.
Still, it's an interesting approach to extensibility in an industry that unapologetically shuns it. At the bottom of the fan sits yet-another USB-C port, allowing for power passthrough, as well as a 3.5mm headphone jack. I almost wish other manufacturers borrowed this approach, particularly Samsung. Imagine if you could neatly clip a USB-C dock to the side of your phone, offering all the ports you'll need to connect a display and peripherals.
Camera performance
Buried in the top-bezel of the phone is a 24MP selfie camera, touting a wide-angle lens. Flip the phone over, and you encounter the device's three rear-facing cameras, which sit flush with the phone's body.
To Asus's credit, it has avoided the temptation to artificially inflate its camera count by including two usable cameras, and two others that are low-resolution and ultimately pointless. You get a 64MP wide-angle primary shooter, a 13MP ultra-wide-angle sensor, and a 5MP macro camera for close-up photography.
Don't expect this to win any DxOMark awards, mind you. It's not bad, but there are obvious flaws when using it — even in the most ideal of conditions. Colours feel a bit washed out in pictures taken by this handheld. And, given the price, we would have hoped for the inclusion of a proper optical zoom camera for long-distance photography.
A mixed bag, if there ever was one
The ASUS ROG Phone 3 is obviously a niche device. Both overpowered and highly-stylised, it caters to a very specific demographic. And while most people would be best served sticking to the tried-and-true flagships from the likes of Samsung and OnePlus, this handset has features that I genuinely hope will eventually become mainstream.
I didn't think I'd say this, but a second USB-C port on a phone isn't a bad idea, especially if you spend a lot of time with your device in landscape mode.
This handset touts an amazing screen — although its 144Hz refresh rate feels a bit like overkill. Meanwhile, the inclusion of a 6,000mAh battery and a slow charging mode are both welcome inclusions, and more than make up for the absence of conveniences like wireless charging.
Of course, it's not all good news. ASUS is lagging when it comes to software and security updates — which is bad, for obvious reasons. Its bulky bezels look out of place on a phone released in 2020. And the camera, while not terrible, won't blow your socks off.
At the time of writing, you can get the ASUS ROG Phone 3 from Amazon for roughly £850. That puts it within reach of flagship territory. Given the specs, this isn't unreasonable, so long as you know you're paying for performance at the expense of a conventional mobile experience, as well as an exceptional photography experience. If you're not willing to make that trade-off, you'll be better served by other more mainstream phones, like the Samsung Galaxy S20 FE or the OnePlus 8T. ®