CEO of China's largest chipmaker 'possibly' resigns over hiring of Taiwanese rival's production guru
SMIC in turmoil as TSMC legend reportedly elevated beyond non-exec role
---
China's largest chipmaker, Semiconductor Manufacturing International Corporation (SMIC), has advised investors that its co-CEO has "possibly" resigned.
SMIC today halted trading on the Hong Kong Stock Exchange and then issued an announcement [PDF] in which the company's board "noted certain media reported that the executive director and co-chief executive officer of the Company, Dr Liang Mong Song proposes to resign from his positions and the Company has become aware of Dr Liang's intention of conditional resignation."
It is a board's job to be well and truly in the loop when CEOs bail, so a document notifying investors of a "possible" resignation is extraordinary. Which begs the question: why is Dr Liang "possibly" resigning?
The answer lies in the pages of Japanese newspaper Nikkei, which reports that SMIC has named Chiang Shang-yi as its vice-chair.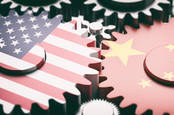 How the US attacked Huawei: Former CEO of DocuSign and Ariba turned diplomat Keith Krach tells his tale
READ MORE
Chiang is a former co-chief operating officer of Taiwan Semiconductor Manufacturing Corporation (TSMC), the Taiwanese chip-maker, and is making a serious tilt at the global crown thanks to its colossal fabrication facilities and mastery of 10nm and 7nm processes that even Intel has struggled to match. Apple, NVIDIA, and Qualcomm, all of which know a thing or two about designing silicon, rely on TSMC to make plenty of product.
Chiang is widely credited as having steered TSMC's R&D and led the company to its position of strength. His career has been so storied that he has been a SMIC director since 2016 and has been the subject of speculation as a senior appointee at other Chinese chipmakers.
Strength is what SMIC needs right now: US sanctions have deprived it of American capital and chipmaking technology. Yet China has given itself the goal of technology self-sufficiency by 2035 but looks like falling short of a target to supply 70 percent of its own needs by the year 2025.
So what's a CEO to do when the board hires someone with an amazing track record? And when that person is a Taiwanese national with deep ties to the USA? The cherry on top: the USA recently lured TSMC to build a massive chip plant on its shores and is cosying up to Taiwan because it wants to deprive China of the island nation's silicon manufacturing capabilities?
It appears Liang decided the only thing to do was resign.
But that won't end the matter because it is entirely possible that the USA could try to find a way to prevent Chiang from taking up the role, given that his expertise would advance SMIC's cause and therefore help China achieve its smart economy plan.
And also achieve, in the USA's view, ongoing IP theft that not only helps China to compete globally but helps it to erect a pervasive surveillance that extends around the world through apps like TikTok and WeChat. China counters that the USA has a long track record of espionage and economic coercion.
All of which leaves silicon-watchers with Intel vs AMD Vs Arm as one conflict to watch, with China vs Taiwan vs USA on another channel and RISC-V looking likely to feature in both bouts. ®