This article is more than 1 year old
Facebook rolls out full-page ads, website complaining Apple is forcing it to get consent before tracking you
Small-biz campaign tugs at heart strings, inadvertently promotes how iGiant is improving privacy
Updated Facebook is running full-page ads in The New York Times, Wall Street Journal and Washington Post today stating that Apple's privacy permissions overhaul in iOS 14 will be allegedly "devastating to small businesses."
The antisocial network has also gone as far as creating a mini-site to campaign for the claimed benefits of personalized advertising, an area that has helped to make CEO Mark Zuckerberg rich.
The issue that bothers Facebook is Apple's AppTrackingTransparency Framework. Developers have been told: "With iOS 14, iPadOS 14, and tvOS 14, you will need to receive the user's permission through the AppTrackingTransparency framework to track them or access their device's advertising identifier. Tracking refers to the act of linking user or device data collected from your app with user or device data collected from other companies' apps, websites, or offline properties for targeted advertising or advertising measurement purposes. Tracking also refers to sharing user or device data with data brokers."
In September, Apple said that "to give developers time to make necessary changes, apps will be required to obtain permission to track users starting early next year." It is now the second half of December and "early next year" is fast approaching. In the meantime, the iOS App Store already displays privacy labels, revealing how snoopy applications are – and below is Apple's extensive listing for the surveillance-max Facebook app:
Apple exposing all the ways Facebook tracks you with it iOS app is really quite something pic.twitter.com/hDhB85qk1L

— Tom Warren (@tomwarren) December 16, 2020
Facebook has expressed concerns about the changes before. In August, the antisocial network said: "Ultimately, despite our best efforts, Apple's updates may render Audience Network so ineffective on iOS 14 that it may not make sense to offer it on iOS 14." Audience Network is the ability to "run campaigns across publishers and environments using Facebook targeting capabilities". At the time Facebook pleaded for "industry consultation" in an attempt to deter Apple from implementing its proposals.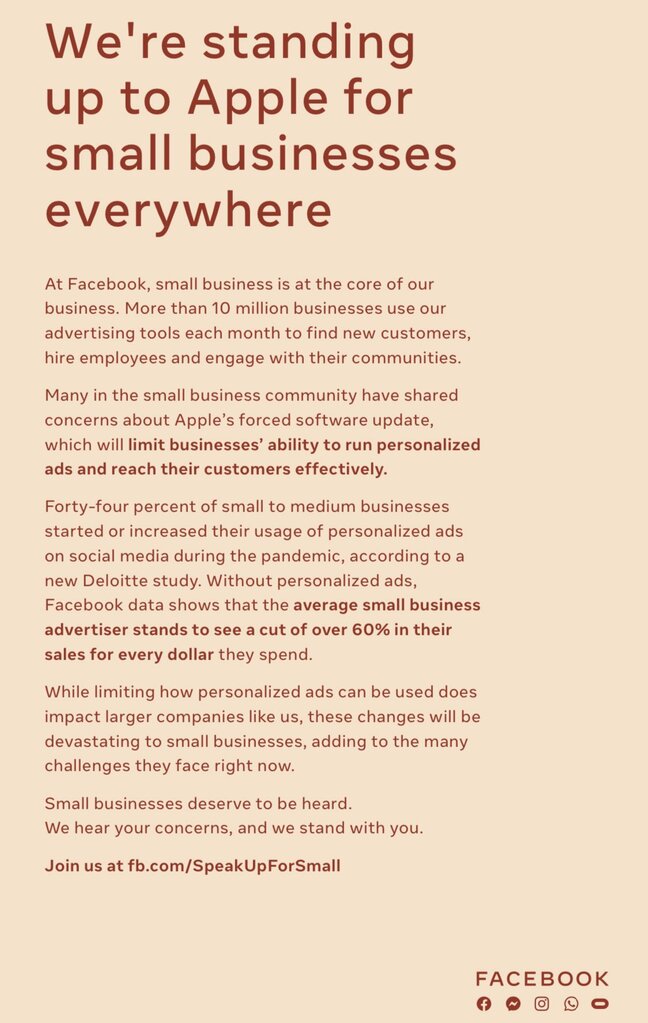 The new campaign tugs at the hearts of those who feel small businesses have suffered disproportionately during the COVID-19 crisis. "Many in the small business community have shared concerns about Apple's forced software update," says the ad (above), "which will limit businesses' ability to run personalized ads and reach their customers effectively." In an attempt to put some numbers on this, Facebook claims: "Without personalized ads, Facebook data shows that the average small business advertiser stands to see a cut of over 60 per cent in their sales for every dollar they spend."
A new mini-site titled, "small businesses deserve to be heard," features quotes from people like Monique Wilsondebriano of the Charleston Gourmet Burger Company, saying: "There is no possible way that our company could have reached the level of success that it has today without personalized ads." Wilsondebriano appeals to us to "educate yourself and help educate other small businesses on why this update is so important to stop."
Is Facebook really a friend to small business, or is it more concerned about its own bottom line? Personalized, targeted advertising is the foundation of Facebook's business and has proven effective in all sorts of ways, not all of them good, and enabling a powerful channel for the spread of false information and targeted political advertising.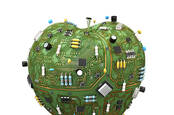 Apple fires warning shot at Facebook and Google on privacy, pledges fight against 'data-industrial complex'
READ MORE
In Facebook's early days, it was possible for small businesses to thrive on Facebook via organic reach: popular items would show up in newsfeeds and be seen by thousands of potential customers. Facebook's algorithms developed so that organic reach became less effective, driving more businesses to pay instead. Even fans who like a page often do not see posts from that page in their newsfeed. Perhaps a return to more effective organic reach would help small businesses?
Further, Apple is not blocking targeted advertising. Rather, it is requiring that users give permission for it. That seems more like a privacy benefit rather than a burden on small businesses. Mozilla said: "Apple's planned implementation of anti-tracking features is a huge win for consumers, many of whom might not even be aware that they can be tracked across apps on their phone."
That said, Apple to some extent undermines its own position by enabling its own personalized ads by default in iOS 14, in a dialog tucked right at the bottom of the Privacy settings. Apple's defense is that, according to its statement, "the Apple advertising platform does not track you... it does not follow you across apps and websites owned by other companies." It would look better if this were opt-in rather than opt-out. Defaults are everything since few change them.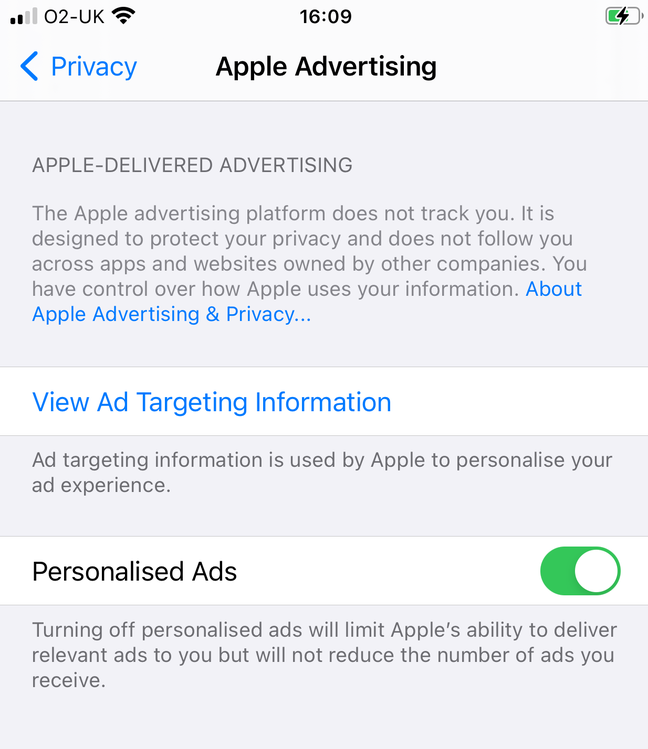 Apple's own personalized advertising controls
Both Facebook and Apple are acting, predictably, in their own interests. Apple makes most of its money from selling hardware at premium prices, and from a cut in payments made via its App Store and in-app payment platform – which it fiercely defends despite a high-profile campaign and ongoing lawsuit from Epic Games.
Facebook's campaign may nevertheless backfire. If consumers were not aware of how they are tracked across apps and across devices, including smartphones, perhaps Facebook's new ad campaign will help to inform them. ®
Updated on 08:41 UTC on 17 December 2020 to add:
Apple told us that: "App Tracking Transparency in iOS 14 does not require Facebook to change its approach to tracking users and creating targeted advertising, it simply requires they give users a choice."