This article is more than 1 year old
Overpriced, underpowered, and over here: Microsoft to bring the Surface Duo to British shores in early 2021
Dual-screen Android phone released from period of US exclusivity
Microsoft will give the Surface Duo an international release, bringing the dual-screen phone to the UK, Canada, France, and Germany in "early 2021".
The long-awaited Surface Duo hit (exclusively) US shelves in autumn this year, carving out an entirely new category within the relatively stagnant phone market.
It isn't quite a foldable phone – rather it uses two distinct displays separated by a hinge. While some vendors have experimented with dual-screen functionality, it has never been part of a cornerstone flagship product, and was previously almost always tied to some optional accessory, as with the LG V50 ThinQ 5G.
Predictably, Microsoft is selling the Duo as a productivity device that serves as a companion to Office 365, updating its core apps – like OneNote and OutLook – to take make use of the dual-screen form factor. It also allows users to use two unrelated apps (Microsoft gives the example of Spotify and Google Maps) running side-by-side. Although Androids have had split-screen functionality for some time, using two distinct displays may make the whole experience feel clearer.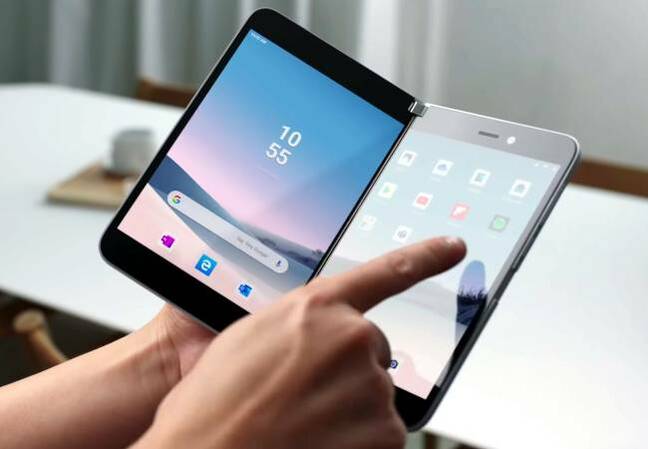 In addition, some apps have been updated to use the Duo's design – with Amazon Kindle, Spotify, and TikTok being notable examples.
The Surface Duo represents Microsoft's first full-throated return to smartphone hardware since February 2016, when it released the final Lumia handset. While its aims are clear, it does suffer from one major Achilles' heel – namely some woefully outdated internals.
On the chipset front, the Duo runs the Qualcomm Snapdragon 855 platform, which will have been on the market for almost two years by the time Microsoft's latest phone lands in Europe. There's no 5G either. Considering you can now get the latest in mobile connectivity on devices under the £300 mark, this will be a majir sticking point for some.
Other reviewers have taken aim at the phone's single 11MP camera, limited RAM, and lack of NFC and wireless charging. These were likely casualties of Microsoft's attempt to reduce girth on a device that's already strained by the inclusion of two display panels.
There's no word on how much the Duo will cost the people of Britain. Upon release, it carried a price tag of $1,400, putting it high in the nether reaches of the flagship tier. Microsoft has since cut the price to $1,199.99, which is still expensive, but less outlandish.
Assuming Microsoft doesn't make any price cuts in the coming months, we'd expect it to hit UK shelves with a price tag of roughly £1,200 – an 1:1 conversion of the US price, taking into account VAT, as well as a buffer for currency fluctuations. ®