This article is more than 1 year old
Ethical power supplier People's Energy hacked, 250,000 customers' personal info accessed
Financial info swiped for 15 small-biz clients, too
Renewable electricity and gas supplier People's Energy has told its 250,000-plus customers that a "gap" in the security of its IT system was exploited by digital burglars.
The British company's co-founders Karin Sode and David Pike wrote to customers on Thursday morning to confirm that "yesterday People's Energy was affected by a cyber security data breach."
"No financial information, bank account details, or People's Energy online account passwords have been compromised for any domestic customers. However, some personal detailed were accessed," the email, mirrored on its website, stated.
This data included member names, home addresses, email addresses, telephone numbers, dates of birth, People's Energy account numbers, tariff details, and meter identification numbers.
"We have identified how our systems were accessed and the gap in our security has been closed. We'e also working with a dedicated security team to add further protection to our systems," the email continues.
Unfortunately, 15 small-business customers did have financial data accessed in the database hack. Bank accounts details and sort codes were pilfered, the company told the BBC, but they had all been warned directly by phone.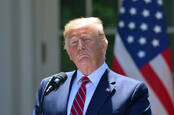 Dutch officials say Donald Trump really did protect his Twitter account with MAGA2020! password
READ MORE
The police, Brit data regulator the Information Commissioner's Office, and energy watchdog Ofgem were informed of the break-in, and the co-founders said they are following advice given.
"We would ask you and all our members (customers) to be cautious, as it possible that someone might try to contact you with the details they have accessed," the energy biz warned.
Potential phishing scams are the most obvious possible consequence that spring to mind.
Founded in August 2017, People's Energy buys wholesale leccy from renewable sources, and biomethane from food and farm waste, that it then resells onto consumers.
Pike said last month that it had amassed more than 250,000 customers. The company is aiming to provide energy to one million homes across the UK by 2024.
People's Energy is registered as a Community Interest Company and vowed to return 75 per cent of its profits to customers, which it also refers to as members. It has not yet been able to do this. ®