Google rejects Australia's revised pay-for-news plan, proposes its own plan instead
Shows why it irks politicians by putting a link to its argument on home page
Google has rejected Australia's plan to force it to pay local news publishers for the right to index their output and present it in search results.
The search and ad giant's rejection came in a post penned by Google's veep for Australia and New Zealand Mel Silva, who argued that Australia's proposal "has serious problems that need to be worked through."
Google is not happy with the change to requirements for algorithm disclosures, which was altered so that only major changes initiated by humans would be reported to publishers. Silva says Google just can't do that and attempting to do so would "delay important updates, drive up operating costs, and mandate special treatment to news publishers in a way that would disadvantage everyone else."
That last bit is a little naughty by generalizing about algorithmic updates when the legislation only calls for algorithm changes that impact news publishers to be disclosed. But Google says even with the focus on news-related changes it would have to offer thousands of notifications each year and that doing so is impractical.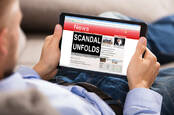 Australia mostly sticks to its guns in final plan to make Google and Facebook pay news publishers
READ MORE
Silva also argues that no search engine anywhere pays to generate links and that Australia's plan could therefore "unravel the key principles of the open internet people use every day".
Australian federal treasurer Josh Frydenberg has said the nation is willing to pioneer such a scheme and that the world is looking on with interest.
Silva also objects to the compulsory arbitration model Australia proposes, as it "incentivises publishers to make ambit claims and resort to arbitration rather than good-faith negotiations; assumes that the internet has never required payments for links because of 'bargaining imbalance'; and requires the decision-maker to choose a single 'final offer'".
Australia's communications minister Paul Fletcher has previously rebutted that argument by saying the proposed arbitration model is widely used in the nation's telecoms sector.
Silva says Google is willing to pay Australian publishers on its own terms, under the Google News Showcase programme. That programme has a total of US$1bn in funding, but Google has not introduced it to Australia while it waits for the nation's pay-for-news plan to become law.
The veep thinks that a new arbitration model, combined with News Showcase, could be acceptable if it "would let arbitrators look at comparable transactions, rather than just looking at only one side's costs."
Again, that's a little naughty as Australia's added a provision that allows bargaining between Google and publishers to consider the value that search traffic provides. But Google thinks those provisions allow publishers to bargain on the basis that if its search engine disappeared, they would still get the same value, and therefore thinks the mechanism isn't workable.
Silva's post ends by saying that if Australia's government makes "the practical changes we've outlined," the company believes "there is a path forward."
And to make sure Australians get the message, the company's mobile and desktop search engine is already displaying the following on

Google's alert for Australian users. Click to enlarge
The Register is far from the first organisation to point out that Google's willingness to put its message in the face of its millions of Australian users shows the very power that the nation's government wishes to curtail.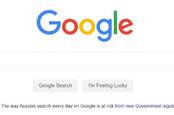 Australian regulator slams Google 'misinformation' in pay-for-news-fight
READ MORE
Australian politics and media mostly hibernate from about now until the last week of January, save for coverage of sport and natural disasters. And the bill has been sent to a committee that will not meet this year and has not published a schedule of meetings for 2021.
Google could try to flood Australia's media with its message in that vacuum, but this fight will likely resume in earnest next year, not least because Facebook is yet to reveal its attitude to the bill. ®
Bootnote
The Register is not eligible to receive payment under Australia's plan and reports this story as it is potentially a global precedent for how publishers and web giants interact.