This article is more than 1 year old
Microsoft is designing its own Arm-based data-center server, PC chips – report
WinTel alliance weakens further
Microsoft is reportedly designing its own homegrown server and desktop-grade processors using CPU blueprints licensed from Arm.
Details of the effort, reported by Bloomberg on Friday, are light, though it is described as a "major commitment," according to sources familiar with the matter.
One family of the chips will be tailored for servers within the Azure giant's data centers, and a second family is being mulled for Microsoft's Surface fondleslabs. It is said the server-grade processors are more likely to make it into production than the PC-level ones, the latter described merely as an exploratory project.
This follows a report in The Register more than three years ago in which the Windows goliath pledged to power more than half of its cloud data center capacity with 64-bit Arm-compatible servers.
At the time we quoted top Azure engineer Leendert van Doorn saying: "We feel Arm servers represent a real opportunity and some Microsoft cloud services already have future deployment plans on Arm servers.
"We found that [Arm servers] provide the most value for our cloud services, specifically our internal cloud applications such as search and indexing, storage, databases, big data and machine learning. These workloads all benefit from high-throughput computing."
Back then, though, Microsoft was relying on Qualcomm coming through with its 64-bit Arm-compatible Centriq server processors, which were ultimately canned. Fast forward to today and it seems Redmond is pushing ahead on its own albeit with help from the semiconductor world. Microsoft PR veep Frank Shaw said in a statement:
Because silicon is a foundational building block for technology, we're continuing to invest in our own capabilities in areas like design, manufacturing and tools, while also fostering and strengthening partnerships with a wide range of chip providers.
Arm has been making remarkable inroads into the server market, initially pitching processor cores that were primarily eco-friendly rather than power-gulping workhorses. It then evolved its roadmap and offerings, leading to the launch of beefier Neoverse designs that can be used to pack racks with more cores-per-socket than x86 rivals, and can roll out of TSMC's fabs in case anyone is short of server parts. Startup Ampere, for instance, touts competitive Neoverse-based Arm server chips, and Amazon rents out Neoverse-powered Graviton2 servers. We suspect Microsoft is also eyeing up Neoverse cores for Azure.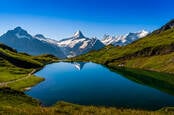 Nvidia promises once again to let Arm keep its Switzerland-of-chips biz model – and even license some Nv GPU tech
READ MORE
On the Surface side, Microsoft has had a bumpy ride with Windows on Arm, in terms of software compatibility and market interest, and has basically relied on Qualcomm for the silicon. For example, the Surface Pro X uses the SQ1 and SQ2, a Qualcomm Snapdragon 8CX customized for Redmond. Today's report may signal that Microsoft is considering cutting out Qualy and getting its cores straight from Arm and making its own system-on-chip for Windows slaptops. Apple's success with its homegrown desktop-grade Arm-compatible M1 may have stirred some imagination here.
Don't forget: Microsoft and Intel have had a legendary partnership over the years, the so-called WinTel alliance. That's still ongoing: Windows on Arm isn't going anywhere fast, though the move into custom server chips may give Intel an extra headache. Chipzilla is already facing data-center compute competition from AMD, and with all its manufacturing and launch delays, it needs a new competitor like a hole in the head.
The news has probably ruined a few Christmases over at Intel: shares are down more than six per cent since the news broke. Nvidia, which is trying to buy Arm, saw a two per cent rise in its stock price at the end of the day's trading. ®