This article is more than 1 year old
Search history can calculate better credit ratings than pay slips, says International Monetary Fund
And that's not entirely terrifying, because plenty of people have good credit but struggle to prove it
Your web search history plus records of the browser and device you use to make those searches could enable financial institutions to calculate you a more accurate credit rating than traditional methods, according to the International Monetary Fund (IMF). And the global finance organisation says the ability to use those records might be a good thing rather than a privacy nightmare.
The IMF's thinking is on offer in a new blog post titled "What is Really New in Fintech" that finds just two truly novel things to discuss.
The post's four authors – who work at the European Central Bank, the IMF, and the University of Amsterdam – say "new types of information" is one thing to watch out for.
"The most transformative information innovation is the increase in use of new types of data coming from the digital footprint of customers' various online activities—mainly for credit-worthiness analysis," they write, because factors like your income, employment duration, assets, and debts vary across the economic cycle. The result is that lenders get loose in good times but tighten up during downturns. The latter outcome helps nobody.
"Fintech resolves the dilemma by tapping various nonfinancial data: the type of browser and hardware used to access the internet, the history of online searches and purchases," the authors write. With a little AI/ML fairy dust sprinkled on that data, the authors say: "these alternative data sources are often superior than traditional credit assessment methods."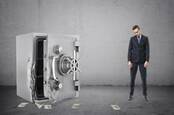 Delicious irony: Credit rating builder Loqbox lets customer details and card numbers slip after 'sophisticated attack'
READ MORE
When such data produce better results, the authors argue it can "can advance financial inclusion, by, for example, enabling more credit to informal workers and households and firms in rural areas."
The post's second new thing to watch is "new communication channels" that allow the likes of Facebook, Amazon.com and Alibaba to offer a platform for financial services companies that challenge existing players.
Facilitating competition and doing it online and therefore without requiring time-consuming branch visits, "generally improves customer convenience and makes financial intermediation more cost-efficient."
What could possibly go wrong with Facebook, Amazon and Alibaba using AI and your browser records to facilitate offers from third-party financial services? Thankfully, the authors can find plenty of potential pitfalls, including security worries, changes in lending behaviour that challenge prudential regulation regimes, and the potential for new players to weaken banks and by doing so undermine the role they play in the wider financial system.
"Other critical areas include competition policy, to address the monopolistic tendencies of large digital platforms, related to network effects and the natural tendency to converge to a few large platforms; and data policies to ensure consumer privacy and efficient and safe collection, processing, and exchange of data," the post suggests.
"Overall, while much of the technological progress in finance is evolutionary, its pace is accelerating fast. Fintech's potential to reach out to over a billion unbanked people around the world, and the changes in the financial system structure that this can induce, can be revolutionary," the four co-authors write. "Governments should follow and carefully support the technological transition in finance. It is important to adjust policies accordingly and stay ahead of the curve." ®