This article is more than 1 year old
Chinese chipmaker SMIC says US sanctions mean it will struggle to develop 10nm products
As India shouts out to world+dog: Anyone fancy building a fab here?
China's largest chipmaker, Semiconductor Manufacturing International Corporation (SMIC), has told investors that new US sanctions announced late last week will be a long-term hassle but won't impact its current operations.
In a Sunday disclosure [PDF] to the Hong Kong Stock Exchange, SMIC said its addition to a US "Entity list" of organisations prevented from acquiring certain American technologies will have "no material adverse effect on the Company's short-term operations and financial positions".
But in the longer term, the ban "will have a material adverse effect on the research and development and capacity construction of 10 nanometres and below advanced technology nodes."
SMIC offers foundry services that China hoped would become a source of both export revenue and home-grown tech that would fuel its AI-reliant "smart economy" plan. While that plan will certainly be possible with SMIC's current 14nm processes, China knows it needs more data centres, worries about their energy consumption, and will therefore need more servers and more power if it can't deploy 10nm or lower tech locally.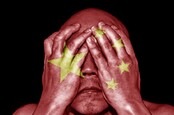 Alibaba admits it built facial-recognition-as-a-service to detect oppressed Uyghur minority in China
READ MORE
SMIC's admission that being on the entity list is therefore a problem for the Middle Kingdom. The company has protested that it is not entangled with China's military, as alleged in the reasons for its addition to the Entity List, and promised to keep talking to US authorities in the hope of winning relief.
While SMIC struggles, India sees opportunity. The nation last week issued an expression of interest [PDF] for anyone who fancies building a semiconductor fabrication plant in the country, or local consortia keen to buy one outside India.
Anyone keen to come and play will need to be thinking at 28nm or lower scale.
The document is testing the waters rather than asking for specific proposals, with India's Ministry of Electronics and Information Technology saying responses "may be utilized to formulate a Scheme for setting up / expansion of existing Semiconductor wafer/device fabrication (FAB) facilities in India or acquisition of Semiconductor FABs outside India."
The USA and India get on very well, have many technology industry ties, and currently share a dislike for Chinese imports. An Indian fab would likely be seen as a market opportunity in a like-minded democracy rather than a threat to the USA or its corporations. ®