This article is more than 1 year old
Australia wants Google to jump higher and sweat before it can buy Fitbit
Ad giant's promise to play nice with other exercise gadgets accepted in Brussels, deferred down under
Australia's picked a third fight with Google, this time telling it to jump higher if it wants to buy Fitbit.
The nation's competition and consumer commission (ACCC) today rejected Google's plan to play nice if it acquires the fitness band maker.
Google pledged not to use health data for advertising, but to allow competitors to access health and fitness data under some circumstances, and to behave in certain ways that it hoped would satisfy regulators that it was allowing competition in the fitness gadget market. The same promises from Google were last week approved by the European Commission.
But those undertakings did not satisfy the ACCC.
"The ACCC continues to have concerns that Google's acquisition of Fitbit may result in Fitbit's rivals, other than Apple, being squeezed out of the wearables market, as they are reliant on Google's Android system and other Google services to make their devices work effectively," said ACCC chair Rod Sims.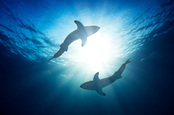 Australia starts second fight with Google, this time over whether app stores leak data, gouge devs, steal ideas and warp markets
READ MORE
"We are also continuing to investigate the acquisition's potential impact on wearable operating systems," Sims said, suggesting that the buy "may result in Google becoming the default provider of wearable operating systems for non-Apple devices and give it the ability to be a gatekeeper for wearables data, similar to the position it holds for smartphones which licence the Android operating system."
The ACCC will therefore continue its investigation into the deal.
Sims knows that his organisation's deliberations may not make a difference given that the European Union accepted Google's promises to play nice. But he reckons it's worth fighting on because he doesn't think Australia could monitor the situation in the EU and out of a desire to "reach its own view in relation to the proposed acquisition given the importance of both companies to commerce in Australia."
Google's a bit grumpy with the decision. A spokesperson told The Register: "While we're disappointed at this delay, we will continue to engage with the ACCC to answer their questions. We have been working constructively with regulators around the world to close the acquisition of Fitbit and to start building new helpful devices for users. Last week, the European Commission approved the acquisition, recognising how the commitments fully address any competition concerns. As we've said from the beginning, this deal has always been about devices, not data, and we are committed to protecting Fitbit users' privacy."
The ACCC will reveal its final decision on March 25, 2021.
Google is now in dispute with Australia over the nation's pay-for-news plan and is being probed over whether its Play app store is unfairly crimping competition. ®