This article is more than 1 year old
Google says it's the cleanest cloud, also reveals deal with Saudi Arabia's state-owned oil company for new cloud region
You can't make this stuff up
Google has proclaimed itself the "cleanest cloud in the industry" due to its exclusive use of renewable energy and announced a new cloud region in Saudi Arabia that will be resold by an arm of state-owned oil and gas company Saudi Aramco.
Both pieces of news arrived in a single announcement.
The announcement also revealed that Google will build cloud regions in Chile and Germany. All three new regions will have three availability zones to enhance resilience (at least until Google breaks them with a software update). Chile will be Google's second region after Sao Paolo, but Google hasn't said which Chilean city will house the facility. German users must also wait for more detail than Google's current statement that the new region "will complement our existing region in Frankfurt."
Saudis also haven't been told the location of their future Google cloud data centers. But Google has revealed that the new investment came about as a result of a 2018 memorandum of understanding with Aramco "to jointly explore establishing cloud services in the region."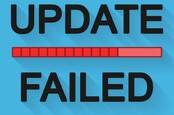 Google reveals version control plus not expecting zero as a value caused Gmail to take an inconvenient early holiday
READ MORE
"Building on that MoU, we concluded an agreement in December 2020 and Google Cloud will now deploy and operate a Cloud region in Saudi Arabia, while a local strategic reseller, sponsored by Aramco, will offer cloud services to customers, with a particular focus on businesses in the Kingdom."
The Google/Saudi Arabia relationship flourished after crown prince Mohammed bin Salman visited Google in 2018, resulting in the abovementioned memorandum of understanding.
The crown prince has reformed some of his nation's restrictions on women's rights, decreased the influence of religious police and tried to diversify the nation's economy beyond fossil fuels.
He's also purged rivals, encouraged a proxy war in Yemen and been hostile to less-than-fawning media coverage. And of course, he is suspected of being aware of the murder of journalist Jamal Khashoggi, who was dismembered in Saudi Arabia's Istanbul consulate.
Google's in business with the crown prince now.
Just how that goes down among those Googlers who have protested the company's work for the US military, or the sudden and odd departure of AI researcher Timnit Gebru remains to be seen. As does the internal reaction to working with an arm of the world's largest fossil fuel company. ®