This article is more than 1 year old
Roma, we've had un problema: When every flight's final destination is a date with Windows Boot Manager
'People got angry. Employees disappeared. Children started to cry'
12BoC On the second day of Christmas, the bork gods sent to me: flightless Windows signage, and a server they said had ceased to be. Welcome to the Twelve Borks of Christmas (12BoC): a collection of Register reader stories of amusing and frustrating tech sightings over the festive period.
Today's entry comes from Register reader Harmen, who was undertaking that most unusual of activities – air travel.
"In airports," he explained, "they have these big screens telling you where and when your plane is going to take off."
Silly boy. Everybody knows those screens are actually there to show the public just how broken the operator's signage solution is.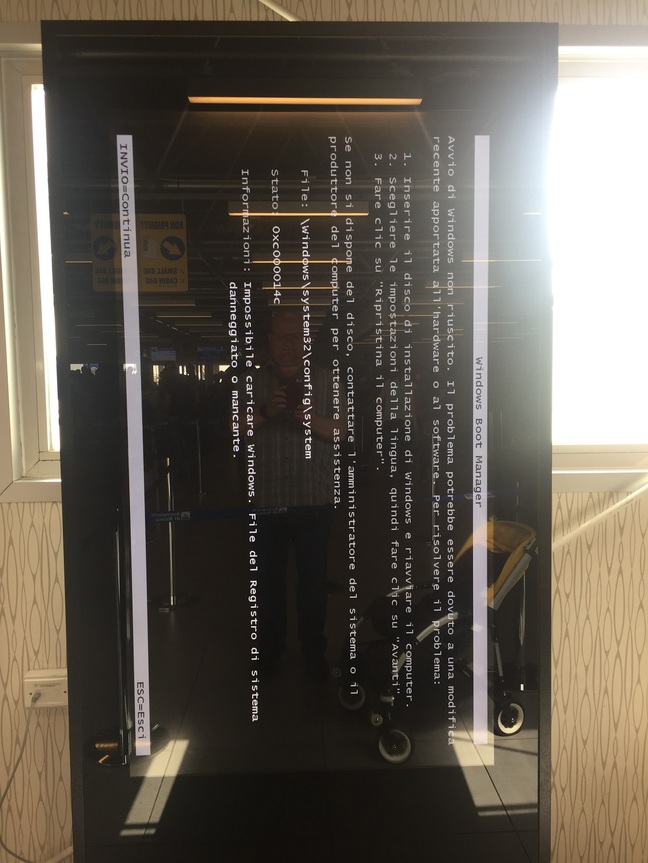 Click to enlarge
Rather than a tempting list of destinations or glitzy advertisements for the concessions to be found in the departure lounge, a sideways Windows Boot Manager is on display. Although some localisation has taken place (this is an airport near Rome after all) we can still roughly decipher the text: something bad looks to have happened to the Windows Registry file and Microsoft's finest has reacted with the resilience of wet pasta flung from a passing Fiat.
To be fair to Windows, we can't imagine many operating systems behaving much better when critical components cannot be found. It's just unfortunate that those wishing to know when and where the next flight to Malpensa is must instead wait for some harried administrator to find a boot disk.
"All the other screens had the same reassuring message," said Harmen before sinking into what we can only describe as a bit of a funk: "Nothing happens any time soon... Much like the rest of Italy. If something did happen it was by accident.
"And, indeed, nothing happened," he sighed. "People got angry. Employees disappeared. Children started to cry."
Faced with an airport experience familiar to us all, our reader did the only thing possible in the circumstances.
"I started drinking." ®