This article is more than 1 year old
Surface Laptop Go: Premium feel for a mid-range price, but Microsoft's Apple-like range once meant more than this
Svelte, yet ordinary
Microsoft's Surface Laptop Go is notable for its light weight, decent performance, and somewhat affordable price – but it is a long way from what the company had in mind when the Surface range was launched eight years ago.
When our loan Laptop Go arrived to review, it brought back memories. In October 2012 we were there in New York as Microsoft unveiled the first portable Surface (the name was first used for a 30" display with object detection released in 2008, later renamed PixelSense), called Surface RT, alongside its then-new operating system, Windows 8.
Unlike Surface RT, there is nothing revolutionary about the Surface Laptop Go. It occupies the role of budget laptop in the company's Surface range, which now features eight device families plus accessories like headphones and earbuds – the latter confirming that Surface is continuing its tradition of echoing many of Apple's product range.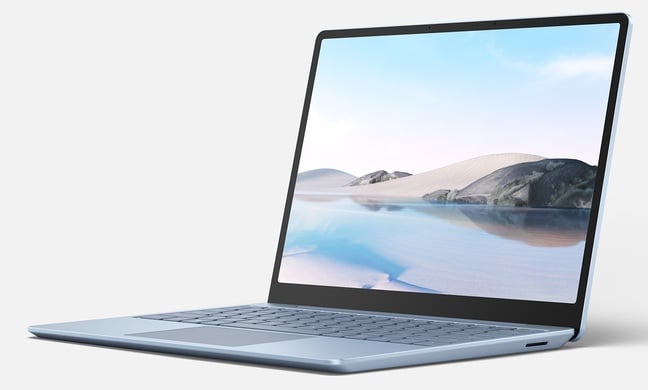 Surface Laptop Go is slim, lightweight and pleasant to use, if you avoid the under-specified base models
The Laptop Go is not the cheapest Surface. That distinction goes to the 10.5" Surface Go 2, though its £399 starting price does not include the near-essential Type Cover (from £99.99), bringing it close to the 12.45" Laptop Go, which costs "from" £549. That £549 gets you an Intel 10th-gen Core i5, 4GB RAM and 64GB SSD storage. Bump that up to 8GB/128GB and the price is £699, or 8GB/256GB for £809. These prices are aimed at consumers, who get Windows 10 Home in S mode.
The device we were loaned was a business variant, not listed in Microsoft's Surface store but widely available from resellers, with Windows 10 Pro, 8GB RAM and 128GB SSD, typically priced around £750. We would not recommend a 4GB laptop for Windows 10 – and for those who plan some after-market surgery, according to this video the SSD may be upgradeable but the RAM is soldered in.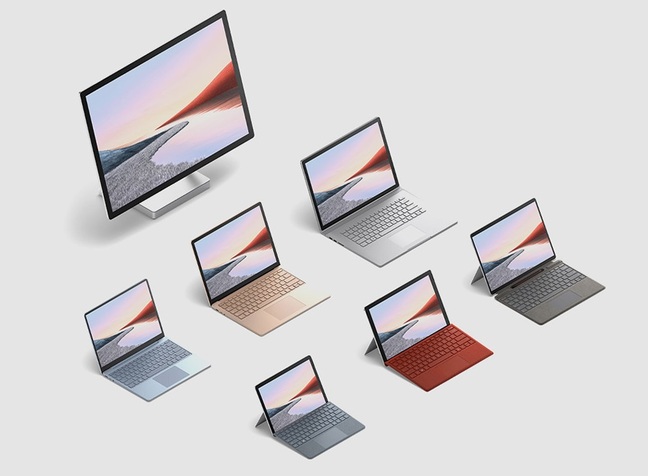 Microsoft's Surface range: Profitable but ordinary
What this means is that despite a lowish headline price, this is a budget laptop but easily undercut in terms of specification by alternatives from Dell, HP, Acer or Asus. However nobody buys Surface for top value; rather, it is a premium brand, and to some extent the Laptop Go does merit that description, if you avoid the underpowered models.
Svelte is the word that comes to mind: it measures just 15.69mm thick, the aluminium top and polycarbonate base are nicely finished, it is lightweight at 1.11kg, and in the unlikely event that a laptop is needed for travel in these days, the Go makes a neat device to slip into your case. The hinge friction is just right, easy to operate but firm at any angle.
The ports are minimal: one USB-C, one USB-A, a 3.5mm audio socket, and a Surface Connect port. The Connect port means you can plug in a Surface Dock 2 (at extra cost), which combines a power supply with four additional USB-C ports, two of which support video output, and an Ethernet port.
The keyboard is not backlit but reasonable for touch typing. There is an illuminated fingerprint sensor. The 1536 x 1024 display and integrated Intel graphics are fine for business use, not so good for gaming. Battery life is adequate but nothing special, we got seven or eight hours of use (though Microsoft claims 13 hours), but with fast charging to 80 per cent in one hour, it is adequate. The trackpad has five-point multitouch, which will suit some, though we find touchpads in general prone to mis-taps and this one is no exception.
As a device with something of a premium feel at a mid-range price, the Laptop Go is a contender. Still, we cannot shake off the feeling that Surface was meant to mean more than this.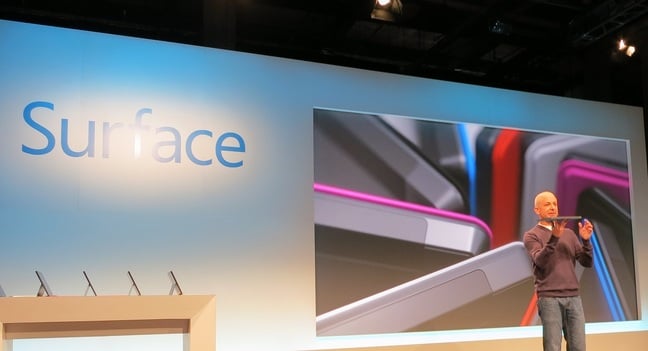 Former Windows president Steven Sinofsky presents Surface at the New York launch, October 2012
The October 2012 New York launch of Surface RT and Windows 8 was impactful. Ads all over the city invited the public to "click in", a reference to Surface's unusual, detachable keyboard cover. The Surface was intended to out-iPad Apple's iPad, solving the puzzle of ease of use, security, and productivity.
Unlike the iPad, Surface had a keyboard and Office. It was also a reinvention of Windows. Stephen Sinofsky, then president of the Windows Division, saw that the old Microsoft vision of "a microcomputer on every desk and in every home" was out of date, that Windows (and its users) had to be dragged into a new mobile world. Surface was the full expression of Windows 8 on dedicated hardware. It was a tablet; it had an amazing keyboard cover that converted it into something more like a laptop; and it had a true touch-friendly user interface until you tapped the icon called Desktop, whereupon it suddenly became something very like Windows 7, Start menu aside. It was a dual personality that could give users, Sinofsky hoped, the best of both old and new Windows.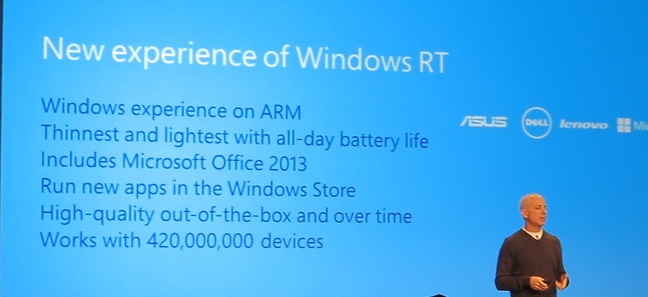 'Windows experience on ARM' long before Apple: This was Windows RT in 2012, shame about the dismal lack of 'new apps'
Surface RT was interesting, but an abysmal failure. It was launched before it was really finished. The hardware, based on Nvidia's Tegra 3 Arm chipset, was underpowered. But the biggest issue was that there were barely any apps worth running on the modern, touch-friendly Metro side, and none could be installed on the Windows desktop side even if you could find an Arm build.
The main reason to have a Surface RT was to run Office, wasting all the effort that Microsoft had put into the new user interface. It was too expensive, over $600 or £500 once the keyboard cover was included, and users found the cheaper fabric-based Touch cover hard to type on. It was no way to compete with the iPad.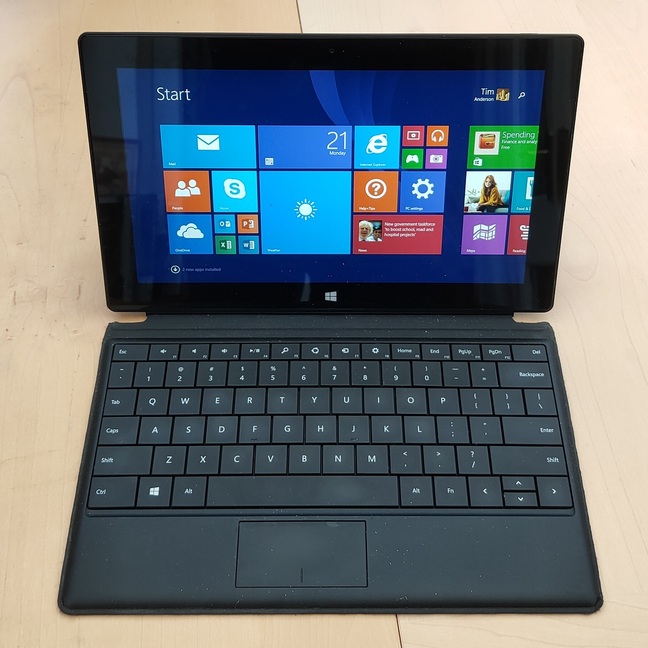 Our old Surface RT still works fine, better than at launch thanks to Outlook, but the web browser is horribly out of date
How bad was it? We found an old Surface RT and charged it up. It booted, installed some updates, and works fine, showing if nothing else that the device was built to last. We were able to log on, open Word, and type a document with changes syncing nicely to a Windows 10 PC via OneDrive. Unlike Windows 10, it also works well with touch; Microsoft did get a lot of things right with the touch control, swipe-in menus, and split screen for apps when needed – that is, if you could find touch apps worth running. Unfortunately, Surface RT is almost unusable for general-purpose computing since it is stuck with Internet Explorer and many modern websites do not work. A sad note in the Reading List says "Ending support for this app".
Eight years on, the Surface range has evolved from that dismal start to become a strong product for Microsoft. In its latest financials for its quarter ending 30 September, Surface revenue increased 37 per cent.
In the end, Microsoft achieved some of its goals, invigorating the market for premium Windows devices. But two things in particular are disappointing. One is that despite the company's end-to-end control of hardware and software in Surface, it has been no better in terms of glitches than third-party devices. We well remember the first Surface Pro, launched in 2013, which would regularly destroy its battery life by heating your bag when closed, for example, rather than sleeping as intended. Since then matters have greatly improved, but the notion that Windows would work perfectly if only Microsoft had control of the hardware was busted.
The other is that Microsoft's effort to reinvent Windows as a touch-friendly operating system to rival the iPad has utterly failed. We rarely see a Surface device used without a keyboard, and Windows 10 retreated (by necessity) from the Windows 8 vision.
The Laptop Go shows that Microsoft can turn out decent hardware for its price, but somehow when it tries to innovate (as with Surface Duo), things do not always work out so well. ®