This article is more than 1 year old
All I want for Christmas is cash: Welsh ATMs are unbeatable. Or unbootable. Something like that
Carpark sorrow as Windows failed to cough booty
12BOC On the seventh day of Christmas, the bork gods sent to me: a boot-hurt ATM, fix the printer, nerds, Scottish parking whi-i-i-i-nge, one dead DB, petty angry user, flightless Windows signage, and a server they said had ceased to be.
Welcome to the Twelve Borks of Christmas (12BoC): a collection of Register reader stories of amusing and frustrating tech sightings over the festive period.
It's an expensive time of year, and this seventh bork of Christmas tells the tale of how hopes of purchasing festive adult beverages in a local hostelry with cold hard cash were dealt a cruel blow.
Spotted by Register reader Gavin Burnett while on a Christmas shopping excursion in South Wales, this cashpoint outside the Tesco in Ystrad Mynach is making its humble PC origins clear.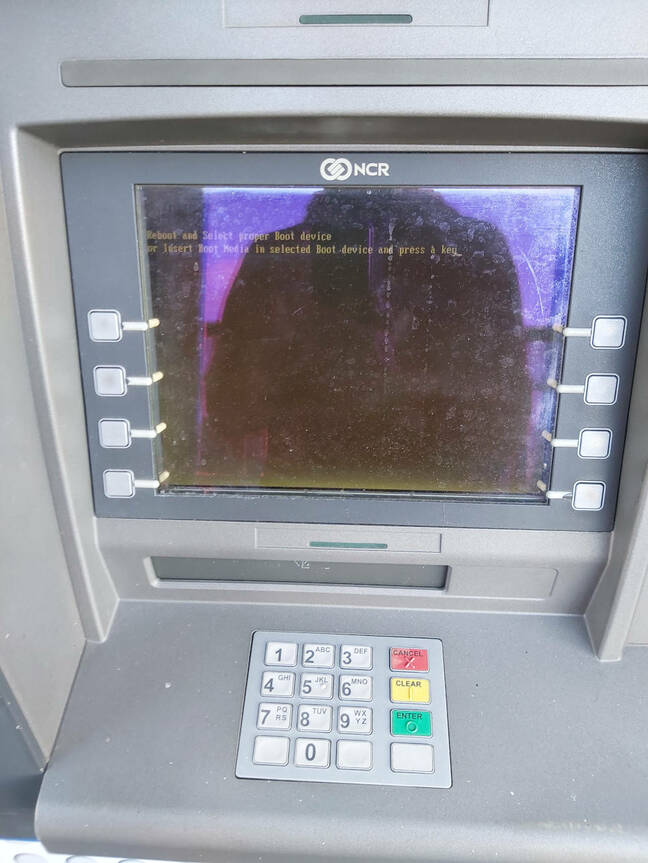 Click to enlarge
The message, "Reboot and Select proper Boot device", indicates that something has gone amiss with the internals – perhaps a failed disk or some other hardware error. Certainly, the silicon that powers many ATMs can hardly be regarded as cutting edge.
As recently as 2018, researchers found a good portion still plugging along on Windows XP, while others featured an exciting array of vulnerabilities if one was able to gain access to a physical port. Other dodgy dealings involved cracking the plastic case and popping in a USB stick of malfeasance.
The most secure cashpoint is, of course, the one that has been lightly brushed with the fairy wand of bork. After all, if you can't use it, miscreants can't swipe your details.
Burnett did not reveal if he attempted to insert a plastic card in an attempt to sate the beast's desire for a boot disk. As a reader of the Register, we expect he was far too sensible. So he took a picture instead.
Although the world may seem to be mostly contactless nowadays, Ystrad Mynach, north of Cardiff, has a few alternative options for those seeking the folding stuff.
But here, hardware failure aside, this ATM has seen better days and looks a little grungy. Even assuming we could find an orifice into which to insert a disk, pressing a key with an actual finger? We don't think so... ®