This article is more than 1 year old
As Uncle Sam continues to clamp down on Big Tech, Apple pelted with more and more complaints from third-party App Store devs
El Reg lends our ear to companies and developers struggling to survive in Apple's cruel, cruel App Store world
Special Report Google, Apple, Amazon, and Facebook, currently dealing with antitrust investigations from governments and fending off lawsuits from their disgruntled customers, appear to be finally facing their moment of truth: Has Big Tech gotten too big?
The US Department of Justice (DoJ) sued Google in October, accusing it of "unlawfully maintaining monopolies through anticompetitive and exclusionary practices" for its online search and advertising businesses. Now all eyes are turning to Uncle Sam's potential next target: Apple.
Billed as the first US company to reach an eye-popping $2tn in valuation, there's mounting evidence it rules the App Store with an iron fist.
Large companies like Epic have taken the iGiant biz to court over a rule that forces all app creators to cough up 30 per cent of sales processed using its in-app payment system (Apple has since halved the fee to 15 per cent, but it only applies to businesses with less than $1m in sales.)
Swayed by the turning tide against Apple, the smaller ones are speaking out too. El Reg spoke to multiple companies on and off the record about their nightmares with the App Store. They all complained about their one-sided relationships, and their futile attempts to negotiate and reconcile with Apple after being threatened with being kicked out of the App Store.
For many, the ordeal started with a phone call out of the blue.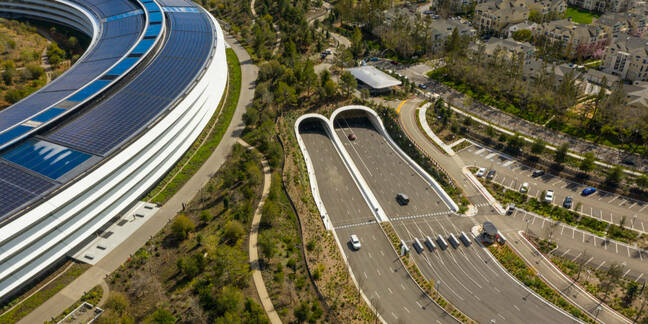 An aerial shot of a portion of the Infinite Loop, Apple corporate headquarters in California, complete with underground parking
Switch over to our in-app payments, or else...
Schibsted, home to the largest media group in Scandinavia, was surprised when an Apple representative suddenly demanded its apps implement the company's in-app payment system in 2018. Up until then, Schibsted's various newspaper groups had been using another credit card processing service for years with no problems. Being forced to switch over to Apple's payment system, however, meant that Schibsted would have to forfeit 30 per cent of all the money generated when customers sign up for subscriptions for its newspapers in its apps.
It faced a tough decision: Give Apple the money or be removed from the App Store. "We never got a written warning or anything, just a phone call," Petra Wikström, Schibsted's director of public policy, told us. Since most people read the news on their smartphones nowadays, abandoning its apps wasn't an option. "In the end, we just decided to comply with the in-app purchasing fee," she added.
But the problems didn't stop there. Now that Apple was processing the payments in its apps, it held all of Schibsted's customer information including people's names, addresses, credit card details, and phone numbers. It was no longer privy to these details as Apple doesn't reveal them for privacy reasons, making customer service difficult.
Since Schibsted implemented a different payment system for its newspaper websites, readers who had bought subscriptions there found that they could no longer read the news on the app. Some decided to just buy two subscriptions, one for its website and another one for its app.
Cutting us off from our customers
Wikström said there was no way to merge people's accounts because Schibsted had no idea who had bought subscriptions on the app. "We can't contact these people," she said. "Apple doesn't give us the data to do that even though they're our customers. There was no room to even contemplate if we should check with our legal department or anything because you just can't call them back or negotiate with them at all."
Another app creator, who wished to remain anonymous, told us that his app was singled out after he gave users a way to access the full version of the app for free as a trial. After their time was up, they would have to wait a while before they could renew the full service again. They could keep doing this for an unlimited number of times without having to pay a single cent.
But Apple didn't like that. The creator was told he had to roll out a payment system to make users input their credit card details before signing up for the trial period. There must also be a specific time limit to the pro version of the app, and once that period was over it must charge its customers money. To get out of it, users would have to explicitly cancel their subscription or else it would keep billing them.
Speak up and Apple might just back off
Although it's difficult to bargain with a multi-billion dollar corporation, it's sometimes possible to get them to change their minds if you publicly expose their crooked ways. Apple's greed was on full display for all to see when it tried to shake down a San Francisco startup aptly named DoNotPay for more of its lunch money.
CEO Joshua Browder announced his app was about to be booted from the App Store for being "too App Store-like" on Twitter. DoNotPay, touted as "the World's First Robot Lawyer", helps users carry out various tasks like automatically ending free trials for digital services, appealing parking tickets, and fighting for refunds from places like Uber Eats or DoorDash.
Just got a call from Apple. The DoNotPay App will be removed by them in 5 minutes because "the app is too App Store like." Each @DoNotPayLaw service needs to be a separate app and give 30% to Apple, violating guidelines 3.1.1 and 3.2.2(i) respectively. pic.twitter.com/nCevz8Qbbm

— Joshua Browder (@jbrowder1) November 4, 2020
Apple wanted the upstart to break these services up into multiple separate apps, so that it could take a 30 per cent chunk out of each one. After the initial phone call earlier this year in November, DoNotPay was swiftly taken down. Three hours later, however, it was back up online. A member of Apple's developer relations team later told Browder the company had made a mistake. "It was a big surprise and it makes no sense because nothing has changed [on the app]. It's all very confusing," he told The Register.
He reckons the negative public attention and potential backlash put Apple off. "Some developers have a pretty big number of Twitter followers, I think my tweet caught the attention of a reporter, who asked them for a comment and they decided to pull back. If you have a platform they're less likely to be capricious." Browder said Apple's reversal shows that it "makes the rules up as [it] goes along". "If Apple gets any pushback, it leaves and just goes on to badger others. I think they'll come back."
To avoid any future dramas, Browder said he's planning to stop customers from being able to sign up to DoNotPay's $3 monthly plan in its app. Instead, the company will only process payments on its website. His advice for other companies facing similar problems was to "go public."
"It's very easy to be the mafia in private, but publicly they have a lot more to lose - they're under a lot of scrutiny."
Another app was also lucky to escape Apple's grasp. Stylized as iSH, the application emulates a Linux shell where users can run a terminal inside iOS. Unlike Schibsted and DoNotPay, however, iSH is free and was built by a group of engineers as a side project for other developers to code on an iPhone.
Initially, the team attempted to ship iSH with a package manager feature that allows users to download external programs inside the terminal. Under section 2.5.2 of the App Store Review Guideline, however, it states that: "Apps should be self-contained in their bundles, and may not read or write data outside the designated container area, nor may they download, install, or execute code which introduces or changes features or functionality of the app, including other apps."
Package manager, therefore, was violating Apple's rules and the engineers removed it. The approval process is tricky said Saagar Jha, one of iSH's creators, because Apple doesn't provide much guidance. "There's no one there to tell you that if you remove something from your app, it'll get accepted." When iSH was finally approved, however, Apple said it was, again, not compliant with its rules and would be withdrawn from the App Store unless it could correct its mistakes within 14 days.
"Our app is general purpose, and what happened was users were running a file that allows it to connect to the internet and then they would download package manager onto it."
Jha said there was no way to stop users from doing that. "We could remove the function that lets people download files, but then they could just copy and paste the code to do that anyway." Apple's concerns that users could download malicious programs aren't justified here, he said, since the app cannot interact with any external functions of the phone outside of the app.
Given just two weeks to fix the issue, the iSH devs decided to preemptively tell its 40,000-odd users to expect the app to be removed from the App Store. "Just four days after we launched iSH on the App Store, we received a call from Apple informing us that they had found our app noncompliant with section 2.5.2 of the App Store Review Guidelines and that they would remove the app from sale if we did not submit a satisfactory update within two weeks," they wrote in a blog post.
"Despite our best efforts, we do not believe we will be able to bring iSH into compliance by tomorrow, the conclusion of this 14 day period, and we expect iSH to no longer be available to download from the App Store after that time. We are working our hardest to get iSH back on the App Store as soon as possible and hope for your understanding and support as we navigate our next steps in this process."
Jha said that after the blog post went viral on Hacker News, a popular tech news aggregator, an employee in charge of reviewing apps at Apple contacted the group to apologise for its mistake. iSH was allowed back into the App Store with no package manager. "Apple writes the rules and applies them however it likes. There are some rules that don't even apply to Apple," he said.
For example, Apple built its own scripting app called Swift Playgrounds, where users can play with the Swift programming language. "[It] generates native code dynamically. Apple does not provide [this ability] to third party developers that distribute their code through the App Store. Having the ability to generate native code like this in iSH would allow us to make our app almost an order of magnitude faster," he explained.
It's clear that Apple doesn't consistently enforce its guidelines, and picks on whoever it wants, whenever it wants. "Is this malice or incompetence?," Jha wondered. "Overall, it's just not a great experience for developers. If our app was removed, it'd be gone. That's three years of our work down the drain. We're not the only ones with these problems, lots of companies don't want to poke the bear for fear of retaliation. But for us it's okay because this app isn't our main source of income."
Choking out the competition and rejecting buttons
The steady crackdown of iOS apps has been happening for years. Justin Payeur, a product evangelist for Boomerang, an app that allows parents to limit a child's screen time, has been defending against Apple's money-grabbing tactics for awhile now. When the Silicon Valley giant rolled out its own tools in 2018 to gently curb how much iPhone users were on their phones, it began restricting specific features in third party parental control apps; in some cases, it kicked them from the App Store altogether.
"After Apple implemented its Screen Time setting, it changed some of the rules. We were no longer able to hide specific Apple apps like App Store or FaceTime," Payeur told El Reg. That gave Apple a competitive advantage. Why should parents bother paying for services like Boomerang when they could just use Apple's more expansive Screen Time for free? Apple also stopped sending user data to these developers, citing privacy concerns concerning children.
Payeur called the move "BS" and insisted that the data was used just to see where the app was crashing, so that it could work out where it could be improved. "I'm not malicious. I'm just a dad trying to help other parents out there, you know?"
'Many of the rules go beyond just being anti-competitive'
The draconian App Store rules can often make it difficult for entrepreneurs to get off the ground. Erik Rind, CEO and founder of ImagineBC, a wacky company that wants to pay users money to consume content on its platform, whether it's streaming a boxing match or listening to a podcast, ran into all sorts of problems. Rind said the company was modelled after YouTube, except that advertisers pay the users directly to watch adverts running on its content. Customers can also "monetise their data" by participating in digital focus groups and taking surveys, among other things. ImagineBC takes a cut from that.
It has repeatedly been rejected from the App Store for several different reasons. One time it was told that it simply wasn't allowed a button titled "Watch and Earn", another time it was told that paying people to watch ads was against the rules. "You can submit updates for your app nine times out of ten with no problems, but the tenth time Apple says no," Rind told us. When ImagineBC changed its app to allow users to donate their money to a charity, it was told that only approved non-profits could raise money.
"What's my alternative? There is no alternative," he said. "Why can other companies do things that we can't? It's so hard to speak to anyone at Apple, [it] just sends us written responses of whether they accept a specific update or not. If it decides no, we're not allowed on the App Store."
"The guidelines aren't helping the consumer, and many of the rules go beyond just being anti-competitive. Companies need to go to the DoJ, and now they feel more empowered with an 800 pound gorilla like Epic taking on Apple and also because of the efforts of Coalition for App Fairness."
Banding together to take down the boss
ImagineBC and Schibsted, along with 43 other organisations, including industry heavyweights like Epic and Spotify, have backed the nonprofit Coalition for App Fairness. Set up earlier this year in September, it aims to lobby for tougher legislation to prevent the biggest tech corps like Apple from getting away with unfair practices that bully iOS developers and stifle competition.
"Our mission and the ultimate goal is to create a level playing for all app creators," Sarah Maxwell, the coalition's spokesperson, told El Reg in a statement. Our 10 App Store Principles provide guidance on how we believe that can be achieved by all gatekeeper platforms... Apple's power has been unchecked for too long and now there's momentum growing - enough companies have publicly had bad experiences and entire industries - like publishing - are pushing back and policymakers are taking notice.
At The Register we're familiar with the futile nature of pursuing any sort of working relationship with Apple. Barred from attending its launch events or carrying out its gadget reviews, we've been stonewalled for yonks. We tried to call its media hotline but the line seems dead, and when we sent multiple emails to its PR asking for a response, Apple declined to comment on the record. ®