This article is more than 1 year old
Lenovo ThinkPad Carbon X1 Gen 8: No boundaries were pushed in the making of this laptop – and that's OK
If it ain't broke, don't fix it
Review Last month, Lenovo sent El Reg a loaner of its latest ThinkPad Carbon X1 ultrabook. This series is now in its eighth generation, showing that "innovation" doesn't always mean better. There's value in tried-and-tested designs, and this machine faithfully treads the steps of its forebears.
Lenovo got the fundamentals right with this conservative business laptop, and the latest model ThinkPad Carbon X1 touts a well-balanced array of ports, exceptional battery life, and the best keyboard on any ultraportable computer available right now.
Does it push any boundaries? No. But would you want it to?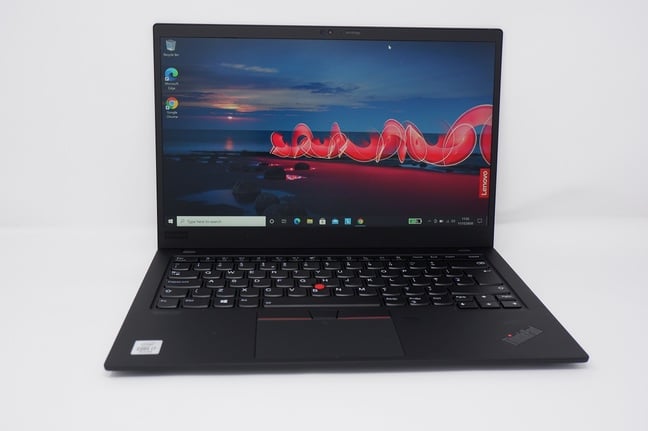 The device weighs in at just 1.09kg, it's even lighter than the current-generation MacBook Air, which tips the scales at 1.29kg. When the Thinkpad's resting on your lap, you barely feel it.
Lenovo has also managed to optimise this device to remove dead space, with the tiny bezels leaving room for a wide and vibrant 14-inch display, which can comfortably accommodate two apps running side by side without feeling particularly squished.
In keeping with ThinkPad tradition, the Carbon X1 is built like a brick house. Or Vinnie Jones. When you rest your hands on the machine's palm wrests, there's none of the flex you'd expect with a flimsier unit. It feels remarkably sturdy – although it picks up fingerprints like a forensic scientist at a crime scene.
Specs
Lenovo provided this correspondent with the top-of-the-line variant (type number 20U9-0044UK), packing a 10th-generation Intel Core i7 10510U chip with a base clock of 1.8GHz. This is accompanied by 16GB of LPDDR3 memory and 512GB of M.2 NVMe storage.
These are formidable specs, and make for a damn responsive machine. It boots in seconds, can multitask with the best of them, and is capable of playing some modern games on medium settings, like Civilization VI. We also note that the machine remained fairly cool during heavy loads, and fully silent when performing basic productivity and browsing tasks. That's indicative of some really solid thermal engineering on Lenovo's behalf.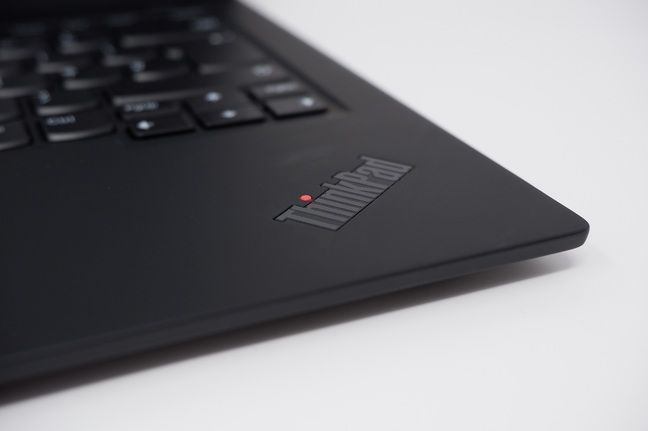 Still, given the computer landed at the tail end of 2020, it's a shame that Lenovo skipped over Intel's top-drawer Tiger Lake silicon and opted to use an older RAM format that's soldered to the logic board, meaning you can't upgrade it further down the line. There's also no option to include a discrete graphics card – not even an ultrabook-friendly Nvidia MX450.
Lenovo redeems itself when it comes to the display, which even with the lowest-possible configuration option is bright and vibrant. Our review unit came with a 1080p non-touch panel, with a reported brightness of 400 nits. For a reasonable £100 extra, you can upgrade this to a UHD 3840x2160 panel with a brightness of 500 nits. This will inevitably come at the expense of battery life.
The model provided to El Reg delivered around 13 hours of continuous use in realistic conditions. Lenovo says you can get 19.5 hours, but vendor battery promises should always be taken with a healthy dose of scepticism.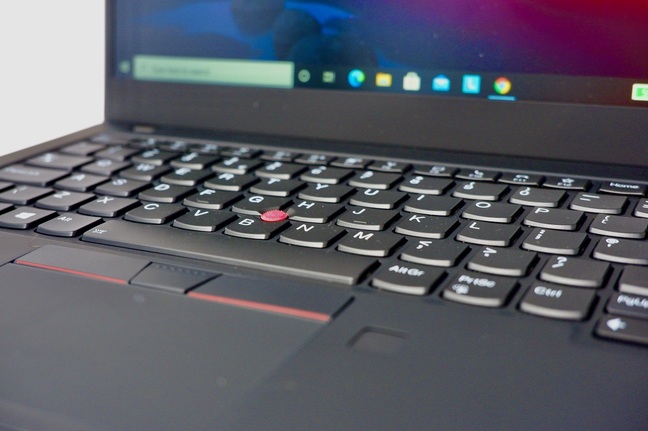 We couldn't test the display out in the most challenging of sunny conditions (it's winter), but we're confident the ThinkPad Carbon X1 will prove readable, even when used from a beer garden on a lush August day. Beer gardens, remember those?
And then we get to the chiclet-style keyboard, which is excellent and faithful to the ThinkPad lineage.
Ultrabook-style devices tend to compromise keyboard quality upon the altar of a slimmer form factor. We all remember Apple's butterfly keyboard debacle. A few months back, we reviewed a Toshiba Dynabook that weighed less than a kilogram, but had one of the worst typing experiences we've seen all year. This, thankfully, is different.
Most ultrabook keyboards are as crowded as London Underground's Northern Line at 8am. But not here. The ThinkPad Carbon X1 leaves a couple of millimetres between each key, meaning accurate touch typing. There's also a perfect level of travel, with keys moving just over a millimetre before bottoming out with a satisfying click. Meanwhile, the backlighting is bright, which makes all the difference when undergoing a late-night productivity sprint.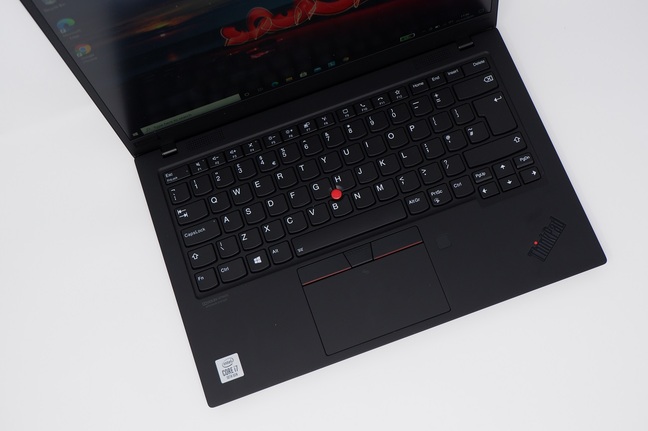 The trackpad is generously large, making it easy to move the mouse cursor across the display with a single fluid gesture. Trackpad clicks feel slightly shallow, however, especially when compared to other competing ultrabooks, like the latest Huawei Matebook X Pro. Still, Lenovo includes three physical mouse keys, as well as the iconic "nipple" pointer. Both feel a bit redundant, but presumably remain as they're so integral to the ThinkPad brand.
Sadly, we couldn't crack it open for a look as we've done with other laptops. On the loaner device provided, Lenovo covered one of the screws required to remove the backplate with a "do not remove" sticker. And we actually do what we're told... sometimes.
While we know the storage is a standard M.2 NVMe drive, we don't know if other components, like the laptop's Wi-Fi card, can be easily switched out, or how easy it'll be to replace flaky thermal paste after a few years of usage. That said, previous ThinkPad machines have been straightforward to service so it'd be surprising if Lenovo diverged here.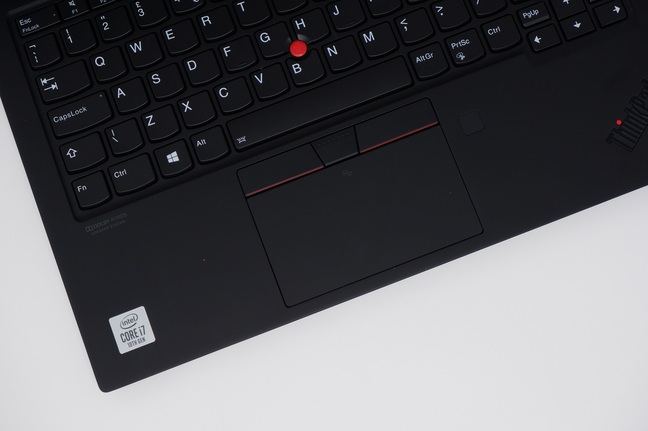 As you'd expect from a business machine, Lenovo wasn't stingy with the ports. You get full HDMI, two USB-A 3.2 slots, two USB-C thunderbolt ports (with one used for charging), and a socket for Lenovo's proprietary Ethernet adaptor. Still, it's a shame that Lenovo couldn't include on-device support for wired networks. Support for SD and MicroSD would have also been nice.
The ThinkPad Carbon X1 we tested has a base price of £1,819.99 – although punters can currently get £178 off with the coupon code WORTHTHEWEIGHT.
Pricey? Sure. But you're paying for quality. There's literally nothing frustrating about this machine. No glaringly obvious cut corners. Nothing that made me mutter "I wish they didn't do that" under my breath.
The keyboard and display are excellent. It runs nice and cool, and the battery is good enough for a full day of work. It has enough oomph for most tasks. It comes with proper HDMI and USB-A ports, meaning you don't have to use a dongle to hook the machine up to an external monitor and peripherals.
Admittedly, the soldered RAM is a shame – especially as it maxes out at 16GB, and cannot be upgraded or configured beyond that limit. Similarly, we would have liked to have seen Intel's most recent silicon used, and the option to include an ultrabook-friendly graphics card would make this machine more compelling for those who deal with GPU acceleration at work. But if you can get past those quibbles, this really is a great machine. ®