This article is more than 1 year old
Realme 7 5G: Parents, this is the phone you should have got your kids for Christmas
It has everything most normal people would want and costs £279
It's never been harder to buy a new phone. Five years ago flagships did everything, mid-rangers had obvious compromises, and sub-£200 handsets were trash.
Now those lines are so blurry, you'd be justified in asking your ophthalmologist to check for cataracts. And it's all thanks to devices like the Realme 7 5G.
I should hate this phone. It's emblematic of a trend within the smartphone industry that's making it harder to pick and choose between devices. Priced at £279, the Realme 7 5G sits in a price band that historically housed slow, feature-crippled phones with awful cameras. And yet this handset has pretty much everything a normal person wants from a phone, and then some.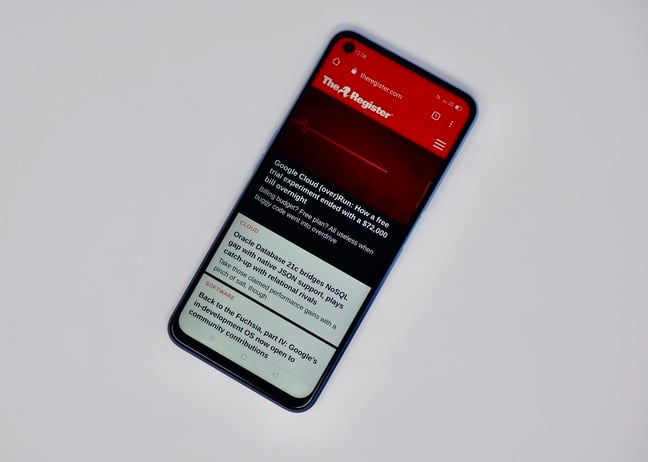 It's not a "powerhouse," although it's certainly good enough for most day-to-day stuff. The Realme 7 5G is fitted with enough RAM for multitasking (6GB), ample storage for apps and content (128GB, using UFS 2.1), as well as a MediaTek Dimensity 800U processor that holds up well in challenging conditions.
It has other charms too. Battery life is excellent, comfortably providing two days of charge if you're conservative with usage. This is enhanced by 30W fast charging. And that's before we mention its fluid 120Hz display, as well as support for 5G.
Picture Perfect?
The display is 6.5 inches, 1080 x 2400, and bracketed by four slender bezels that give it an 90.5 per cent screen-to-body ratio. In the top-left corner, you'll find the phone's 16MP wide-angle selfie camera housed in a small hole-punch cutout.
Given the price of this device, Realme had to pick between the quality of the panel, and the speed of its refresh rate. A compromise had to be made. It opted to go down the latter path with a weaker IPS LCD display capable of 120Hz speeds.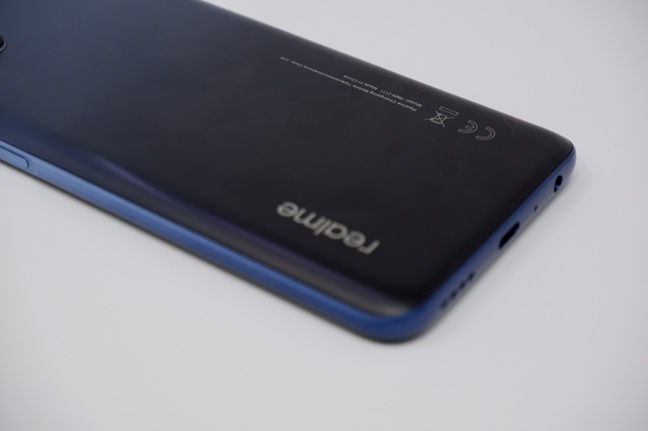 It panders to the device's target audience: price-sensitive, game-obsessed bods. Even if you aren't partial to the occasional bout of Call of Duty, you'll notice a faster screen will make UI elements feel smoother. Briskly scrolling through your email inbox produces none of the juddering you'd otherwise experience when using a standard 60Hz panel.
Still, colour fidelity is an issue on LCD screens, and the Realme 7 5G is no exception. If you've been spoiled by an AMOLED display, you'll start to notice a real downgrade. Colours look washed out and black tones are dull when watching films or reading a media-rich website.
The ultra-high refresh rate also feels somewhat redundant when you consider this phone doesn't exactly tout premium specs. Don't get me wrong, the MediaTek Dimensity 800U is fast enough for most low-stakes tasks, and compares favourably with its immediate Qualcomm rival, the Snapdragon 765G. Still, when you're playing a visually intensive game, you'll start to encounter performance headwinds. These occasional splutters dilute the benefit you'd otherwise get from a 120Hz panel.
Stayin' alive
Realme isn't stingy when it comes to the battery, which is rated at 5,000mAH. That's at the upper end of what you'd typically get in a mainstream Android phone. You can surpass that if you opt for a niche device, like the Doogee N100, which touts a 10,000mAh battery, but those are the exceptions and not the norm.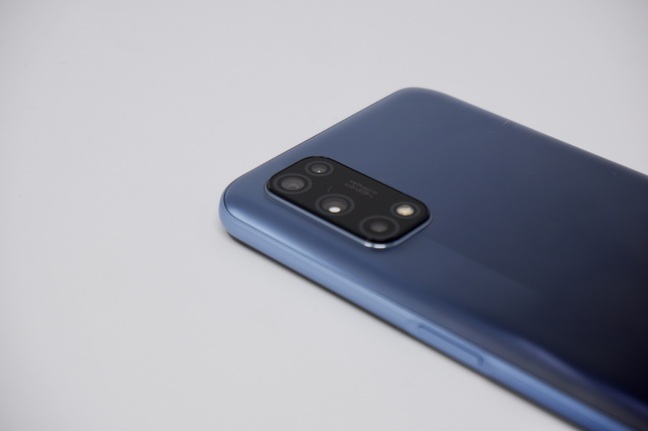 If you're conservative, you can stretch this to last two days of continuous usage. This is easily done by dropping the display refresh rate to 90Hz or 60Hz, avoiding 5G, and limiting your use of battery-gobbling apps and games. Given most people are working from home, and 5G coverage is still relatively sparse, you'll probably end up doing this anyway without realising. If you throw caution to the wind, you can expect something north of 24 hours based on our testing.
There's no wireless charging, which is a common trait to devices made by other firms owned by Realme's parent, BKK Electronics. Still, it makes up for this with the inclusion of brisk 30W fast charging, which can deliver a full charge from empty within an hour, providing you're using a compatible USB-C charger.
Snap happy
As is common with devices in its category, the Realme 7 5G has a quad-camera setup. No surprises here – the primary camera is 48MP using Samsung's S5KGM1ST sensor tech.
High megapixel counts are just a marketing gimmick designed to sway those who incorrectly believe that "more" is the same as "better". For starters, you almost never end up with a 48MP photo — and, for that matter, nor would you want to.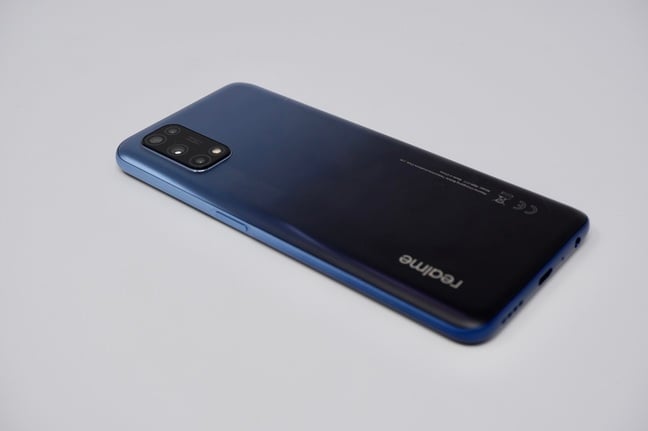 To squeeze more pixels onto a sensor, camera manufacturers have to make them physically smaller. This makes them less capable at absorbing light. So, the sensor performs some technological trickery, combining multiple pixels into one. This is called "pixel binning" and it usually produces shots that are as much as four, six, or eight times smaller.
The primary sensor on the Realme 7 5G is good enough for most people, and produces solid (if not slightly overexposed) shots under decent lighting conditions. And its accompanying 8MP ultra-wide angle lens is perfectly serviceable, offering a 119-degree field of view.
There's also a 2MP macro lens, allowing close-up shots from within a focal range of 4cm. Sadly, the resulting images are too grainy and low-resolution to be of use.
This is in line with what you'd expect on a low-end phone with a quad-camera setup. You typically get one or two usable cameras, and a further two that are too low-resolution to provide any utility, but nonetheless serve as a marketing hook for those who don't know any better. You can't really fault Realme for this; it's pretty much standard across the entire Android industry.
Wrapping up
Despite the complaints, the Realme 7 5G is decent value. There are flaws, certainly, but they're what you'd expect from a device in its category.
Sure, the camera is only so-so, and the display isn't as vibrant as we'd like. Realme redeemed itself by including extras that more than make up for those sins, including an excellent battery, fast charging, and a generous complement of RAM and storage.
This is a phone you can give to a parent or younger child, and they won't hate it. We'd recommend it over more expensive models, like the OnePlus Nord and Motorola's Moto G 5G Plus. And for £279, who can argue with that? ®