This article is more than 1 year old
Wanna know a semi-secret? Samsung's semi-rugged Galaxy XCover Pro is more than a semi-industrial curiosity
Extra support, extra options, designed for hard work but won't disgrace itself in everyday life
Imagine if Samsung offered a semi-secret phone that it hardly ever allows to appear in shops, and which gets longer, stronger, support than is offered for its other devices. Imagine that phone delivers most of the experience of a premium Galaxy device but keeps a 3.5mm headphone jack and replaceable battery. It even boasts a docking feature not available in other phones and sells for less than Samsung's premium consumer handsets.
If the features above interest you, know that this phone is real. It's called the Galaxy XCover Pro and Samsung mostly sells it direct to those who buy fleets of phones to deploy to remote workers or in industrial settings.
Turn on the XCover Pro and it behaves just like any other Samsung 'droid. When I fired up a review unit I had no trouble with browsing, email, gaming and streaming video.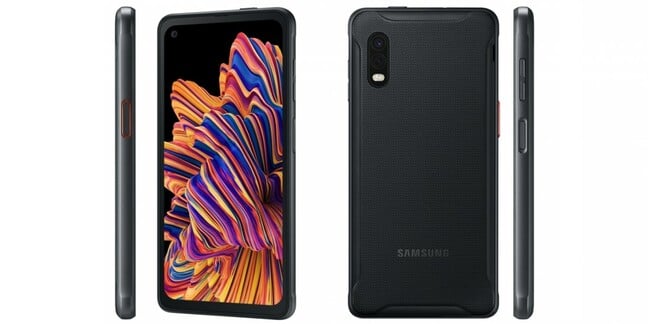 Samsung's Galaxy XCover Pro
The phone was a little laggy compared to Samsung's premium consumer-grade Galaxies as its Exynos 9611 eight-core CPU offers four cores at 2.3GHz and another four at 1.7GHz. That's a little behind the Galaxy S20's combo of cores at 2.73GHz, 2.5GHz and 2GHz. The XCover also only has 4GB of RAM.
The XCover Pro's 1080 x 2340 screen is a little less dense than the 1080 x 2400 on the low-end S20s.
It feels odd to complain that the XCover Pro offers just two rear-facing cameras, one at 25MP and another at 8MP. Both lack the subtleties of Samsung's consumer shooters. Also unsubtle is the TFT screen, which doesn't deliver brilliant contrast.
Overall, the XCover Pro won't quite delight compared to premium handsets. But it will be an upgrade for those using midrange phones and would not be a daily disappointment unless you have a specific reason to demand a slicker handset.
And that's very much Samsung's aim because it wants the XCover Pro to be a device that workers are happy to accept as a device they use all day. The company feels that workers are tired of needing their own device and company-issued hardware. The rugged device is designed to fill both roles without making users feel their downtime is being ruined by a sub-par handset.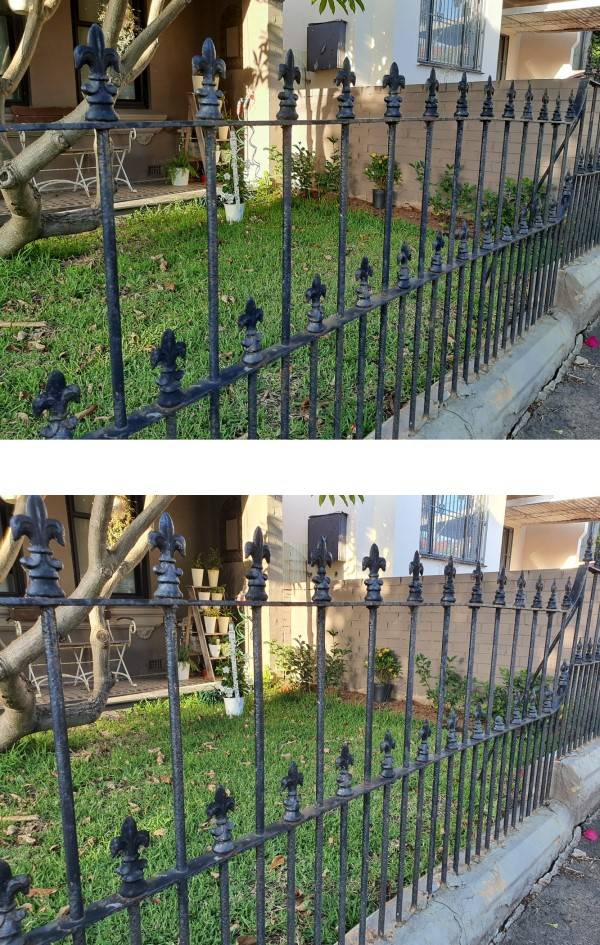 Photos of a fence and wall in your correspondent's neighbourhood. XCover Pro shot above, Galaxy Note 10 below. Click to enlarge or here for a larger file
Industrial dressing
Samsung has also made sure the phone can endure busy days.
The device is IP68-rated so can survive a lot of dust, moisture and vibration.
The handset is encased in a grooved and grippy shell that extends a millimetre or two beyond the screen and feels like a slim case designed to give the phone's glass a better-than-average chance of surviving a fall. The look is chic enough not to mark it as an industrial device while also sending signals its wellbeing can't be taken for granted – especially as the rear cover is removable.
Industrial users get a few other frills, among them a pair of tiny brass pins on the phone's bottom that enable charging on a "POGO" dock that connects without the need to fiddle a cable into place. USB-C is also present if you'd rather mess with wires. ANT+ is supported to help wireless connectivity to odd devices.
The device has two customizable buttons, one on the side and another on top. Samsung hopes they'll be used to either summon custom apps or drive peripherals such as barcode scanners.
The touchscreen has a setting to increase its sensitivity so it can be operated while wearing gloves. Your correspondent found it works in cycling gloves at least. The phone also survived an 70km ride in the nastiest, sweatiest part of my cycling jersey.
A removable battery is standard and resembles the square affair Samsung packed into the Galaxy S4 back in the day. The battery in The Register's test unit included HFC and wireless charging. The latter worked. The former did not when we tested it with banking apps because Android said the device had been rooted. It's not hard to find reports of this glitch online. Your correspondent will be generous and assume it was an artefact of an evaluation unit going through many hands before ending up in my claws.
The big feature for business buyers is Samsung's guarantee the phone will stay on sale for 24 months, and receive four years of security updates. That extra support is designed to give businesses comfort that their investment will last.
Google and Qualcomm recently undermined Samsung's offer to a degree by pledging that the combination of Android and a Snapdragon SoC will soon cope with three full Android upgrades. For Samsung to ignore that arrangement would be folly.
As would ignoring the XCover Pro. I worry that it's not quite tough enough to survive four years of hard use without extra physical protection. But the replaceable battery, customisability and ANT+ support will make it a better option than a consumer phone in a hefty case and make seeking out this semi-secret device a good use of your time. ®