This article is more than 1 year old
Welcome to the splinternet – where freedom of expression is suppressed and repressed, and Big Brother is watching
The new internets of Iran, China, and Russia are nothing like the original
Feature Electronic Frontier Foundation co-founder John Gilmore said that the internet routed around censorship. But what if the net stopped being one big, connected thing? National governments are busy walling off their own sections, and in some cases changing the technologies that underpin it. What's more, they're not stopping at their own borders.
There are terms for this sliced-up internet, with rules that vary between countries. Some call it digital balkanisation. Others, like Julie Owono, call it the splinternet.
"It's an internet where free expression is suppressed and repressed," explains Owono, executive director of digital rights group Internet Sans Frontières and a Fellow at Harvard's Berkman Klein Center for Internet and Society. It's a long way from what the internet's creators envisioned, she adds. "They had in mind a space of freedoms by principle."
This set of digital gated communities is growing. Russia has the Runet, its domestic internet infrastructure, which it has been working to make independent from the external internet since at least 2014. The country unplugged the Runet from the rest of the world a year ago in a test run to see how it would fare on its own.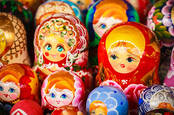 Russia threatens to set up its 'own internet' with China, India and pals – let's take a closer look
READ MORE
That isolationist step was the culmination of repeated calls by Russia to reduce the world's reliance on any aspect of the internet relating to the US. In 2017, sources suggested that Russia, worried about threats to its internet from western control of the Domain Name System (DNS), wanted to set up its own internet with the other "BRICS" countries, Brazil, India, China, and South Africa. That would entail an alternative system of DNS servers located entirely within these emerging economies, which, as El Reg pointed out in some depth, is futile.
Still, national calls to wall off portions of the internet are spreading. In 2013, then-Brazilian president Dilma Rouseff called on countries in the UN to build their own sovereign internet government structures. North Korea has Kwangmyong, a centrally administered network accessible only via a heavily monitored Linux distro called Red Star. Cuba has RedCubana, an alternative to the open net that houses Cuban versions of popular websites like Wikipedia, along with local apps. Iran has its National Information Network (aka the Halal internet), a government-controlled network that hosts Iranian sites and tracks all its users. It allows heavily moderated access to the outside world.
Why splinter the 'net?
Countries take the walled-garden approach for different reasons. Russian and Brazilian politicians have pointed to US control over internet infrastructure as an issue (even though the US officially ceded control of domain name regulator ICAAN in 2016). There's something else going on, points out Dipayan Ghosh, technology and economic policy advisor in the Obama White House and Pozen Fellow at the Shorenstein Center on Media, Politics and Public Policy at the Harvard Kennedy School.
"What we're increasingly going to see is states like Russia and China beginning to clamp down in the interest of state security, national security, and the interests of political leaders in those two countries," he says.
China's vice-like grip on its internet is a case in point. Its Great Firewall project, initially created as part of the Golden Shield surveillance initiative, monitors and controls traffic flows there using tactics including IP bans and keyword filtering.
The West's checks and balances are far from perfect (just watch Facebook shrug off a $5bn fine from the Federal Trade Commission), but at least they exist. In China, the Communist Party runs the show. That makes tight control of the internet not only possible, but advantageous.
"It controls the military completely. It controls information networks. It controls political perception. It controls the media. It controls the economic design of the country," Ghosh points out. The more control you have over a country, the more it makes sense for you to enhance that control by locking down your infrastructure.
Changing the network's DNA
These days China is moving beyond locking down its internet. Now the Party wants to change the network's DNA, explains technology expert and lawyer Emily Taylor, CEO of cyber intelligence company Oxford Information Labs and a research associate at the Oxford Internet Institute.
If you wanted to identify people, organisations, even equipment persistently, forever, then actually domains and IP addresses are quite annoying
Taylor's paper on China's splinternet strategy, co-authored with Stacie Hoffmann and Dominique Lazanski, describes the country's proposed New IP technology. This future-facing network architecture, presented [PDF] to the International Telecommunication Union (ITU) by Huawei, proposes an entirely new (although backwards-compatible) address system for the internet.
"The standards merge the data link with the network layer," says Taylor. That might seem like a weird thing to do. "It's not weird if you want the ISPs not to be just dumbly moving around traffic, but to actually understand and have some active role in authenticating users and reading what's going on."
Taylor notes other technology proposals coming out of China designed to make user identification easier. One of these is the recommendation for digital ledgers (blockchains) in a 2018 Huawei white paper that describes a government push for this technology. Another is a Chinese 2019 ITU working group presentation called "A Decentralized Framework for Object Identifier Resolution".
She ties this back to the Chinese push for a national social credit system. First articulated in 2014, this is an an initiative to create a single system of "creditworthiness" covering all aspects of society, including not just finance but social interactions, and the use of blacklists for those engaging in "untrustworthy" conduct. The original policy document also calls for a real-name system on the Chinese internet.
The battleground of this splinternet, and where we really see what's at stake, is the African continent, where billions are yet to be connected
The social credit system may be Orwellian, but it's also far from universally functional, say reports. In 2020, the deadline year for its implementation, it appears to still be a hodgepodge of systems. Existing tech might be a barrier, says Taylor. "If you wanted to identify people, organisations, even equipment persistently, forever, then actually domains and IP addresses are quite annoying," she says. "What you'd need to do is replace all of that with individual identifiers which stick with you for life. And no matter where you are, you know, you will always be identified, and so will your organisation."
Standardisation efforts
China's aim isn't just to implement these technologies internally, Taylor believes. She sees a China eager to export its internet technology overseas. But where?
While western governments fret about security threats from Chinese telcos, Owono believes there's another region in play.
"The battleground of this splinternet, and where we really see what's at stake, is the African continent, where billions are yet to be connected," she says.
China has invested just over $300bn in Africa in the last two decades. In 2018 President Xi Jinping pledged $60bn in assistance, investment, and loans, $10bn of which will come from Chinese companies investing in the region.
Chinese companies have been busy helping countries in Africa roll out everything from fibre networks to smart city initiatives and data centres, as the Australian Strategic Policy Institute has documented.
This economic initiative has a political counterpart, warns Taylor: an aggressive Chinese standardisation effort at the ITU. Red lights started going off for her when she saw lots of Chinese-driven internet standards going through different ITU study groups at the same time. "It wants to standardise stuff internationally that meets its domestic priorities," she says.
Those worried about the splinternet should not just be concerned about citizens in Iran, Russia, and China, then, but those in countries on the cusp of building out new infrastructure that will help develop their digital economies.
Owono worries about the effect of a centralised internet in countries that seem all too ready to shut down infrastructure when it suits them. A 2019 report from the KeepItOn coalition documented 213 internet shutdowns during 2019, and an increase in the number of countries that flipped the switch. The number of shutdowns and trigger-happy countries also increased across Africa.
"What internet will they have access to?" Owono asks. "Will it be a centralised internet on the model of China, or Russia to some extent? Or will it be more liberal?" One thing is certain. For billions around the world, the internet is already a very different place to be. ®