This article is more than 1 year old
Amazon Web Services launches appeal after losing $12m AWS trademark war in China to local biz Actionsoft
American goliath vows to overturn ruling at Middle Kingdom's Supreme People's Court
Amazon hopes to overturn a ruling in China that not only banned it from using its AWS acronym and logo in the Middle Kingdom but also ordered the US giant to pay Chinese cloud outfit ActionSoft $12m for trademark infringement.
"Amazon Web Services invented cloud services and made it popular around the world under the AWS name long before any other company developed a competing service," an AWS spokesperson told The Register on Tuesday.
"Amazon was the first to use the AWS logo in China to sell cloud services by many years. We strongly disagree with the court's ruling and have appealed the case to the [China's] Supreme People's Court."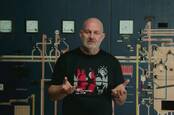 AWS catches up to Azure and GCP with CloudShell, adds deliberate injection of chaos
READ MORE
The appeal comes after the Beijing Municipal High People's Court decided in May that ActionSoft, not Amazon Web Services, officially owns the term "AWS." Amazon was also ordered to hand over 76.5 million yuan ($11.8m, £8.7m) to ActionSoft as compensation for using the letters in its product marketing. The ruling was not published, however, until the end of December, the Wall Street Journal first reported.
ActionSoft and Amazon have been embroiled in a trademark battle for years in China. Both companies have filed numerous applications to register variations of AWS. For example, Amazon applied for a logo picturing five cubes next to AWS written in lowercase in 2016, and its AWS smile logo in 2017, according to China's Trademark Office. ActionSoft, however, trademarked the letters AWS in plain writing in 2004.
The dispute over the use of AWS eventually culminated in a lawsuit when ActionSoft sued Amazon for trademark infringement and asked for $46m in compensation in 2018. Amazon argued that it had been using the AWS name and logo for its cloud computing arm since 2002.
The Chinese courts, however, ruled in favor of ActionSoft, and now Amazon has appealed the decision to China's Supreme People's Court.
A quick glance at Amazon's AWS site in China still shows the org using its smile logo. "'AWS' is an abbreviation of 'Amazon Web Services"' and is not displayed herein as a trademark," it notes at the bottom of its Middle Kingdom website. ®