Brexit freezes 81,000 UK-registered .eu domains – and you've all got three months to get them back
After years of waffle, potentially thousands of web addresses suspended
Tens of thousands of .eu domains have been officially suspended due to Brexit.
On Friday, as Brits awoke from the least celebratory New Year's Eve of modern times, 50,000 of them discovered that their 81,000 .eu websites, and related email addresses, had stopped working.
It's part of a rule change imposed on the company that runs the .eu registry, EURid, by the European Commission after the European Commission decided that ownership of a .eu domain name is reliant on the domain holder's membership of the European Union.
That approach went against the domain industry's standard approach, where ownership is not revoked once granted so long as annual registration fees are paid and there is no successful challenge mounted against it, such as a seizure request by the police or a trademark infringement dispute.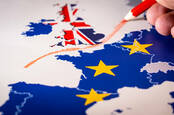 Barmy ban on businesses, Brits based in Blighty bearing or buying .eu domains is back: Cut-off date is Jan 1, 2021
READ MORE
But, worse, as the complexity of the situation became apparent, the rules had to be changed no less than three times as .eu holders threatened to sue. At first, in 2018, the EU decided that any .eu domain registered by a Brit or with a British address would simply be cancelled.
That infuriated many British firms doing business in the EU, Brits living in Europe and EU citizens living in the UK. Eventually, the final iteration of the rules decided that only Brits based in the UK would have their domains taken away, and that rather than being cancelled, they would instead be suspended. Any British .eu domain holder who shifts their domain's registration address to somewhere in the EU from a UK address will be able to retain the right to own their domain.
And to be clear: that means EU citizens based in the UK don't need a physical Euro address to keep their .eu, though they must email EURid with their proof of citizenship.
Exit stage right
Those rules were finalized in June though the damage was already done. According to EURid's figures, there were 317,000 .eu domains owned by Brits in 2018; a number that has now fallen to 81,470. In short, most Brits simply dumped the domains. The irony being that the EU itself benefits from, and would have continued to benefit from, the registration of .eu domains: it receives a cut of the annual registration fee.
EURid has been put in the unfortunate position of having to repeatedly email its customers over the past two years to explain the ever-changing rules. And, this week, it put out its "Third Brexit notice to registrants and registrars" since December warning UK holders that their domains are going to be taken offline, and with it, their related email addresses.
The domains will be kept in suspension for three months – until March 31, 2021 – and if the owners haven't changed their physical registered address to one in the EU by then, the domain will then be put on the open market in 2022.
"Registration data may be updated by indicating a legally established entity in one of the eligible Union Member States, or by updating their residence to a Union Member State, or proving their citizenship of a Union Member State irrespective of their residence," reads the advisory.
What now?
It's not clear, like many other aspects of Brexit, what the impact is: will the owners of .eu domains be confused this week when they return to work to find their website gone and email has stopped working? Or were they using their .eu domain as a secondary site to their main one? Or have they decided to simply let it expire?
The multi-month delay was introduced in an effort to prevent EURid from being sued for taking away someone's property under a policy that goes against industry norms and, frankly, common sense. It's going to be hard for a .eu domain holder to argue that they weren't aware of the change if they don't notice their website has been dead for several months. ®