Brit infrastructure stuck in neverending restart cycle... and that's just the Microsoft 365 admin center
'Unexpected spike in user traffic' causes Tuesday tumble
Updated The outfits might be arch-rivals in the messaging space, but Microsoft 365 showed a bit of solidarity with Slack this afternoon as its administration portal fell over for users in the UK and some of Europe.
Aimed at administrators, the Microsoft 365 admin center is used to add and remove users, fiddle with licences, and reset passwords. While ordinary users may not necessarily feel its absence, those charged with supporting them most certainly would.
Microsoft noted that the issue afflicted users hosted in or served through the UK region. A glimpse at social media showed complaints also rolling in from the Netherlands, Spain, and Sweden.
We're investigating an issue where some users hosted in the UK region are unable to access the Microsoft 365 admin center. Please refer to https://t.co/4yJVZgRX18 or MO232941 for further updates.

— Microsoft 365 Status (@MSFT365Status) January 5, 2021
The problem itself will be familiar to those fated to use the company's operating systems. A chunk of infrastructure had got itself into a continuous restart cycle caused, according to the MO232941 ticket, by "an unexpected spike in user traffic."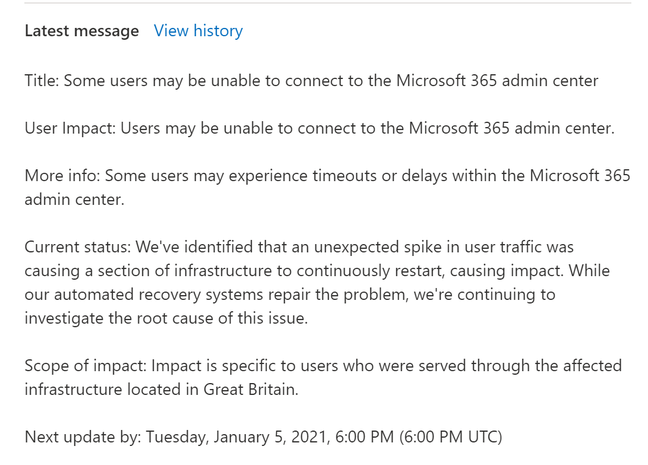 Click to enlarge
While we doubt the rush to provision extra Office users in light of the UK government's lockdown declaration matched the overnight charge to clear Blighty's online grocery retailers of toilet paper, pasta, and beer, the timing will have been frustrating for those affected.
As for Microsoft, its "automated recovery systems" are hard at work fixing the issue. In the meantime, heck – it's around that time that Brits would traditionally be downing tools and, this time last year, be pondering a trip pubward rather than today's foray into the gin cabinet. ®
Updated at 09:05 UTC on 6 January 2021 to add
A Microsoft spokesperson has been in touch to say: "We've resolved this administrative access issue that may have impacted a small subset of customers."