This article is more than 1 year old
If you're a WhatsApp user, you'll have to share your personal data with Facebook's empire from next month – or stop using the chat app
If you don't agree then, well, you'll just have to use the infinitely better Signal
Updated WhatsApp users must agree to share their personal information with Facebook and its wider empire if they want to continue using the messaging service from next month, according to its terms and conditions.
"As part of the Facebook Companies, WhatsApp receives information from, and shares information with, the other Facebook Companies," its privacy policy, updated this week, states.
"We may use the information we receive from them, and they may use the information we share with them, to help operate, provide, improve, understand, customize, support, and market our Services and their offerings, including the Facebook Company Products."
Said information includes your personal data. Thus, WhatsApp users who want to keep using the software must agree to allow their personal info to be shared with not only Facebook but also its subsidiaries as and when decided by the tech giant.
Users will be presented with the following choice in the app: accept this arrangement by February 8, or be blocked from using the end-to-end encrypted chat app.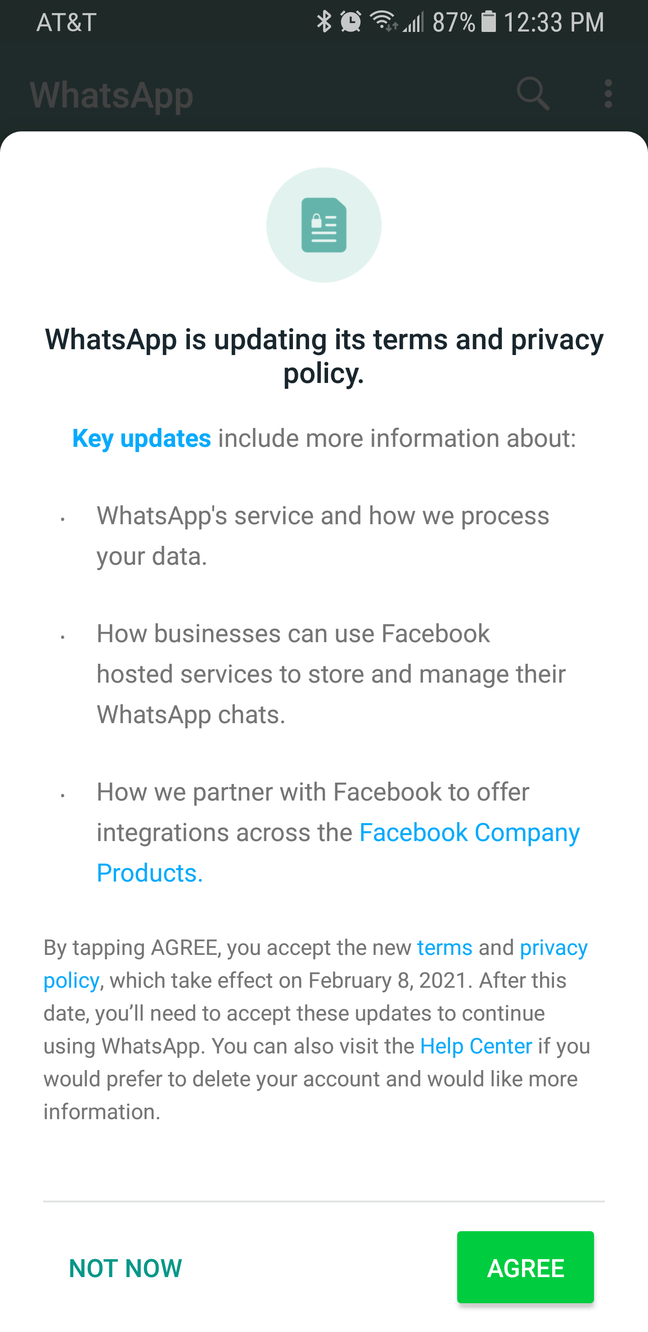 Screenshot of the ultimatum ... Click to enlarge
When WhatsApp was acquired by Facebook in 2014, it promised netizens that its instant-messaging app would not collect names, addresses, internet searches, or location data. CEO Jan Koum wrote in a blog post: "Above all else, I want to make sure you understand how deeply I value the principle of private communication. For me, this is very personal. I was born in Ukraine, and grew up in the USSR during the 1980s.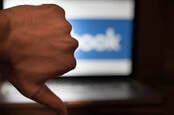 Facebook crushed rivals to maintain an illegal monopoly, the entire United States yells in Zuckerberg's face
READ MORE
"One of my strongest memories from that time is a phrase I'd frequently hear when my mother was talking on the phone: 'This is not a phone conversation; I'll tell you in person.' The fact that we couldn't speak freely without the fear that our communications would be monitored by KGB is in part why we moved to the United States when I was a teenager."
Two years later, however, that vow was eroded by, well, capitalism, and WhatsApp revealed it would be "coordinating more with Facebook," and gave people the opportunity to opt out of any data sharing. This time around, there is no opt-out for the sharing of data with Facebook and its tentacles. Koum left in 2018.
That means users who wish to keep using WhatsApp must be prepared to give up personal info such as their names, profile pictures, status updates, phone numbers, contacts lists, and IP addresses, as well as data about their mobile devices, such as model numbers, operating system versions, and network carrier, to the mothership. If users engage with businesses via the app, details such as shipping addresses and the amount of money spent on orders may be passed to Facebook, too.
The Register asked Facebook to explain this all, and it declined to comment on the record. ®
Updated to add at 2100 UTC, January 7
WhatsApp is now saying it won't share with Facebook personal information belonging to folks who previously opted out of sharing their info with the social network. So if you opted out of handing over your data to Facebook in the past, this setting will apparently still be honored going forward next month even if you agree to the new policy. For everyone else, there is no opt out.
A spokesperson for the internet giant also told us the privacy policy changes primarily center around sending messages to businesses to get answers and support, and claimed there will be no change in data sharing with Facebook for non-business chats and account information. This, she said, is because organizations will be given the option to use Facebook's infrastructure to host and manage their WhatsApp conversations if they don't want to store people's messages themselves. This biz feature has yet to roll out.
In short, these updates have been poorly communicated by Facebook, and wrapped up in lengthy fine-print that could be interpreted in all sorts of ways – which could, of course, be by design. Just use Signal instead.
Euronote
As we pointed out earlier, the above privacy policy overhaul applies to WhatsApp users outside Facebook's so-called European Region, an area that includes the UK. For countries inside the region, WhatsApp says in this FAQ it "shares information with the other Facebook Companies who act on our behalf to help us operate, provide, improve, understand, customise, support, and market our Services."
It goes on:
When we receive services from the Facebook Companies, the information we share with them is used on WhatsApp's behalf and in accordance with our instructions. Any information WhatsApp shares on this basis cannot be used for the Facebook Companies' own purposes.
Translation: Facebook-owned WhatsApp may share info with Facebook, and tell it how to use it for a particular service, though Facebook can't use that data for some other purpose. If you're not happy with that arrangement, you can complain here.
On Twitter, Niamh Sweeney, director of policy for WhatsApp in EMEA, added that, for netizens in the European Region, "There are no changes to WhatsApp's data-sharing practices in Europe arising from this update. It remains the case that WhatsApp does not share European Region WhatsApp user data with Facebook for the purpose of Facebook using this data to improve its products or ads.
"The updated Policy provides info on how businesses using the WhatsApp API to talk to customers can now do so using a Facebook-provided service to help them manage their chats with customers."
Facebook Pages update
In related news, Facebook has redesigned Pages, a feature for public figures and businesses. The biggest change is it'll have a news feed focused on person's or company's latest updates, allowing users to interact with the admins of the Facebook Page. Celebrities can engage with fans; people can grumble about their customer service pains and so on.
It has also removed the godforsaken "like" button so that the page only shows the number of people following it. These changes won't affect normal Facebook accounts.