Amazon turns Victorian industrialist with $2bn building project to house workers near new headquarters
Welcome to the digital 1800s
In a striking parallel to model villages created by Victorian industrialists for their workers, Amazon on Wednesday announced it would spend $2bn building affordable housing near its three new headquarters.
The e-commerce giant has said it will build more than 20,000 homes "in communities it calls home" – Arlington in Virginia, Nashville in Tennessee, and Puget Sound in Washington – where the company is building three new US headquarters and expects them to have "at least 5,000 employees each in the coming years." The mega-corp will focus first on Arlington, putting in $567m to build up to 1,300 apartments and a further 1,000 apartments "near" Puget Sound.
Amazon has painted its investment as corporate philanthropy and out of concern for poorer families, with CEO Jeff Bezos quoted as saying: "Amazon has a long-standing commitment to helping people in need, including the Mary's Place family shelter we built inside our Puget Sound headquarters. The shelter now supports over 200 women and children experiencing homelessness every night."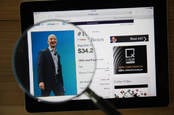 I've got way too much cash, thinks Jeff Bezos. Hmmm, pay more tax? Pay staff more? Nah, let's just go into space
READ MORE
But the parallels to the model villages created in the UK in the 1800s and early 1900s by Victorian industrialists who wanted their workers close by their factories are striking and a further sign of just how great the financial divisions in American life have become.
Jeff Bezos is the richest man in the world, worth almost $200bn. Yet Amazon continues to face a stream of complaints over how it treats some of its employees, paying low wages and pushing workers to work so hard that it creates conditions that fall far below what is expected in the 21st century. The company has repeatedly attacked efforts to unionize and so collectively bargain for better pay and conditions.
Inequality
For the past decade, economists have warned that economic inequality in the United States is approaching levels not seen since the 1920s. Most recently, while the pandemic has seen millions of Americans suffer financially, the country's 650 billionaires have seen their wealth grow by a third.
In 2018, households in the top fifth of earners (incomes over $130,000) made more than half of the United States' income, with the top five per cent of earners making 23 per cent of total US income. The United States has the highest income inequality of any comparable economy, and the wealth gap between America's richest and poorer families has more than doubled in the past 25 years.
Similar conditions existed in the 1800s where widespread poverty among commonfolk contrasted sharply with fortunes owned by businessmen. Due to the low wages paid to many workers and a range of related economic factors, most were unable to purchase a home and geographic concentrations of houses made it financially viable for landowners and business magnates to create their own villages.
The confectionery world's Cadbury created Bournville in the outskirts of Birmingham, close to its new factory, which it said would "alleviate the evils of modern, more cramped living conditions". Over 300 cottages were built for workers and the Cadbury family developed recreation areas, having decided that outdoor sports were good for their workers' health.
Dozens of similar villages were created across the UK using the same model, with some variation in the quality of lodging and the degree of paternalism exhibited toward the inhabitants. Some employers/landlords felt, for example, that having a pub wasn't good for their health and so ensured none were constructed.
America is also known for its company towns in decades gone by.
Loans and grants
In the case of Amazon and its approach, the $2bn will be provided in the form of below-market loans and grants to housing partners, as well as through housing agencies.
"The Fund underscores Amazon's commitment to affordable housing and will help ensure that moderate to low-income families can afford housing in resource-rich communities with easy access to neighborhood services, amenities, and jobs," the biz said in its press release.
Alternatively, Amazon could do what most of the industrialized Western world ultimately decided was a better option and pay its workers more so they could decide for themselves how best to live their lives. ®