This article is more than 1 year old
French integrator-cum-outsourcing biz Atos confirms bid for DXC Technology
Initial offer reported to be in region of $10.1bn, no certainty acquisition deal will be done
French integrator-cum-outsourcing biz Atos has launched a bid, reported to be in the region of $10.1bn, to buy IT infrastructure services biz DXC Technology.
Word on the acquisition came first from Reuters on Thursday, which claimed Atos is eyeing up ways to further boost its presence in America, following the $3.4bn cash deal to buy Syntel in 2018.
Atos subsequently issued a statement confirming it "approached DXC Technology concerning a potential friendly transaction between the two groups," the desire being to create a "digital services leader benefiting from global scale, talent and innovation."
But as with such situations, Atos warned: "There can be no certainty at this stage that this approach will result in any agreement or transaction."
For its part, DXC also said it had received an "unsolicited, preliminary and non-binding proposal from Atos SE Wednesday night to acquire all DXC Technology shares."
The board "consistent with its fiduciary responsibilities, will be evaluating the proposal," DXC's statement added.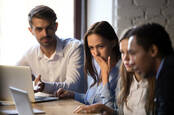 IBM warns Global Tech Services staff that 346 UK heads will roll in latest redundancy action
READ MORE
DXC's share price was up more than five per cent at the time of writing, giving it a market cap of $7.11bn.
Should the offer be signed and sealed, DXC will be the biggest buy Atos has made: among its purchases was the €850m spent on Siemens IT; the controlling stake it took in Bull in 2014; and the $1.05bn splashed on Xerox's IT outsourcing unit completed in 2015. It paid $3.4bn for Syntel is October 2018 and an unspecified amount for Google Cloud Premier Partner Maven Wave in 2019.
Scale is a requisite to compete in the relatively low-margin competitive world of infrastructure services, such is the pressure facing companies providing such outsourcing work.
IBM is itself in the process of spinning off a division of its Global Technology Services into a separately traded company. Today it hired former Big Blue exec Martin Schroeter to run the new outfit. More and more customers are choosing to buy cloud services rather than outsource huge swathes of their infrastructure.
In addition to its chunky IT outsourcing unit, DXC itself also sells a bunch of other services including consulting, cloud, analytics, and security.
DXC launched in April 2017 following a merger between Hewlett Packard Enterprise Services and CSC. It was effectively a marriage between two businesses that had already been struggling for some years. DXC started life with revenues forecast for fiscal '18 of $24bn to $24.05bn and 170,000 staff working across 70 countries.
The biz began cutting costs six weeks after it formed and then kept on trying to reduce overheads by consolidating real estate including data centres and office space, and making extensive workforce redundancies.
In its last full financial year, ended March 31, 2020, DXC turned over $19.577bn in revenue and reported a pre-tax loss of $5.228bn, including hefty goodwill impairment losses, depreciation, and amortisation. It employed some 138,000 people.
DXC has made some moves of its own: these include selling its US public sector division and buying several companies, the largest of which was Luxsoft. In March it sold off its US state and local health and human services operations to Veritas Capital for $5bn.
Long-term CSC CEO Mike Lawrie took charge of DXC from day one, and was replaced by former Accenture exec Mike Silvino in 2019 to help turnaround its fortunes.
Atos said today it would be making no further statements until it is "appropriate" to do so. ®