This article is more than 1 year old
Intel wheels out new face authentication product that works a lot like Apple's FaceID
Chipzilla joins facial-recog race
Intel has gingerly dipped a toe into the face-based authentication market with the launch of its RealSense ID product.
Aimed primarily at corporate customers and those dabbling in embedded systems, RealSense ID will allow individuals to prove their identity based purely on their facial features. The inaugural hardware is available in two variants: a module which can be embedded into larger projects, and a complete peripheral unit that's ready to use out of the box.
In terms of security, Chipzilla has made some bold claims, stating RealSense ID has a one-in-one-million false acceptance rate and can withstand the usual attempts to circumvent face-based authentication tools, like masks and photographs, with – according to its RealSense webpage – a spoof acceptance rate of less than 0.1 per cent. However, Intel's own datasheet [PDF] for the product puts the acceptance rate at less than 1 per cent. We've asked Intel for clarification.
Face ID has been slated for its lack of compatibility with face masks in the wake of the COVID pandemic.
In terms of implementation, RealSense is similar to the approach taken by Apple with FaceID, which sees the heavy computational legwork performed on-device with dedicated hardware. A dedicated SoC running an unspecified closed real-time operating system (RTOS) runs a proprietary Intel-made neural network, while user data is stored in a secure element not too dissimilar to the Secure Enclave found on most modern iOS and Mac devices.
In terms of optics, the kit uses two semi-aligned cameras that can create a 3D representation of a person's face. There's also an IR LED and dot projector which comes into play in low-light conditions.
Face, face, face! Apple, TrueDepth and a nose-driven iPhone X game
READ MORE
The similarities don't end there. Much like FaceID, RealSense ID doesn't rely upon comparing an input with a facsimile of a user's face, but rather makes a determination based on the facial features of a user and can adjust its understanding of a user over time. In theory, this makes it able to respond to changes in a user's appearance, such as a new haircut or glasses, while also accounting for the changes that gradually occur over time, like fluctuations in weight.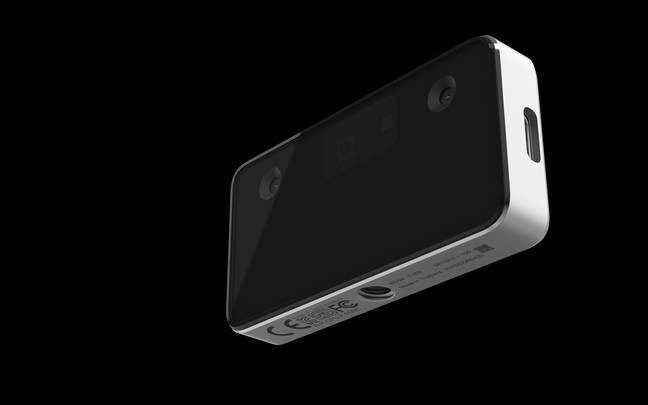 Intel RealSense ID peripheral (credit: Intel Corporation)
Realsense ID will launch with support for Windows out of the box, with Linux and Android support promised for a later day. A separate SDK allows coders to start building software for the platform, with C, C++, and C# wrappers available. According to the project's GitHub page, Java and Python wrappers are still under development.
Speaking to The Register, Javvad Malik, security awareness advocate at KnowBe4, expressed tentative enthusiasm for this product, but noted the real test would be when it comes to adoption and deployment.
"With the attacks against traditional password-based authentication continuing to rise, multi-factor and stronger forms of authentication are essential. It's encouraging to see effort put into developments of better authentication mechanisms. However, like many security controls, one of the biggest challenges is adoption and security of the system itself.
"Vendors need to ensure that their products are not only secure themselves, but also that they are easy to embed within existing systems, including legacy systems and are easy to use by the end users."
Intel suggests RealSense ID could fit environments where security and the reliability of authentication is of the utmost importance, like airport gates and check-in kiosks, point-of-sale (POS) systems, and ATMs.
Pre-orders for RealSense are open now. The ready-to-use peripheral model is sold individually and priced at $99. Intel is selling the module component, which can be discretely integrated into custom projects, as a ten-pack for $750. Orders will start to ship the week of 1 March. ®