This article is more than 1 year old
Boeing will cough up $2.5bn+ to settle US fraud charge over 737 Max safety
Cash will go to airlines that bought the danger jets, victims' fund
Boeing has agreed to settle a criminal charge that it conspired to commit fraud by deceiving federal aviation officials by withholding safety information about its 737 Max control systems.
The US Department of Justice on Thursday announced the deferred prosecution deal, which imposes obligations that Boeing must meet over the next three years in order to avoid future criminal prosecution.
The deal calls for the US aircraft maker to pay over $2.5bn in penalties and compensation payments to companies that bought the planes and to the heirs, relatives, and beneficiaries of the 346 passengers killed in two 737 Max crashes.
Of the $2.5bn, $1.77bn has been set aside for Boeing's 737 Max airline customers, $500m will go to the crash-victim beneficiary fund, and $243.6m goes to the government to settle the criminal penalty.
Unlike many corporate settlement agreements where the defendant admits no wrongdoing, Boeing must acknowledge and accept the government's criminal fraud charge.
Boeing did not immediately respond to a request for comment.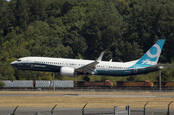 Boeing 737 Max will return to flight after software updates, says EU's aviation regulator
READ MORE
"The tragic crashes of Lion Air Flight 610 and Ethiopian Airlines Flight 302 exposed fraudulent and deceptive conduct by employees of one of the world's leading commercial airplane manufacturers," said Acting Assistant Attorney General David Burns of the Justice Department's Criminal Division in a statement.
"Boeing's employees chose the path of profit over candor by concealing material information from the FAA concerning the operation of its 737 Max airplane and engaging in an effort to cover up their deception."
Lion Air Flight 610, on a Boeing 737 Max, crashed into the Java Sea off Indonesia on October 29, 2018, killing all 189 passengers and crew on board. The plane's Maneuvering Characteristics Augmentation System (MCAS) was soon suspected of playing a role in the crash.
The MCAS is a computer system designed to prevent the nose of the Boeing 737 Max from pulling up too far and causing a stall when the jet is under manual control. Its software is designed to adjust the plane's horizontal stabilizers to prevent a stall.
On March 10, 2019, Ethiopian Airlines Flight 302, another Boeing 737 Max, crashed after takeoff near Ejere, Ethiopia, killing all 157 passengers and crew. Again, the MCAS system was suspected. Three days later, all 737 Maxes were officially grounded in the US.
The US House Transportation Committee report [PDF] on the two crashes, released in September 2020, concluded that "technical design flaws, faulty assumptions about pilot responses, and management failures by both The Boeing Company (Boeing) and the Federal Aviation Administration (FAA) played instrumental and causative roles" in the two crashes.
Boeing in court documents admitted that two of its 737 Max Flight Technical Pilots withheld information about MCAS from the aviation watchdog's Aircraft Evaluation Group (FAA AEG). That omission meant subsequent technical material published by the FAA lacked important details about MCAS and deprived pilots of adequate training to deal with the system.
Per the agreement, Boeing must report any further evidence or allegation of fraud committed by its employees, agents, regulatory officials, or corporate customers, and must enhance its compliance regime. This includes quarterly meetings with the DoJ's Fraud Section and annual reports.
The 737 Max resumed commercial flights on December 29, 2020, after some modifications. American Airlines, which is flying the jets, said, "we'll provide additional flexibility to ensure our customers can be easily re-accommodated if they prefer not to fly this aircraft type." ®