This article is more than 1 year old
Leave.EU takes back control – and shifts its domain name to be inside the European Union
A gesture of Churchillian solidarity with all they hold dear
Faced with a stark choice between the United Kingdom of Great Britain and Northern Ireland and the evil technocracy of the EU's Brussels dictatorship, plucky little campaign group Leave.EU was only ever going to make one choice.
That's right. It domiciled itself in the European Union. Ireland (the Republic of), no less.
The Irish Times spotted yesterday that Leave.EU, which brought such characters as Arron Banks and Andy Wigmore to the British political conversation, has registered its eponymous web domain in an EU state – seemingly to avoid losing its name altogether.
Faced with the hideous prospect of jackbooted EU commissars grinding their online faces into the dirt forever, Leave.EU, doyennes of this nation of shopkeepers, heirs to Radio 4 and cricket and the White Cliffs of Dover, bravely took back control – and moved their moniker firmly within the European Union's legal and political domain.
The domain name leave-dot-EU, set up in the name of Brexit-supporting businessman Banks, is now, according to The Guardian, "registered in the name of Sean Power, the chief executive of the Ireland-based professional services company BSG."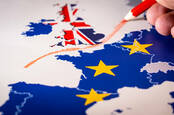 Barmy ban on businesses, Brits based in Blighty bearing or buying .eu domains is back: Cut-off date is Jan 1, 2021
READ MORE
When The Grauniad asked Mr Powers why he, a resident of Waterford in the Republic of Ireland, was now the registered owner of Leave-dot-EU, the response was more Maggie Thatcher's handbag than GDPR. Powers told the paper he was not involved with the pro-Brexit campaign group and that he would be "looking into the matter" of why his name was on their domain registration.
As reported by El Reg over the past few years, the dot-EU top-level domain (TLD) has become a political football, with domain registry EURid trying to keep up with the ever-changing whims of the bloc's leaders. On 1 January, the British owners of 81,000 dot-EU domains awoke to find they had stopped working thanks to an EU rule change – the third within two years – meaning that only EU citizens or residents of a EU country could own a dot-EU domain.
Those rules had repeatedly changed during the Brexit transition period as the 27-member political bloc argued over who could operate websites from a particular top-level domain. The number of British-registered dot-EU domains dropped from around 300,000 to 81,000 at the time of writing, and will doubtless drop further. The move hurts the domain registry by cutting EURid's income from registration fees.
As several readers have pointed out, there is a loophole in that the domains can be registered to British holders if they are also EU citizens, (independently of their "place of residence").
While the domain rules were hardly written on the side of a bus, after this titbit nobody can doubt Leave.EU's Churchillian commitment to core principles. Or, at least, its snappy-but-unwise domain name. ®