Surprising everyone, spending watchdog says the UK's 2025 deadline for nationwide gigabit broadband is 'unreachable'
Regulatory hurdles, funding, pandemic, and Huawei have made this a big ask – but industry remains determined
The 2025 deadline to deliver UK-wide gigabit broadband is "unreachable", according to a damning report from Parliament's spending watchdog.
Improving Broadband, published by the Public Accounts Committee (PAC), identifies several flaws in the strategy taken by the Department for Digital, Culture, Media and Sport (DCMS), particularly when it comes to the planned rollout.
Some flaws are regulatory in nature, with the PAC highlighting failures in removing barriers to deploying new fibre connections, such as building requirements and planning permission, as well as business rates. It attributes this to the fact that responsibility for these legislative hurdles belongs to other government departments, which may not share the DCMS's urgency when it comes to relaxing them.
"Responsibility for addressing many of these barriers, including changes to planning regulations, business rates treatment of fibre and requirements for new build properties, are spread across other parts of government and we got no assurance that they are being addressed urgently," the committee said.
Compounding the problem, the PAC said DCMS has failed to be transparent about the potential for escalating costs and delays, should these regulatory roadblocks remain in place, leaving suppliers and infrastructure partners in the dark.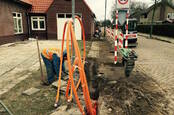 UK on track to miss even its slashed full-fibre gigabit coverage goals, warn MPs
READ MORE
Consumer choice also remains stubbornly absent from planning, said the PAC, with DCMS failing to provide certainty about whether the gigabit rollout will leave areas with a single monopoly infrastructure provider. This, PAC fears, could have an impact on the cost of connectivity for home and business users alike. The report acknowledged DCMS's promise of "price control provisions", which will theoretically prevent providers from charging more than what is expected for an area of comparable characteristics, but noted that the detail about how this will work is still firmly an unknown.
Divergence from the previous Superfast Programme is a concern for the PAC, with the gigabit strategy taking a centralised approach, rather than relying on the expertise of local authorities. This, it warned, leaves local expertise and human capital unused, and opens the potential for skills and domain-specific expertise to drift elsewhere.
"The Department recognises that although it now intends to undertake procurement directly, it will still need the commitment and expertise accumulated previously within local authorities to support delivery under the gigabit programme," it said.
"The Local Government Association has called for additional annual funding of £30m for digital champions to co-ordinate delivery at a local level and to provide the additional capacity needed within highways and planning teams to support an accelerated pace of activity. The Department cannot give any reassurance that local authorities will get additional funding to retain their expert resources at a time when local government finances are under severe pressure from the pandemic."
In short, things aren't going well. The PAC's recommendations urge DCMS to be more transparent and realistic with its planning, adjusting its timetable to reflect on-the-ground realities, while also accounting for potential hurdles caused by regulatory delays, as well as disruption in the supply chain, with the recent ban of Huawei cited as an example.
The promise to deliver gigabit-capable broadband to the entire country by 2025 was a major administration priority of Boris Johnson's government, but has faced multiple hurdles in terms of funding, the pandemic, and the ongoing Huawei soap opera, which promises to delay the 5G rollout by several years. It since scaled back its ambitions to covering 85 per cent of the country, which has also been described as "unrealistic" by the DCMS committee.
The Register asked DCMS for comment.
However, Greg Mesch, CEO of infrastructure provider City Fibre, cast doubt on the findings of the report, saying the 2025 target remains attainable. "Now more than ever, it is in everyone's interest to ensure Britain's consumers and businesses get connected to gigabit speed, ultra-reliable Full Fibre as quickly as possible, regardless of where they live or work. The PAC is right that the revised 2025 target is both challenging and vital to meet but we believe that by working closely with government and Ofcom it's achievable," he said.
Paul Stobart, CEO of Zen Internet, added: "There's clearly a lot of work to be done if the government is going to reach its already scaled-back targets. The increasing importance of connectivity can't be underestimated. It is vital to unlocking productivity and performance across the country and is the basis for the new post-COVID era of flexible working.
"The industry is committed to making full fibre a success. But in order to ensure targets are met and that those without sufficient connectivity, particularly in rural areas, have the speed and reliability they need, we need even greater collaboration between government and the broadband industry, to include the infrastructure players, the carriers and the service providers. Each of these has a role to play in making this once in a generation infrastructure programme a success." ®