Samsung profits – and shares – soar despite challenges in memory and mobile markets
Stock prices sitting pretty at an all-time high of $2,020 after earnings guidance
Despite missing analysts' forecasts, Samsung Electronics' guidance for its final quarter of 2020 paint a rosy picture, with profits likely up by a quarter year-on-year to ₩9 trillion ($8.22bn/ £6.06bn).
Revenues for the period ended 31 December are estimated to come in at beween ₩60-62 trillion ($54.89-56.7bn/£40-41.7bn) versus the ₩59.9bn ($54.7bn/£40.3bn) reported for the same period in 2019.
The festive season is typically a busy time for the electronics world, but Samsung leaves its annual Galaxy S-series flagship refresh for the start of the year. It's therefore conceivable that many people opted to defer upgrades during this period.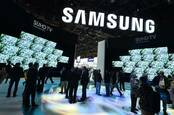 Samsung profits surge as the world starts buying smartphones again
READ MORE
Separately, Q4 2020 also saw the long-awaited release of the inaugural 5G iPhones, which helped suck oxygen (and consumer spending) out of the room for Sammy and others.
The chaebol had anticipated a softer Q4 compared to its Q3 on the basis of tighter competition in the smartphone space, as well as tepid demand for memory from server customers.
On the handset front, Samsung faces tight competition from China's mobile upstarts, namely Xiaomi and Vivo, which saw shipments soar by 45 per cent and 6 per cent during Q3, according to figures from Canalys. Both firms are aggressively pushing into the European market, with Vivo debuting on the continent in October.
Memory accounts for a significant proportion of Samsung Electronics' output, with its semiconductor component accounting for 28 per cent of revenues during Q3, and nearly 44.8 per cent of all profits. On the NAND front, vendors have been forced to contend with a glut that has pushed prices down as much as ten percent during Q4 2020, according to December figures from TrendForce.
Server and PC DRAM pricing was also fairly soft during the same period, with PC DRAM sticks down as much as 10 per cent, and server memory plunging as much as 18 per cent.
Shares in Samsung Electronics shot up 6.77 per cent on the news to an all-time high of $2,020. ®