This article is more than 1 year old
Waterloo! Windows defeated, your sign is screwed. Waterloo! Promise to bork you forevermore
Microsoft's finest suffers decisive defeat
Bork!Bork!Bork! You are never far from Windows doing a whoopsie, particularly in a digital-signage heavy hub such as the UK's London Waterloo station.
Spotted by Register Michael Wood as 2020 drew to a close, today's entry in the Blue Screen of Death hall of infamy was, we think, snapped on a display to the left of the array of platform information displays on the main concourse.
In this instance, something is amiss with atikmpag.sys. Windows has attempted to reset the display driver, timed out and, well, reacted with the robustness of single-ply tissue paper when faced with a mucus-covered toddler.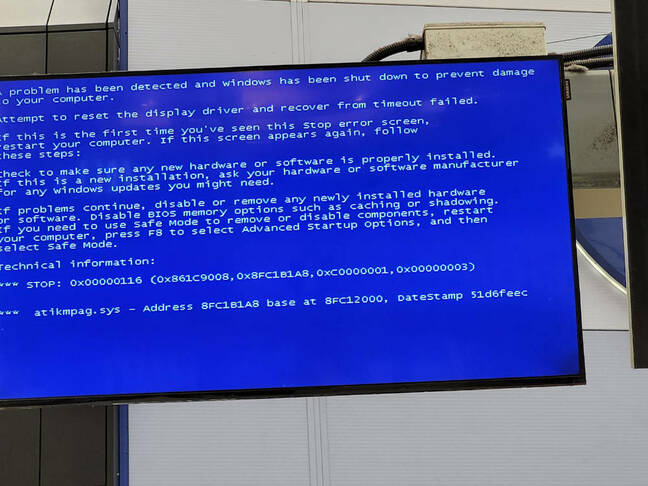 Click to enlarge
The stop error gives up a few clues with regard to what has befallen Windows, although we imagine the average commuter simply wondered why the usual information had been replaced by a soothing blue screen.
To be frank, things as a whole are fairly borked at moment so one can hardly blame that sign for joining in. Windows does, however, seem a little hefty for what is little more than a glorified slideshow but is likely hard to avoid on the signage front. Other platform displays were of the amber-hued variety (at least they were the last time we visited Waterloo Station – an impossibly long time ago now).
Named after Waterloo Bridge (itself named after 1815's Battle of Waterloo, where a British-led coalition defeated a French army commanded by Napoleon Bonaparte) the London terminus is, according to Network Rail, "Britain's largest and busiest station."
Train lines do indeed spray off in all manner of directions and the station is also an interchange for London's Tube network. This includes the underground shuttle run between Waterloo and Bank known by some as the Waterloo & City Line but by this hack (and others) as The Drain due to the depressing shuffle from aboveground to belowground via a sloping subway in a heaving throng of commuters.
These days, standing nose to armpit in a horror tube seems a distant memory.
The station also had its turn in the international limelight and played an initially slightly awkward host to Eurostar trains until the service was handed over to St Pancras in 2007.
Now, alas, it plays host to Bork. ®