This article is more than 1 year old
All it took was a pandemic to revive PCs: Canalys proclaims sales up 25% in Q4 as world+dog stays home
The PC is dead, says no one any longer, unless it's a desktop
The do-everything-from-home revolution – work, study and play – led to a record 90.3 million personal computers being shipped into the channel in the fourth quarter of last year, up a whopping 25.4 per cent compared to the pre-pandemic final quarter of 2019.
This is represents the third sequential quarter of sales growth since the coronavirus outbreak disrupted supply chains in the Far East, causing severe parts shortages at the start of last year.
"The industry deserves all the success that has come its way," said a cheerleading Rushabh Doshi, Canalys research director. "We would be in a very different position had it not been for the commitment of the PC industry, including the vendors, the supply chain and the distribution channel."
Lenovo stretched its lead at the top in the PC sales stakes to account for one in every four PCs sold worldwide, growing 29.1 per cent to 23.12 million units. Gianfranco Lanci, the Chinese conglomerate's COO, said last year he expected the total addressable PC market to expand by 30 per cent to 300 million units in 2021, due to the way the virus forced people to work and study. It look like he was right, albeit earlier than forecast.
Growing at 10 per cent – less than half the market average – HP reported Q4 shipments of 19.13 million units. The company faced it fair share of battles to secure supply enough components last year but it isn't clear if this or some other factor played a part in the relatively muted growth.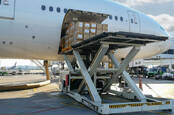 PC makers warn of battle for air freight capacity, will have to fight for cargo space with... the COVID-19 vaccine
READ MORE
Dell held onto third spot but narrowed the gap with HP, growing 27 per cent on the back of 15.79 million shipments. This is a recovery from calendar Q3 when Dell told us it had steered clear of the lower margin kit sold in the annual back-to-school push.
Apple topped the growth charts for the quarter with a 45 per cent rise in sales to 7.18 million units and Acer was up 38.6 per cent to 6.151 million. Even the 'others' section – typically a part of the market comprised of shrinking brands – was up, growing 27 per cent to 19.92 million systems sold.
*For the whole year, Canalys logged shipments of 297 million bits of kit, up 11 per cent, which equates to the highest annual growth rates seen in a decade. This was "singlehandedly" driven by notebooks and mobile workstations, which grew 44 per cent on 2019 to 235.1 million units. On the flip side, desktop and desktop workstations fell by a fifth year-on-year to 61.9 million.
Canalys is predicting another year of healthy activity in the PC market, with Apple and Microsoft's new silicon points of interest and updates to Chrome and Windows. And the analysts reckon component shortages that dogged the industry in recent times will have mostly been dealt with by the second half of 2021.
According to Dell, another factor might come into play this year, in addition to the work and study-from-home trend that is fuelling shipments.
Matt Baker, Dell senior veep for strategy and planning told the Raymond James Tech Investor conference in December there are a generation of PCs out there that are older than four years. "That's about 700 million of our installed base or the industry's installed base that really needs to be refreshed."
Dutt at Canalys said: "As the world readies itself to get vaccinated and overcome the COVID-19 virus, it is important to remember that PCs have played a vital role at every stage on this fight, from understanding the virus and synthesising the vaccine, to social monitoring and vaccine roll-out. It is going to be extremely difficult to write off the PC as some of us did a few years ago. PCs are here to stay. ®
PS: IDC says PC sales grew 26.1 per cent, year on year, in Q4 2020.