This article is more than 1 year old
Pork-tracking website problems add extra crackling to US-Taiwan-China tensions
Data describing controversial supplement ractopamine didn't render online
A website that was supposed to offer real time tracking of pork imports to Taiwan has highlighted regional tensions.
The site was created by Taiwan's Food and Drug Administration (FDA) after the island nation agreed to accept US pork imports containing ractopamine, a supplement that helps livestock to quickly grow larger and leaner, faster. The substance is widely used in the USA, and is legal in Canada, though is banned in China and the EU on health grounds. It was also banned in Taiwan until last year, when the country agreed to accept US pork as part of the effort to draw the two countries closer and present a united front against China.
That plan sees the USA support a nation that happens to be on China's doorstep, is a democracy, and is the best source of high-tech goods (especially silicon) other than the Peoples Republic of China.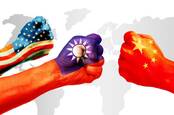 America, Taiwan make semiconductors their top trade priority at first-ever 'Economic Prosperity Dialogue'
READ MORE
China is steadfast in its insistence that it will one day reunify with Taiwan, which it believes is a rogue province. Beijing's recent actions to dismantle Hong Kong's autonomy demonstrate its intentions. Taiwan therefore appreciates US engagement more than ever.
The change in policy saw Taiwan's opposition KMT party throw pork intestines in Parliament to protest the matter, as most Taiwanese oppose the imports. So the government pledged to inspect each incoming batch and reject ractopamine.
Taiwan's FDA therefore created a site to track imports. But local news outlet Apple Daily noticed that it reported zero imports despite automated import reports mentioning over 100 tons of freshly landed pork.
On Monday, the FDA 'fessed up to an error, saying that its data was inconsistent with that produced by automated border control systems. The Agency has promised to synch data properly, so that Taiwan's citizens will be properly informed about their bacon.
But even if the website overcooks, Taiwan may not be able to resist US pork as over the weekend outgoing US secretary of state Mike Pompeo rewrote the rules covering contact between the two nations. Those rules previously used polite fictions that allowed relations between the two nations without contesting China's claim of sovereignty over Taiwan.
On Saturday Pompeo declared those arrangements "null and void", an act that signifies the USA all-but-completely supports Taiwan's assertion it is an independent nation.
A little possibly tainted pork, and a website update, are a small price to pay for that stance. ®