This article is more than 1 year old
Airbnb, or not to be, if you're headed to Washington DC: Biz cancels bookings over fears of inauguration insurrection
Hosts, guests paid off to 'ensure hate group members are not part of the Airbnb community'
In preparation for the upcoming inauguration of President-elect Joe Biden on Wednesday, January 20, 2021, room rental biz Airbnb said it is cancelling reservations in the Washington DC, metropolitan area for the entire week and will block any attempts to make new reservations in the vicinity during that time.
The house-hiring biz said it is doing so in response to requests from local, state, and federal officials who have asked people not to travel to the nation's capital. There's concern among officials about the potential for further violent demonstrations, not to mention the risk posed by gathering during the ongoing COVID-19 pandemic.
Last week, armed insurrectionists stormed the US Capitol, causing damage and loss of life in an effort to prolong the presidency of Donald Trump. In response, Washington DC Mayor Muriel Bowser issued a 15-day state of emergency order to protect the city.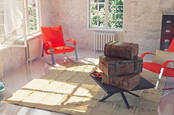 COVID-struck holiday rentals firm Airbnb shacks up with ex Apple design honcho Jony Ive in multi-year deal
READ MORE
On Monday, President Trump, who previously expressed support for the violent mob before moderating his statements, affirmed the order in a White House declaration acknowledging "the emergency conditions resulting from the 59th Presidential Inauguration."
And that same day, Bowser issued a joint statement with Virginia Governor Ralph Northam and Maryland Governor Larry Hogan asking Americans not to come to the capital for the inauguration.
Airbnb said that it's aware of reports – see below – that militias and hate groups intend to travel to the city to interfere with the inauguration. And the biz said it is taking steps to "ensure hate group members are not part of the Airbnb community."
UPDATE: Multiple agencies detailed to help secure the inauguration are contingency planning for events that could result in mass casualties or major attacks as well as isolated, violent incidents near the Capitol, according to another briefing packet obtained by The Daily Beast. https://t.co/02IVfr4FQn

— Erin Banco (@ErinBanco) January 13, 2021
Toward that end, the company said it has obtained information from media and law enforcement sources identifying individuals "confirmed to have been responsible for the violent criminal activity," during the insurrection and has investigated whether they have Airbnb accounts.
"Through this work, we have identified numerous individuals who are either associated with known hate groups or otherwise involved in the criminal activity at the Capitol Building, and they have been banned from Airbnb's platform," the company said.
The Register has asked Airbnb whether "confirmed" means "formally charged with a crime," or something else. A spokesperson pointed to the company's Capitol Safety Plan for the inauguration, which describes its ban process as follows:
When we learn through media or law enforcement sources the names of individuals confirmed to have been responsible for the violent criminal activity at the United States Capitol on January 6, we investigate whether the named individuals have an account on Airbnb. This includes cross-referencing the January 6 arrest logs of DC Metro Police. If the individuals have an Airbnb account, we take action, which includes banning them from using Airbnb.
We asked for further clarification about whether an arrest record is a precondition for being banned. Airbnb declined to elaborate.
Airbnb's platform purge follows post-insurrection initiatives undertaken by Twitter, which on Tuesday said it had removed more than 70,000 accounts involved in "sharing harmful QAnon-associated content at scale," and Facebook, which on Monday said it continues to remove content and accounts following its indefinite suspension of President Trump's account last week.
Airbnb said those with cancelled reservations will receive a full refund and the company plans to reimburse hosts, out of its own pocket, for lost booking revenue. The company's last-minute lodging subsidiary, HotelsTonight.com, is also cancelling reservations. ®