This article is more than 1 year old
What's that you got there, AMD? More Ryzen chips? Yeah, OK, we could do with some of those
Assuming we can get our hands on these 7nm Zen 3 parts. Plus: Epyc and Nvidia teases
CES AMD on Tuesday launched its Ryzen 5000 series of microprocessors at this year's virtual CES trade show.
CEO Lisa Su introduced the raft of new parts during her keynote speech. They are all 7nm, and use AMD's latest Zen 3 architecture. She highlighted a few processors in particular, such as the eight-core, 16-thread Ryzen 7 5800U, which has a 4.4GHz max clock speed, 1.9GHz base speed, 20MB of cache, and operates within a 15W thermal design.
Su reckoned it was "the fastest x86 processor in the world for thin and light notebooks." There are other 5000U parts, down to the Ryzen 3 5300U, a four-core, eight-thread chip that runs up to 3.8GHz. Devices powered by Ryzen 5000 Us should have a battery life of up to 17.5 hours, it is claimed. And compared to the previous Ryzen 4000 line, the latest chips offer up to 16 per cent improvement on single thread performance and 14 per cent for multi-threaded performance, she said.
Next up is the beefier Ryzen 9 5900HX and 5980HX, which are designed for high-end notebooks. Again, these are based on AMD's Zen 3, are fabricated using a 7nm node, and are made up of eight cores and and 16 threads. The difference lies in the clock speeds: the 5980HX is slightly faster at 4.8GHz, and 5900HX goes up to 4.6GHz. They both have 20MB of L2 and L3 cache memory, and consume over 45W of power.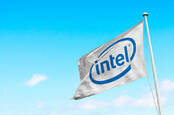 Your 60-second guide to what Intel announced at CES. Or in 5 seconds: New laptop chips
READ MORE
Over 150 vendors are expected to build devices containing Ryzen 5000HX chips. The first notebooks are expected to hit markets next month. We're in the middle of an incredible supply shortage of chips in the world, due to demand, so in terms of when the gear can actually be bought and shipped, your mileage may vary.
There's also something for desktop PCs: The 12-core, 24-thread 65W Ryzen 9 5900 runs up to 4.7GHz, and is said to be 24 per cent faster for gaming at 1080p compared to a predecessor, the Ryzen 9 3900. The Ryzen 9 5900 is a "reduced-TDP alternative" to other previously announced chips, like the Ryzen 9 5900X and Ryzen 7 5800X. There's also an eight-core, 16-thread Ryzen 7 5800, which runs up to 4.6GHz.
Then there's the Ryzen Threadripper PRO 3995WX, a 64-core, 128-thread monster that clocks up to 4.2GHz, sports 288MB of total cache, and consumes 280W. Variants with 32 and 16 cores are also available. Crucially, we're told these chips "will now be directly available to consumers through participating global retailers, e-tailers and system integrators with on-shelf availability expected in March 2021."
Finally, AMD teased its third-generation Epyc server processor, codenamed Milan, which is expected to be unveiled in Q1 this year. This is a 7nm, Zen 3 family of chips that is expected to appear in supercomputers in Europe and Australia. Su demoed a 32-core version said to be 68 per cent faster in performance compared to Intel's 28-core Xeon 6258R in weather-forecasting benchmarks. Take with a pinch of salt. We assume 32 cores won't be the limit for Milan.
Nvidia gaming laptops are coming out too
In related news: Nvidia announced that gaming laptops containing its latest GeForce RTX GPUs will start shipping next month.
That's good news if you didn't manage to get your hands on the standalone chips when they were released last year, though if you still want them then you'll either have to wait until they come back into stock or get a whole new laptop featuring them.
"Starting January 26th, manufacturers worldwide will begin shipping over 70 different GeForce RTX gaming and creator laptops featuring GeForce RTX 3080 and GeForce RTX 3070 Laptop GPUs, followed by GeForce RTX 3060 Laptop GPUs on February 2nd," Nvidia said. ®