CES It was almost exactly 20 years ago – January 6, 2001 – that Reg reader Erik Trent wrote to us bemoaning the tendency of tech journalists to repeat futuristic nonsense.
In this case it was about pub robots that will "look directly into your eyes, calculate exactly what you want to drink, pour it and add it to your bill."
Erik was not impressed: "Psychic robots: you're kidding right? They didn't actually write about that seriously did they? What is this 1950 again? I was promised a flying car by the year 2000, I WANT MY FLYING CAR!!!!!!!!! I predict in 20 years print journalists will just repeat verbatim what any wacko says."
Mr Trent made a fine point and one embraced wholeheartedly by Register writers to the extent that whenever there was discussion of futuristic technology in the office, it was met with a variation of: "Sure, perfectly possible. Now WHERE'S MY BLOODY FLYING CAR!?"
The heaviest adopter of the exclamation was the late Lester Haines who decided from that point on that he would also keep a permanent eye out for anything that edged into flying car territory. And so since then we have written no less than 173 stories in our search.
Haines' fearless reporting led him to the Skycar (2001) – later described as a "piece of junk" – and later that same year, the unrelated Indian Skycar M400 (which turned up on eBay five years later for $1.75m). Then came the Rinspeed Splash (2004), the Avcen family of flying cars (2005) and the PALV flying tricycle (2005). Initial excitement over German manufacturer BMW creating a flying car drooped when it turned out it was just a BMW that had hit a kerb at high speed. Then there was the secretive Australian flying car program (2006).
Snag
None of them panned out, but we did not lose our faith that this extraordinary technological era would finally birth the flying car. Until, that is, Sir Clive Sinclair declared in 2008 that flying cars were "technically entirely possible."
Which was an extremely depressing piece of optimism given Sir Clive's record of technological leaps (his ZX microcomputer success being somewhat undermined by the C5 and X-1). It is worth noting, however, that Sir Clive said the future of personal transportation would have to be electric-powered, because petrol engines "were not reliable enough," and fully automated "because we can't all learn to fly." Which was a pretty good prediction.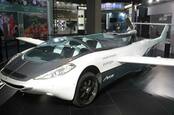 Return of the flying car, just when we all need to escape
READ MORE
We started looking further afield – well, left field – and discovered the Hoverit levitating chaise lounge (2008), the dead cat quadcopter (2012) and the Pegasus – a dune buggy attached to a paraglider (2014).
Sick of the lack of progress, hacked-off Haines developed his own homemade aircraft plans, including the Paper Aircraft Released Into Space (PARIS) project, which made it to the Guinness Book of World Records, and the Low Orbit Helium Assisted Navigator (LOHAN), a rocket-powered, balloon-assisted space plane that was grounded by regulatory paperwork.
Turning the corner
Amazingly, in 2015, things finally started edging away from articles covering cranks with big claims and poor results to potentially viable aircraft. The EHang 184 promised to "achieve humanity's long-standing dream of easy, everyday flight for short-to-medium distances" by lifting up to 100kg of passenger using four pairs of counter-rotating propellers. It seemed… possible. And drone builder Krossblade started talking about a full-blown flying car – the SkyCruiser.
Sadly, the world lost Lester before the PAL-V came into view (2017), followed by two honest-to-goodness real companies – Audi and Airbus – saying they were looking at a flying car. Following that, Uber and NASA. And then there's the Google-backed KittyHawk.
It's worth noting however that as an actual "flying car" has edged closer to reality, the more it had been called a "flying taxi." Why? Because as Sir Clive noted back in 2008, you just can't trust people to fly huge chunks of metal at high speed.
The flying taxi concept also means individuals don't have to fork out hundreds of thousands of dollars for a vehicle, and large corporations can in the hope of recouping the cost by charging large sums for short trips.
And now the news
All of which leads up to this year's Consumer Electronics Show (CES) which is entirely virtual this year thanks to the global pandemic. CES 2021 features not one but two flying cars and they come from two of America's largest car manufacturers: General Motors and Chrysler.
Now that may not be a huge confidence builder given the fact that GM and (Fiat) Chrysler have, for the past 30 years, produced clunky, inefficient, poorly handling beasts of machines and largely relied on red-blooded American male shtick for their sales.
But at the same time, after a massive restructure and rethink, GM is looking as though it might start knocking out the best of the next generation of electric cars. Then there is Fiat Chrysler Automobiles (FCA) which has said it has "entered into a definitive agreement" with California-based electric aviation company Archer.
So do we have an actual, real flying car?
No, of course not. But there is a serious threat that we will soon. Archer/Fiat/Chrysler will "mass-produce its aircraft starting in 2023," they promise to "create the world's first all-electric airline that moves people throughout the world's cities in a quick, safe, sustainable, and cost-effective manner." They seem serious. And they're not the only company serious pushing for the flying car to really, really exist this time (competitors include Joby and Beta).
What about GM? Yes, that's also more of a future thing. What it showed at CES was not actually a real, flying car but a mocked-up vision using 3D rendering software and Microsoft Flight Simulator with a dangerously vague timeline: "In the not-too-distant future." [Next Sunday AD? – ed.]
Shagtastic
Perhaps most interesting though is the business model, something that has always got in the way of even the most determined efforts to produce a flying car. And on this GM makes the mostly weirdly naked pitch we believe we've ever heard.
From the launch video: "...it's a glimpse of what autonomy and Cadillac luxury actually might look like in the not-too-distant future. We have other concepts including a luxurious two-seater designed for you and someone very special. To decompress, relax and enjoy a multi-sensory experience choreographed for more intimate journeys. Each concept reflecting the needs and wants of customers at a particular moment in time."
We don't know about you but it sounds like that two-seater is going to come equipped with easy-wipe seats and in-built lubricant dispensers so that you, the incredibly rich businessman, and someone very special can make the most of hovering high in the air above city streets.
To be fair, having waited 70 years for a flying car, why the hell not? And so, to Erik Trent, our Reg reader from January 2001, we say, well done. Because yes, "in 20 years print journalists will just repeat verbatim what any wacko says." Except this time, it's having a quickie in a sky taxi. ®
Similar topics