This article is more than 1 year old
Dropbox basically decimates workforce, COO logs off: Cloud biz promises to be 'more efficient and nimble'
CEO says he is 'truly sorry for painful but necessary' cuts
Dropbox is close to decimating its workforce, firing 11 per cent of staff in an effort to become "a more efficient and nimble" company, its CEO announced on Wednesday.
In a blog post, Drew Houston said the decision to sack 315 workers was "one of the toughest decisions I've had to make in my 14 years as CEO," and that he was "truly sorry," but that the decision was necessary for the company's long-term goals. The company's COO is also leaving.
Given that Dropbox's entire business revolves around allowing other companies to remotely share information and collaborate - something that should mean boon times during a global pandemic where tens of millions of employees are now working from home - the market was not impressed. Dropbox shares fell more than six per cent before recovering slightly to 5.4 per cent down at the time of writing.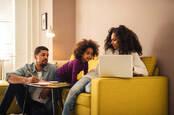 Don't forget to brush your teeth, WFH staff told as Dropbox drops the office, declares itself 'virtual first'
READ MORE
It probably didn't help that Houston argued that Dropbox needed to "make changes in order to create a healthy and thriving business for the future," - which doesn't sound much like a booming company.
Houston promised employees in the early days of the pandemic that Dropbox would not fire anybody in 2020 - a promise he kept to. But less than two weeks into 2021, clearly the company felt that promise wasn't sustainable until the effective end of the pandemic - thought to be at least six months away.
The post gives few clues over where the job cuts will land beyond noting that because the entire company was now working virtually "we require fewer resources to support our in-office environment, so we're scaling back that investment and redeploying those resources to drive our ambitious product roadmap."
Priorities
The cutbacks will lead to "a more efficient and nimble Dropbox," he argued and gave three priorities for the coming year: "1) evolving the core Dropbox experience... 2) investing in new products built for distributed work; and 3) driving operational excellence."
In recent years, Dropbox has tried to move itself from a biz that simply provides cloud storage for companies to one that they use for online collaboration. Since the pandemic it has seen other companies trying to muscle in on its core business: Microsoft for example increased its upload file limit from 15GB to 100GB and then to 250GB.
Back in 2019, Houston launched a new service - Spaces - which would use artificial intelligence to help customers with their day-to-day workflow by pulling in messages and files from a range of other services including Slack, Zoom and Trello into one Dropbox folder. The new search technology was supposed to flag information that was most relevant while pushing less important information out of immediate sight.
Those efforts remain somewhat limited and as a result have failed to take off. In June, the company went for a more pragmatic approach and launched a password manager service but that also has failed to take off.
Houston remains convinced that is the right path going forward however and presumably believes that the key to success is to focus harder on it and work on providing a better service than competitors.
He wrote: "Over the past year, we've talked a lot about the importance of running a tight ship and getting the company ready for the next stage of growth. This will require relentless focus on initiatives that align tightly with our strategic priorities, and having the discipline to pull back from those that don't." ®