This article is more than 1 year old
Boss behind 'reset' of delayed, overbudget Emergency Services Network shifts to new 'digital' Cabinet Office role
Three years at ESN would have been three years too many for most
Joanna Davinson, who in her role at the Home Office spent the last three years overseeing the Emergency Services Network project – currently incurring £550m in additional annual costs because of delays – has been appointed executive director of the UK government's new Central Digital and Data Office.
The new CDDO will sit within the Cabinet Office and become the new strategic centre for government activity in "digital, data and technology", including tackling coronavirus and rebuilding our economy, according to a statement.
From February, Davinson is set to head up the government's 18,000-strong digital, data and technology professions and lead the function for government.
She has certainly prepared well for the role.
In September, as chief digital, data and technology officer at the Home Office, Davinson told Parliamentary spending watchdog the Public Accounts Committee that delays to the troubled Emergency Services Network would create additional annual costs "in the ballpark" of £550m "across the whole of the legacy estate".
The project was designed to offer a new mobile voice and data network for police, ambulance and fire services. It began in 2011, contracts were awarded in 2015, and it was set to go live in 2017, but went through a complete revision in 2018 (this is pre-"mindset reset" for those keeping score).
It has been the subject of no less than eight PAC sessions and two National Audit Office reports.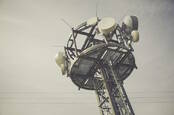 Emergency services 4G by 2020? And monkeys could fly out of my butt
READ MORE
One of the more recent stumbling blocks to the project, which gives emergency services priority over commercial traffic on a 4G network, is the revised business case. It was due to be published in early 2020, but now might not appear until March 2021, Davinson admitted to PMs.
Still, Davinson's credentials for her new wide-reaching role across the whole of government were enthusiastically endorsed by Alex Chisholm, chief operating officer for the civil service, Permanent Secretary at the Cabinet Office, and the man set to be her boss.
According to a pre-canned statement from the Cabinet Office she "has 30 years experience of technology enabled transformation at scale and has spent most of her career focussed on delivering services to the public sector."
Much of that has been spent at the vendor-supply side in prior roles at Price Waterhouse Coopers and IBM.
In August, the Cabinet Office advertised for a chief digital officer (CDO) - eleven months after it first did so - and Davinson was on the selection panel along with outgoing Amazon UK boss Doug Gurr.
The Cabinet Office told us today that the process had changed in the intervening months and a CDO will no longer be appointed. A spokesman said Davinson was not on a selection panel for the role she has bagged.
"What we were looking at initally is not what we have got in place," he added. "The process has evolved, what with COVID-19". It's not clear to The Reg what changed. Davinson will now be tasked with finding her generals, so to speak: about a dozen or so people including a chief data officer but not a CDO.
The CDDO is set to be chaired by Paul Willmott, who will find time for the unpaid, non-executive role while keeping his job in the private sector as chief digital adviser at the LEGO Brands Group.
Meanwhile, the Cabinet Office has also appointed Tom Read, who will be the new CEO of the Government Digital Service, which runs and maintains GOV.UK, which has come under great pressure during the pandemic as an online point of contact between citizens and businesses and the government.
Read has been chief digital information officer at the Ministry of Justice since 2016. The department has halted one of the core workstreams of Her Majesty's Courts and Tribunals Service £280m Common Platform Programme, putting three years of development work on ice in favour of keeping an "end-of-life legacy system" in use.
Last year, The Register revealed a critical crown court IT system and thousands of laptops used by the UK's Ministry of Justice run on Microsoft's obsolete and unsupported Windows XP operating system. As recently as March 2019, the ministry was paying hundreds of thousands of pounds for a VPN to support 2,000 Windows XP laptop users – news that came as the department admitted that a critical court IT system is also running on XP boxen.
The politician in charge of the appointments, Parliamentary Secretary for the Cabinet Office Julia Lopez, said the three individuals have a "mix of skills and experience" which would "make real our ambition to deliver the public with better, more personalised public services" and "enhance our reputation as the world's most digitally advanced government." ®