This article is more than 1 year old
Boeing confirms last 747 to roll off production line in 2022
Last four built will be freighters. And mighty freighters at that
Boeing has confirmed that production of its 747 aircraft will end in 2022.
The company on Tuesday announced that the last four 747s will all be sold to freight operator Atlas Air Worldwide.
The 747 revolutionised aviation in the 1970s by hauling more people, at lower cost, than had previously been possible. By making international tourism affordable, the plane unleashed demand and made a significant mark on the global economy. Upgrades to the four-engine airframe saw it repeat that impact by enabling non-stop long-haul travel.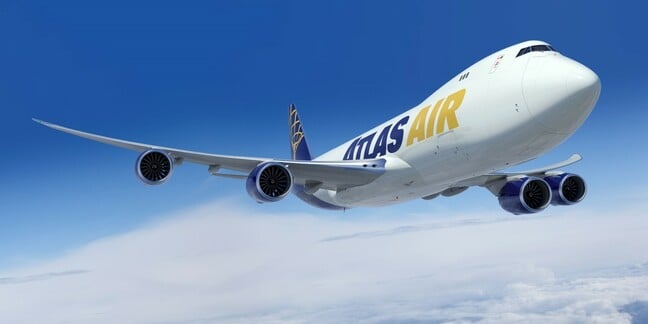 The last 747 will look like this. Click to enlarge
In 2011, Boeing upgraded the plane to a new 747-8 model that could carry larger payloads, was quieter, used less fuel and was just more modern. Just 47 were sold to passenger carriers, as the upgrade did not deliver performance superior to either direct rival the Airbus A380, or the new breed of twin-engine rivals that offer better economics and range.
Freight operators were kinder to the new model's 747-8F freight variant, partly because 747 freighters can open wide to receive large cargoes. 95 747-8Fs were sold, but orders dried up and in July 2020 Boeing CEO David Calhoun said "we anticipate completing production of the iconic 747 in 2022."
Today's announcement confirmed that 2022 will see the 747 production line close.
Those planes will have payloads of up to 137.7 metric tonnes, capacity unmatched by any aircraft other than the planet's sole Antonov An-225 and the few remaining An-124s. No off-the-shelf freighter will match the 747-8F after production ceases.
The plane will remain in service for decades to come, not least because the COVID-19 pandemic has increased demand for air freight.
There's still one big 747 debut to come, too. In 2017 the US Air Force purchased two 747-8s to serve as future presidential aircraft. Work readying the planes fit for that role has commenced and they are expected to enter service in 2024. ®