This article is more than 1 year old
Backers of Planet Computers' Astro Slide 5G phone furious after shock specs downgrade
'We have been sold a lemon here'
Supporters of Planet Computers' Astro Slide 5G phone are fuming after the niche UK mobile firm announced a downgrade in the crowdfunded device's processor and battery.
The final spec published earlier this week shows the phone shipping with a MediaTek Dimensity 800 platform, rather than the more powerful Dimensity 1000 initially promised.
The Dimensity 800 is a mid-range chip, whereas the 1000 targets higher-end devices. This is reflected in the configuration. In addition to containing a weaker GPU and APU, the Dimensity 800 represents somewhat of a downgrade in CPU performance, touting four Cortex-A76 cores at 2GHz, compared to four newer Cortex-A77 cores clocked at 2.6GHz. It also lacks support for Wi-Fi 6 and Bluetooth Low Energy Audio.
Separately, the new device lacks support for LTE band 13, which is heavily used by Verizon in its 4G network. In 2018, it accounted for 28.6 per cent of Verizon's urban data volume, and 57.1 per cent of data volume in rural environments. Meanwhile, the final spec shows a battery with a capacity of 3,500mAh, compared to the 4,000mAh originally promised.
Predictably, backers are unhappy, with many taking to the Astro Slide Indiegogo page to vent their fury and demand a refund. "What a disappointment! The CPU is the heart of the phone and it is vastly inferior. It is not the same phone we backed and the honourable thing is to acknowledge this and offer refunds. We have been sold a lemon here," wrote a supporter calling themselves James Galea.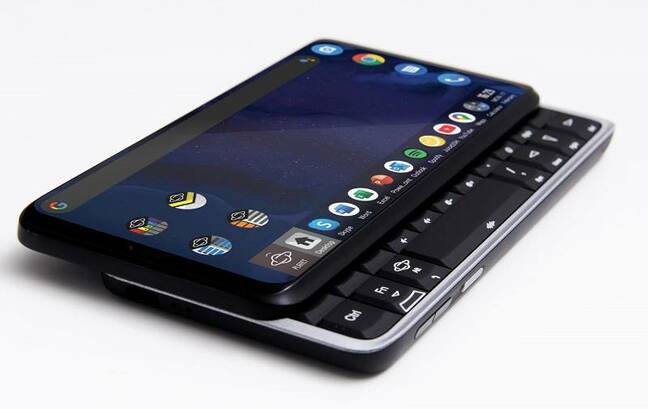 Planet Computers' Astro Slide 5G
The Astro Slide 5G is a personal communicator-style device in the traditional smartphone form factor while also including a built-in physical keyboard. This is the third device from Planet Computers following its Gemini and Cosmo phones, all of which were initially crowdfunded before a wider commercial release. In total, Planet Computers raised £1.23m for the Astro from 2,594 backers.
Speaking to The Register, Planet Computers CEO and founder Dr Janko Mrsic-Flogel attributed the chipset downgrade to a change of heart by MediaTek.
"We were originally indicated by MediaTek that we would get the Dimensity 1000 processor," he said. "We went through all the specs with them. We even went into the MediaTek newsletter in April. Essentially, we were pretty certain [things] were fine. During the license agreement, suddenly there were some problems.
"We tried two or three avenues to actually get the processor, and all the feedback from all the different avenues we took was, 'look, we cannot support smaller manufacturers on this. We can license you the 800.'"
Mrsic-Flogel isn't entirely sure the issue is one of scale. When asked for his own reasoning behind the snub, he suggested "political reasons" referring to the Trump administration's efforts to constrain China's technology sector.
"Don't forget, the whole Huawei thing happened," he said. "[I don't] entirely have all the information. We had a message that it is suddenly not available."
The shrinkage of the battery was attributed to size concerns, while Mrsic-Flogel said absence of LTE band 13 was in order to avoid RF interference.
"[LTE] band 13 and LTE band 71 are harmonics of each other. If we're supporting [both bands] on the same device, there will be problems with reception because the signal-to-noise ratio will be degraded, so we have to choose," he said, adding that Planet Computers may opt to release a LTE band 13-compatible device in the future, as it did with the Gemini communicator.
Planet Computers has started issuing refunds, said Mrsic-Flogel. The amount requested and issued is not known, although some backers on the Indiegogo page have reported receiving their money back via comments.
Planet Computers expects to start manufacturing the Astro Slide 5G's PCB in March, with the first devices shipping to punters in June.
The Register has asked MediaTek to comment. ®