This article is more than 1 year old
VMware completes first year of Tanzu with Advanced Edition GA, announces magic tool for app modernization
Enterprise customers 'are struggling with the implementation of Kubernetes at scale' says virty cloud giant
VMware has completed the first phase of its Kubernetes-based Tanzu project by making the Advanced Edition generally available, and has a new (but delayed) tool in the works which promises to simplify application modernization.
The Tanzu story really begins in August 2019 with Project Pacific, which gave vSphere the ability to manage Kubernetes clusters, and VMware's re-acquisition of Pivotal which is when the Tanzu name was introduced.
Project Pacific came from the VMware side, while Pivotal contributed the open source Spring Java framework and the Tanzu Application Service (formerly Pivotal Application Service), based on Cloud Foundry technology, which lets developers deploy applications with a single command, cf push. TAS has been re-engineered to run on Kubernetes. This month is the anniversary of completion of the Pivotal acquisition in January 2020.
These various pieces make the Tanzu brand confusing – and the company has a habit of slapping the Tanzu name on all sorts of stuff, so for example its MySQL service for TAS is called Tanzu SQL. Confusing matters further, today VMware renamed its software consulting branch from Pivotal Labs to VMware Tanzu Labs.
The Tanzu Kubernetes tools come in three editions. The Basic edition is Kubernetes via vSphere. Standard brings in VMware Tanzu Mission Control, a control plane for Kubernetes which can manage clusters running on public cloud, on-premises or at the edge.
Tanzu Advanced forms a more complete set of services including developer frameworks (Spring), container build service, database services, container registry, observability and monitoring and so on. It also includes a Kubernetes distribution. This Advanced edition is now generally available.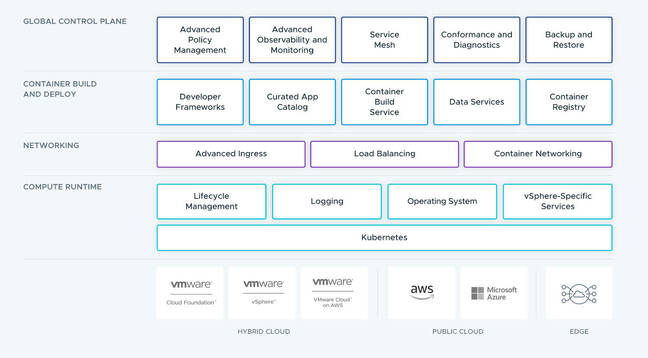 Advanced is up for grabs. Click to enlarge
"We're trying to bring developers and operators together to achieve a modular platform focused on speed, security and simplicity," VP and General Manager in EMEA Bas Lemmens told us. Sounds good, but what does it mean? "The Tanzu Mission Control is at the heart of the solution," Lemmens said.
"Managing multiple Kubernetes clusters, managing the container lifecycle. We've also added observability across applications and infrastructure. And we've built in a service mesh next to the control plane to allow easy connectivity at the container level, with security."
What you are paying for is in large part open source technology but wrapped in ways that will be comfortable for VMware admins. "Our clients have 65,000 sysadmins who are VMware certified. We know what it is to run a datacenter or complex legacy environment at scale," he said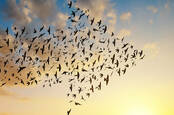 VMware adds vim and vigor to vMotion between different vCenter servers
READ MORE
"Kubernetes is exponential complexity growth. We've brought that back into VMware management tools … if we can't make Kubernetes more simple for the average developer and operator we won't see the take-up or the right use of the technology. Many big enterprise clients are struggling with the implementation of Kubernetes at scale."
It is a familiar story. Google's line is to make all Kubernetes clusters look like Anthos. Microsoft has its own managed Kubernetes service and Arc, which means you can manage any Kubernetes cluster from Azure.
Customers who have decided on Kubernetes are faced with some tricky decisions about the best way to approach it and which vendor to hook into, or whether to take a more independent route. Why go with VMware?
"There is the multi-cloud angle," said Lemmens. "There is always a hybrid cloud situation. "Another thing is our integration at the top end of the stack with Spring and .NET, we are differentiated there. And the third is the cf push concept, declare in a console that I want to push a container, that's the thing we're working on hard," he said, referencing the TAS part of the portfolio.
VMware also revealed that it is working on a new tool for application modernization, called Project Iris. "Project Iris discovers and analyses an organisation's full app portfolio, recommends which apps to rehost, re-platform, or refactor, and enables customers to customize their own transformation journey for each app, line of business, or data centre. It simplifies the conversion of Java applications (using Tomcat, WebLogic, and WebSphere) to run in a Kubernetes environment," said the press release, also assuring us that it would be "available soon."
Lemmens was more guarded about this seemingly magical tool. "We were a bit early announcing it," he said. "We had hoped to a bit further with that.
Organisations, he said, "have to re-house, re-platform, refactor applications. There is a lot of manual work to categorize hundreds or thousands of applications With Project Iris we're trying to find a solution to speed up that kind of process, automate generic solutions." The delay suggests that the team is not finding this easy. ®