This article is more than 1 year old
Oracle and AWS trumpeted how their clouds helped Zoom scale. But it turns out Zoom fears its cloud bills and uses co-located kit
Zooming also needs some Azure and costs so much to run the biz is selling $1.5bn more shares
Videoconferencing darling Zoom has issued a prospectus it hopes will raise $1.5bn, and which also reveals that it may be less dependent on the cloud than its suppliers have trumpeted. The document also reveals that it's struggling to buy the servers it needs and that free Zoom sessions have – surprise! – cost the company plenty while eroding margins.
Just how Zoom coped with the surge in use brought about by the COVID-19 pandemic has been a matter of interest for the technology industry ever since April 2020 when Oracle gleefully announced that its cloud was powering the service. Oracle Cloud is well-regarded, but buyers have voted with their mice and spend billions more with other clouds, so news that 2020's hottest and most-suddenly-critical company had bet on Big Red was welcome news.
But in December 2020 AWS stole Oracle's thunder by announcing it had become Zoom's "preferred" cloud.
The new prospectus supplement reveals that AWS and Oracle may both have overplayed their PR hands, by stating:
"We currently serve our users from various co-located data centers located throughout the world. We also utilize Amazon Web Services and Oracle Cloud for the hosting of certain critical aspects of our business, as well as Microsoft Azure for limited customer-specified managed services."
Handling "certain critical aspects" of Zoom's operations is certainly an important job worthy of Oracle's and Amazon's pride. News that Zoom also relies on its own rigs, plus Azure for what looks a lot like a business application, rather rains on the cloud PR parade.
It gets worse. In the section on risks, the prospectus states that Zoom intends to continue opening more data centres, but that parts shortages could make it hard to do so in a timely manner. If that happens, or demand spikes, the company offered investors the following guidance:
… we may need to rely increasingly on public cloud providers, including Amazon Web Services and Oracle Cloud, which may result in higher variable costs and harm our business, financial condition, and operating results.
Yup. Cloud costs can get big, fast.
Another section of the prospectus, titled "Impact of the COVID-19 pandemic", offers more technological titillation by revealing: "While we have experienced a significant increase in paid hosts and revenue due to the pandemic, the aforementioned factors have also driven increased usage of our services and have required us to expand our network and data storage and processing capacity, both in our own co-located data centers as well as through third-party cloud hosting, which has resulted, and is continuing to result, in an increase in our operating costs."
Plenty of those costs have landed because use of Zoom's free service boomed. Removing the limit on session length for schools also hurt.
Such accounts, potential investors were told, "do not generate any revenue but still require us to incur these additional operating costs to expand our capacity."
"Therefore, the recent increase in usage of our platform has adversely impacted, and may continue to adversely impact, our gross margin."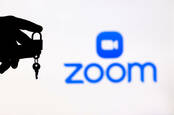 Zoom finally adds end-to-end encryption for all, for free – though there are caveats
READ MORE
The document also states: "There is no assurance that we will experience an increase in paid hosts or that new or existing users will continue to utilize our service after the COVID-19 pandemic has tapered. Moreover, the tapering of the COVID-19 pandemic, particularly as vaccinations become widely available, may result in a decline in paid hosts and users once individuals are no longer working or attending school from home."
On the upside, Zoom's most recent results saw it reveal revenue of $777.2 million, up 367 percent year-over-year. And the company's share price is up over 400 percent for the year, although the current $356.81 price is down from an October 2020 peak of $588.84, suggesting investors may already have recognised some of the risks Zoom's document identifies.
The prospectus says Zoom will use the proceeds of the share sale "… for working capital and general corporate purposes, including sales and marketing activities, research and development activities, general and administrative matters, repayment of debt, other business opportunities and capital expenditures." The document adds that Zoom has not committed to any acquisitions. ®