This article is more than 1 year old
India's top techies form digital foundation to fight Apple and Google
App store fees and 'privacy' arrangements under fire
India's tech self-reliance push has spawned a new group that aims to fight big US tech companies,
The new Atmanirbhar Digital India Foundation (ADIF) has been founded by a group of execs whose Indian start-ups got big, fast, making them bywords for success and famous for having shown the nation can create big internet companies. The group's name references the Atmanirbhar Bharat self-reliance program.
The incidents that galvanised the group were the September 2020 fight between Apple and Epic Games over compulsory use of Apple's payments engine. Google, in a display of brilliant timing, changed its rules to enforce similar requirements in the same month.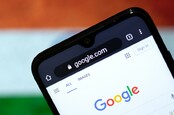 India launches Google antitrust probe and Google mostly shrugs it off
READ MORE
Developers around the world were unhappy with that decision. In India it sparked a government inquiry into Google's market power and saw local software entrepreneurs start to organise.
Their efforts bore fruit this week with the launch of the ADIF, which has given itself the job of ensuring that Indian lawmakers know the start-up sector's concerns about how tech giants shape the market, and ensuring that local developers enjoy the same deals as their global rivals. The group also appears to have wider industry lobbying ambitions.
The group plans to quickly create 25 offices across India, then target smaller cities to make sure that local developers join in the fun.
Facebook, meanwhile, is also in trouble in India over its privacy-eroding changes to WhatsApp's terms and conditions.
Prominent figures such as Arvind Gupta, the head of the Digital India Foundation, an influential tech policy think tank, has criticised full-page newspaper ads taken out by WhatsApp as follows.
"FreeBasics" outreach all over again!! pic.twitter.com/Rq2Kca8d3j

— Arvind Gupta (@buzzindelhi) January 13, 2021
The reference to "Free Basics" recalls Facebook's plan to work with local carriers who could offer free connectivity to a subset of Facebook, but not to other websites. India rebuffed Facebook's offer as local sentiment rated it as an attempt at online colonisation.
The new criticism of Apple, Google, and Facebook contrasts with Indian Prime Minister Narendra Modhi's welcome of investments such as Google's $10bn 'digitisation fund' for India, even though $4.5bn of that was an investment in Indian mega-carrier Jio. ®