Did anyone tell Logitech about lockdown? Biz launches pricey video chat kit for office conference rooms and 'huddle spaces'
One more thing to, er, look forward to when the pandemic ends
Around the world, office blocks sit empty. Official government guidance says if you can work remotely, you should. However, it seems like nobody told Logitech, which just expanded its B2B video conferencing portfolio with three new devices aimed at the workplace.
The most expensive of the bunch is the Rally Bar and Rally Bar Mini. The main difference between the two is largely where you'll position them, with the bog-standard Rally Bar aimed at medium-sized conference rooms, and the Mini intended for smaller rooms and the (spectacularly American-sounding) "huddle spaces."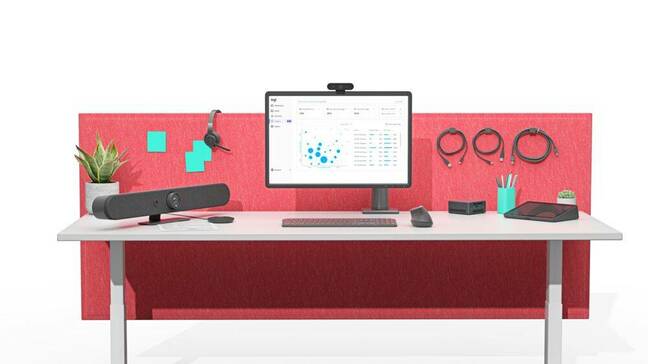 The Mini - for your, er, bedroom huddle spaces
Both devices contain two cameras: the first captures 4K video, while the second tracks and positions those participating in a call, allowing the system to automatically adjust and re-frame the camera to capture everyone.
This isn't necessarily freshly trodden ground - Facebook's Portal kit does something similar. The key difference is that Facebook chose to rely entirely on computer vision algorithms, whereas Logitech has opted to situate its primary camera on a PTZ (pan, tilt, zoom) mechanism.
Logitech's method has one key advantage: it can track participants without automatically cropping the image, or relying on digital zoom approaches that can swiftly degrade video quality.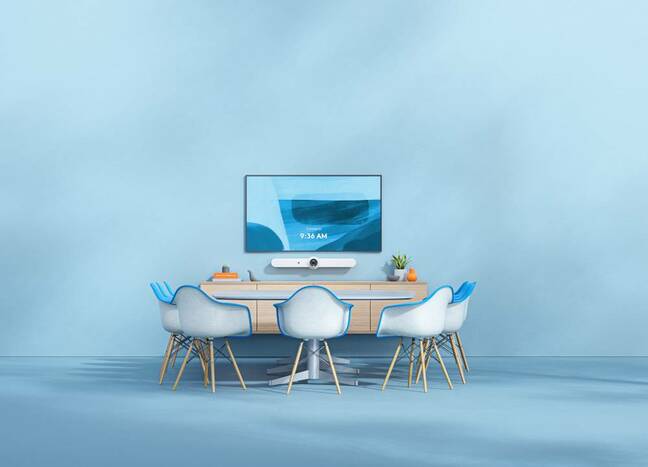 The conference room-sized Rally Bar: No one there? Too right
In the same vein, the Rally Bar series uses beamforming microphones to home in on whoever is speaking. In theory, this should improve the clarity of spoken words while limiting the intrusion of any background noise.
Both Rally Bar variants can be mounted on the wall, under the TV, or on a flat surface, and have a microphone range of 4.57 metres. For larger rooms, you can extend this with optional table-mounted microphones.
Both devices can be used as a traditional webcam that connects to a PC or Mac via USB, or as a standalone appliance, with support for Microsoft Teams and Zoom baked-in.
Accompanying these is a third device, called RoomMate, which is a standalone small-factor computer for conference rooms. It's always a bit of a faff connecting a laptop to conferencing hardware, and this kit is ostensibly designed to take away that hassle. In terms of looks, it is like an early-era Mac Mini, albeit smaller, and with a design to mount it to a wall using a standard VESA connector.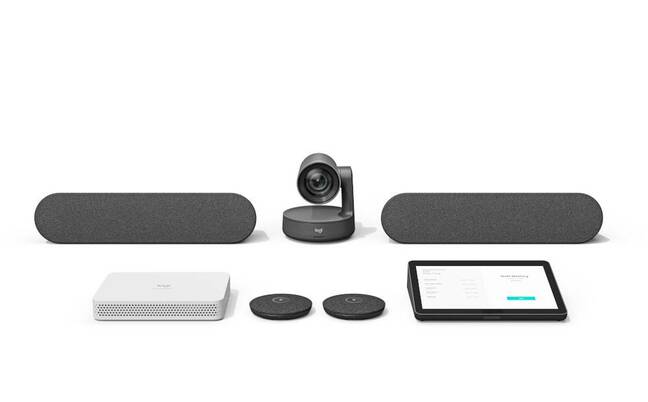 Click to enlarge
Connectivity comes via Wi-Fi, Ethernet, and Bluetooth. There's also three USB-A ports, two HDMI Out ports, and a single lonely HDMI In plug. Interactions are largely done via a bundled remote control, and it comes with built-in support for Zoom and Microsoft Teams.
The Rally Bar and Rally Bar Mini will become available to enterprise buyers at the end of the quarter, and will be priced at £3,599 (or $3,999 stateside) and £2,699 ($2,999), respectively. The RoomMate will cost £899 ($899), with availability to be announced.
The timing isn't exactly great, as COVID-19 remains a persistent threat. The UK and US, in particular, are languishing under a strict lockdown as both countries grapple with rising cases. There's no indication that a mass-return to office working is likely in the near future, if ever.
At this point in time, small rooms and "huddle spaces" are a health hazard.
As such, the Rally Bar and Rally Bar Mini seem geared to a happier future, when terms like "social distancing" and "hands, face, space" are distant memories. ®