This article is more than 1 year old
Pirate Bay co-founder criticises Parler for its lack of resilience
Torrent search engine is still up after years of whack-a-mole with copyright cops
One of the co-creators of notorious BitTorrent search engine The Pirate Bay has criticised free speech social network Parler for the lack of resilience that saw it go dark after Amazon Web Services booted it out of its cloud.
Peter Sunde Kolmisoppi took to Twitter to offer his opinions.
The most ironic thing is that TPBs enemies include not just the US government but also many European and the Russian one. Compared to gab/parlor which is supported by the current president of the US and probably liked by the Russian one too.

— Peter Sunde Kolmisoppi (@brokep) January 10, 2021
The Pirate Bay linked to vast quantities of copyrighted material that was available without payment. Big Content therefore hated the site and authorities regularly cancelled its domains or sued its operators. Swedish police raided its data centre and hauled away its servers. But the site re-emerged, using domains from Iceland, Greenland, the island nation of St Martin, Peru, and others besides.
The site endured many legal troubles, was banned by Microsoft and Google, but never spent much time offline and always managed to bounce back.
As Sunde noted in the Tweets above, it is still running today. Authorities seem less worried about the site these days, perhaps because the likes of Netflix found a way to secure hundreds of millions of punters willing to pay for streaming video.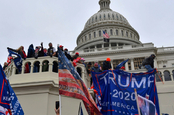 We didn't collude with Twitter to throw Parler off our servers, says AWS in court filing
READ MORE
Before Parler went dark, founder John Matze said he had anticipated that AWS could be a single point of failure and his company had therefore been careful to work with bare metal servers that should in theory make a rebuild easier than if the social network had used Amazon-only tools and techniques. Matze was confident that decision meant the site could be restored within a week.
It's since emerged that Parler's site could be thoroughly scraped and users' posts accessed without permission. Those posts included metadata such as location. It is thought that the unauthorised dump of Parler data is now being used to investigate those who participated in the storming of the US Congress.
That the site could be so thoroughly scraped, and did not take care to protect metadata, has been interpreted as Parler perhaps not having the most robust architecture imaginable.
The service has to date shown no sign of returning. Yesterday, on LinkedIn, Matze said: "It's not easy to switch to others. When someone the size of Amazon dumps you, everyone else will deny you due to reputational damage."
However, that thread, and others in which he has recently participated, contain numerous offers of non-Amazonian hosting services. ®