Samsung rolls out new Galaxy S21 range, including extra-lux Ultra
Just your Stylus? Pen support moves to latest flagship models
---
It's flagship Thursday at Samsung, which for the better part of a decade has squatted over the premium sector of the Android market.
The latest line-up, the Galaxy S21 series, comes at an interesting time for the launch of smartphones, with some segments of the market cutting back due to lockdown pain and others prepared to spend big on bells and whistles.
Samsung will deliver three variants: an entry-level Galaxy S21; a slightly more potent Galaxy S21+; and the Galaxy S21 Ultra. The latter emphasises photographic prowess above all else and starts at £1,149, which is pricier than the comparable Apple Pro Max. Unlike the Pro Max, though, it provides stylus support.
Galaxy S21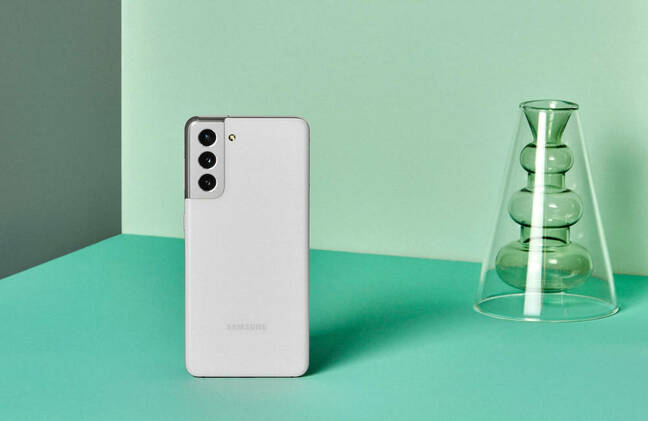 Complete with blue-light reduction to reduce the harm of your 3am news binges
In step with previous generations, the entry-level Galaxy S21 is also the smallest with a 6.2-inch display, based on Samsung's Dynamic AMOLED 2X panel tech. As with its predecessor, this can operate at a rapid refresh rate of 120Hz, while scaling back as low as 48Hz during low-demand situations in order to reduce power consumption. There's also an adaptive blue-light reduction feature designed to reduce eyestrain.
The Galaxy S21 is also the lightest of the bunch, weighing 172g. This puts it roughly on-par with the iPhone 12, which weighs 164g. In terms of aesthetics, Samsung has used an entirely different design language across the board. Although the camera housing still protrudes from the rear of the device, it's contoured in a way that makes it less obtrusive. It looks sleek.
There's very little variation in terms of configuration options. Only one RAM option is offered: 8GB of LPDDR5 memory, which is more than enough for most users. The further past that point you go, you begin to march into gimmick territory. Separately, the Galaxy S21 has two flavours of storage: 128GB and 256GB. Powering the phone is Samsung's Exynos 2100 chip, which uses a 5nm processor, and has an integrated 5G modem capable of Sub-6 and mmWave connections.
Moving down the specs list, we get to the battery. The Galaxy S21 comes with a 4,000mAh cell, which Samsung claims is its "most intelligent" yet. Translation? There's AI software that automatically adjusts the phone's performance based on the owner's usage patterns.
It's not clear what this translates to in terms of endurance, but we'd be surprised if it's anything less than 36 hours of usage. Separately, there's both fast wireless and wired charging (although Samsung neglected to mention precise speeds), as well as reverse charging, allowing the device to recharge other Qi-capable devices.
Then we get to the optics. Samsung has traditionally prioritised photography on its premium line-up, and the Galaxy S21 crams lenses into the back: a 12MP ultra-wide angle sensor; a 12MP wide-angle sensor; and a 64MP telephoto lens for long-distance photography at up to 3x optical zoom. Buried within the top-centre of the screen is a 10MP selfie camera.
Much of the emphasis this time around has been shifted to the software side of things. The camera app can now, for example, better compensate for the involuntary hand jitters that complicate long-distance photography. Samsung also promises better software-driven auto-correction and adjustments, as well as improved virtual lighting and depth estimation.
Galaxy S21+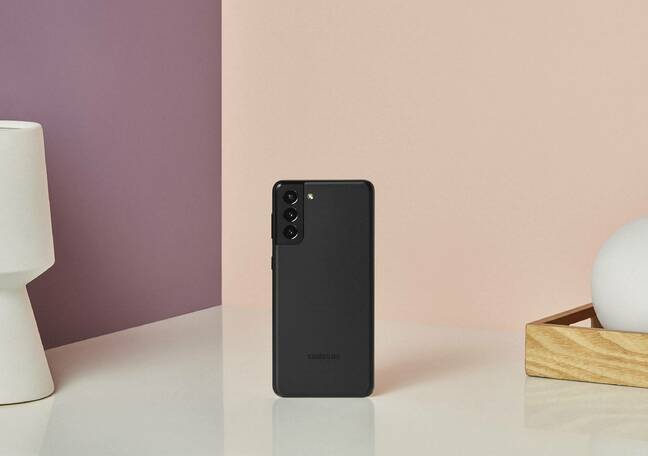 Plus-sized sibling
Let's move on to the middle-tier in Samsung's new range: the Galaxy S21+. This isn't too removed from its smaller sibling. The biggest difference is the screen, which measures 6.7-inches across, albeit with the same Dynamic AMOLED 2X technology and refresh rate range. It also inherits the same CPU, RAM, and storage configurations.
Still, there are some distinctions. A larger phone leaves room for a larger battery, and the Galaxy S21+ has a 4,800mAh cell. This handset also has an ultra-wideband (UWB) chip.
UWB is a wireless protocol that's great at close-range communications. Unlike other wireless protocols, like Wi-Fi or Bluetooth, it's keenly spatially aware. This makes it great for devices like object trackers, as it can locate a nearby UWB device with a degree of precision measured in centimetres.
However, Samsung has loftier goals, and UWB will eventually play a bigger role in its IoT line-up. Separately, it also plans to roll out a digital key functionality in the coming months, allowing users to unlock and activate their compatible cars.
In a canned statement, Samsung's mobile CTO, KJ Kim, said: "We recently launched SmartThings Find to help you quickly and easily locate your Galaxy devices, even when offline. We took this a step further with Galaxy S21+ and S21 Ultra, which uses expanded UWB capabilities to utilize the AR finder so you can send virtual messages to other Galaxy users during your search."
He also said the firm would announce a next-generation car experience starting "this summer" with its carmaker alliances, which he claimed would include a "wide variety of car makes and models."
Galaxy S21 Ultra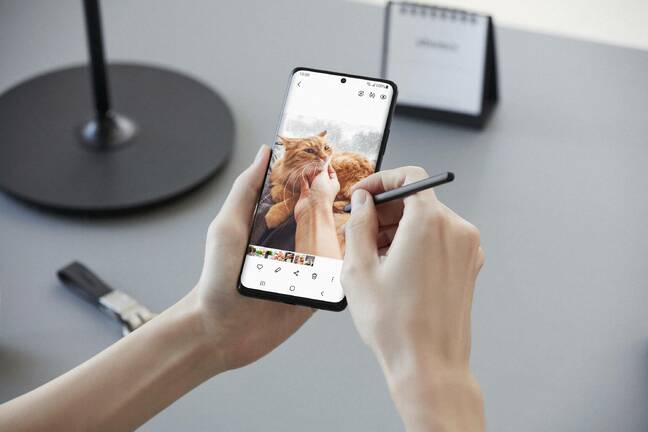 You're not supposed to go outside or meet anyone, so this picture of your cat is as good as it'll get
The Galaxy S21 Ultra is Samsung's high-end model in a premium range. Unlike the Galaxy S21+, this phone is markedly different from the basic version.
Firstly, the obvious: it's bigger, measuring 6.8 inches. While it uses a Dynamic AMOLED panel, this one can adjust the refresh rate from 11Hz to 120Hz, allowing it to reduce power consumption when viewing static content.
As for the battery, the Galaxy S21 Ultra has a 5,000mAh cell. Again, it's not clear what this will translate to in terms of endurance, although it'll pack the same wireless, reverse wireless, and wired fast charging functionality as its cheaper brethren.
The S21 Ultra also has meatier specs, with a choice between 12GB and 16GB RAM, and either 128GB, 256GB, and 512GB of internal storage. Again, the same Exynos 2100 chip appears here. Like Apple, Samsung offers the same clock speeds across all flagship variants, instead choosing to differentiate elsewhere across the phone.
On the optics front, Samsung has clad the S21 Ultra with four separate rear-facing sensors: a 12MP ultra-wide primary sensor; a 108MP wide-angle lens; and two 10MP telephoto lenses. Like its predecessor, this phone comes with Samsung's hybrid space-zoom tech, which Samsung says provides up to 100x magnification. The front-facing camera comes with a 40MP sensor.
The S21 Ultra is, incidentally, Samsung's first device out of the Galaxy Note series to support the S-Pen stylus, letting users doodle or hand-write notes on their phone. It likely won't be the last, according to Taemoon Roh, president of Samsung's mobile division, who said:
"We've made the bold decision to expand the S Pen experience to Galaxy S21 Ultra, and plan to expand the S Pen experience across additional device categories in the future."
Other accoutrements include support for Wi-Fi 6E (an industry first), as well as the same ultra-wideband tech that appears on the Galaxy S21+.
It's all about the ecosystem
This Galaxy refresh didn't push any boundaries, but rather continued to indicate the growing maturity of Samsung's mobile line-up. The most attention-grabbing additions, like UWB and S-Pen, are carry-overs from the firm's previous flagship devices. Beyond that, Samsung has focus on photography and display tech.
Accompanying this long-awaited flagship refresh are a smattering of accessories designed to flesh out Samsung's wider mobile ecosystem. The most interesting of the bunch is SmartTag, a wireless gadget tracker similar to those made by Chippolo and Tile, albeit based on UWB rather than simple BlueTooth LE connections.
Ben Wood, mobile analyst at CCS Insights, suggested this could act as a gateway drug to Samsung's wider IoT line-up, as well as an incentive to buy Samsung over its competition.
"Although the new SmartTag is similar to the Tile tag, it is a good way to reinforce the value of Samsung's wider range of products and will raise awareness of its SmartThings Find service that allows users to find their phones, tablets, smartwatches and earbuds. It is also perfect to be used as sweetener for sales promotions around the S21 devices and other Samsung products," he said.
Still, the mobile market has shifted dramatically since Samsung launched its inaugural Galaxy device almost a decade ago, and it now faces additional competition from the likes of Xiaomi and OPPO. Things are complicated further by the difficult economic climate, which has dampened the appetite for more expensive phones.
A bit like Apple's Secure Enclave, the Galaxy S21 series comes with a built-in Embedded Secure Element (eSE), which is responsible for storing and managing credentials and sensitive personal information, like payment cards and digital IDs.
The Galaxy S21 series will debut in the UK and US on January 29. Pre-orders open today, with Samsung bundling free Galaxy Buds Live earbuds and a SmartTag object tracker to anyone willing to stump up in advance.
The bog-standard Galaxy S21 starts at £769 for the 128GB model ($799 in the US), or £819 ($849.99) for the 256GB model. The UWB-capable Galaxy S21+ retails at £949 ($999) for the 128GB variant, while £999 ($1,049) gets you 256GB of internal storage.
Meanwhile, the top-end Samsung Galaxy S21 Ultra comes in three different flavours: a 128GB model with 12GB of RAM, for £1149 ($1,199); a 256GB model with 12GB RAM for £1199 ($1,244.99); and a 512GB model with a truly extravagant 16GB RAM for £1,329 ($1,379.99). ®